Blue Jackets' Panarin switches agents
Artemi Panarin is changing agents. TSN Hockey Insider Pierre LeBrun confirmed Friday that the pending unrestricted free agent has opted to change from Dan Milstein to Paul Theofanous.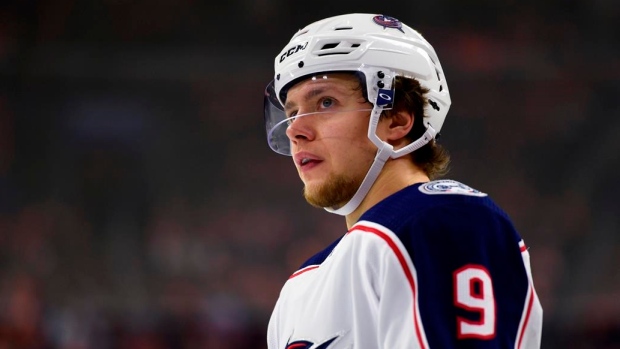 Artemi Panarin is changing agents.
TSN Hockey Insider Pierre LeBrun confirmed Friday that the pending unrestricted free agent has opted to change from Dan Milstein to Paul Theofanous as his representation.
Teammate and fellow pending UFA Sergei Bobrovsky is among Theofanous' clients.
Milstein stated publicly in late January that Panarin would not discuss his future with the Columbus Blue Jackets until after the season, prompting rumours to swirl surrounding his availability leading up to the trade deadline.
"We have informed the team that we are willing to discuss Artemi's future after the season. Our priority now is to focus on the rest of the season, trying to win a Stanley Cup for the CBJ and their fans," Milstein tweeted, adding that no more official comments will be made surrounding his client's free agency.
Aaron Portzline of The Athletic reports that the Blue Jackets did not see Milstein as an impediment to signing Panarin to an extension.
Portzline adds Theofanous will be Panarin's third agent since January of 2017. He was with Tom Lynn when he left the KHL for Chicago, then changed very late in second contract negotiations with the Blackhawks, joining Milstein.
"It doesn't change anything. We approach every player and every situation the same way, no matter who the agent is," Blue Jackets general manager Jarmo Kekalainen said Friday.
"We've said all along we're going to make hard decisions if we have to, but our focus is on getting our team better and making it as competitive as possible for this spring but also into the future obviously," Jackets general manager Kekalainen said in late January.. "If we have to make a hard decision, we will. We like Artemi and would like to keep him, and it's his right to go into free agency. If he chooses to do so, we'll be knocking on his door July 1, but we're going to go about our business here and try to win hockey games and make the playoffs and go as deep as possible this spring, too."
According to TSN Hockey Insider Pierre LeBrun said Tuesday that Panarin and fellow pending UFA Mark Stone are holding up the trade market.
"I think there are contending teams waiting to see what pans out with Stone before they decide to put all their chips in and make an offer on another rental player that's out there. Just like when Panarin went on the market last week, that means a lot of teams sat back and said 'Woah, I have to investigate this and find out what the price is before I go somewhere else,'" LeBrun said on Tuesday's edition of Insider Trading.
Despite the uncertainty surrounding his future and that of Bobrovsky, Columbus sits third in the Metropolitan Division at 63 points, slightly behind the Washington Capitals and New York Islanders tied for first at 66.
Panarin released a statement about the change by flashing a message on his phone to a small group of reporters in attendance.
"I have decided to hire Paul Theofanous as my agent," Panarin said. "He is very experienced and I'm confident he will serve my interests best going forward. I have no further on this at this time. If you have any questions contact Paul directly.
However, Panarin did elect to talk to reporters briefly after the statement. He expressed his desire to be control of his own destiny and referenced his time with the Chicago Blackhawks.
"I understand his business, because Stan Bowman (didn't) ask me (either), he just trade me," Panarin said. "After free (agency), I have a new position, no trades, you know, because I control the situation."
Panarin signed a two-year $12 million contract extension with the Chicago Blackhawks in Dec. 2016. The deal was considered cap-friendly to a team that was trying to keep its superstars together. He was acquired by the Blue Jackets, along with Tyler Motte and a sixth-round pick, from the Chicago Blackhawks in exchange for Brandon Saad, Anton Forsberg and a fifth-round pick. The move was made just days before Panarin's new contract kicked in.
The Blue Jackets still have a chance to keep his services beyond July 1. He insists he hasn't picked a destination.
"Not right now, no. Seriously, guys, I don't have a team," Panarin said. I don't have one team where I want to go ... We'll see what happens in the summer, but right now I don't know what I want."
In 51 games so far this season, Panarin has 20 goals and 40 assists.