Blue Jays play it safe in dealing Happ to Yankees
Instead of trolling for upside and shooting for the stars when it came time to trade J.A. Happ, the Blue Jays decided to play it safe. It could be they were forced into going that route by the offers tabled, but Thursday's trade with the New York Yankees is the latest example of general manager Ross Atkins and the Jays front office leaning towards floor over ceiling.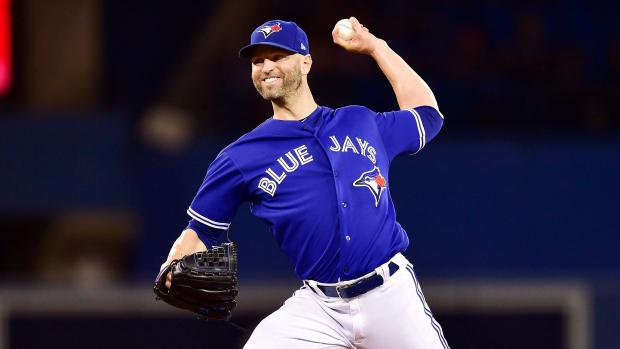 TORONTO — Instead of trolling for upside and shooting for the stars when it came time to trade J.A. Happ, the Blue Jays decided to play it safe.
It could be they were forced into going that route by the offers tabled, but Thursday's trade with the New York Yankees is the latest example of general manager Ross Atkins and the Jays front office leaning towards floor over ceiling.
Leading up to the deal of the 35-year-old lefty, reports indicated the Jays had originally sought outfielder Clint Frazier or left-hander Justus Sheffield, two of the Yankees' top minor-league talents.
That wasn't a realistic possibility.
In the end, the Jays settled for versatile infielder Brandon Drury and outfielder Billy McKinney, two players who have already debuted in the majors.
They're major-league ready, but those interested in dreaming of high-ceiling players a little bit further away from contributing will be underwhelmed by the haul the Jays received in exchange for their best trade chip and arguably the best rental starter on the market.
Pick your poison.
It's become clear Atkins' poison over the last 12 months has been versatility, safety and a high floor, which is exactly what they get in Drury, a player with 307 games and a couple of double-digit home run seasons already on his resume.
"That does mitigate some risk, but in this case we don't go into the deadline saying 'we want to acquire players that are now ready to make an impact to the major league team,'" Atkins said of the philosophy. "We go into the deadline to acquire the best possible talent and this trade was the best chance to do that. It could have come in the form of someone that was at a much lower level, much younger, but you're always balancing the risk with upside. We feel there's still some upside to these players that we've acquired in McKinney and Drury."
With teams reluctant to part with their top prospects, teams generally turn to packages of lower-level players who come with oodles of risk.
They could become stars or they may never reach the majors.
"Upper-level talent, the best prospects in the game, used to be perceived as being extremely risky and I think now the industry has grown to become more sophisticated every day, not just in the last 10 years, and have a better understanding of exactly what that risk is, so that is increasing the value of young prospects," Atkins said.
"It is very difficult to acquire No. 1 and No. 2 prospects. You saw that in the Manny Machado trade. Manny Machado is one of the better players in the game and the Dodgers were extremely aggressive in going after him but I still don't think — and you'd have to ask them — they gave up their top one, two, three pieces."
Neither did the Yankees in exchange for one of the better, if not the best, rental starter on the market.
Happ has scuffled recently, but he's a proven mid-rotation commodity and all it cost Yanks GM Brian Cashman was an infielder buried in Triple-A and a fringe piece in McKinney, who is viewed as a corner outfielder without enough power to make a huge impact.
With the Jays also finalizing the Seunghwan Oh deal with the Colorado Rockies, a trade that leaked Wednesday evening, the Jays quickly added four new names to the organizational coffers in exchange for arguably their two most intriguing (and healthy) trade chips.
Now, Atkins will turn his attention to peddling the rest of his bullpen pieces — Tyler Clippard, John Axford, Aaron Loup and potentially a controllable asset like Ryan Tepera — the expiring contract of Curtis Granderson, and maybe a controllable asset like Yangervis Solarte and/or Justin Smoak.
Josh Donaldson and Marco Estrada will likely be in play during the waiver trading period in August.
Atkins, who noted they weren't "aggressively" having discussions about his sought-after controllable assets, wasn't shy about saying pitching will be a focus.
"I think there will be a time, and we're nearing that time now, where our focus needs to shift to more controllable pitching," Atkins said.
With four-plus days to go until the July 31 trade deadline, there is likely more to come.
"We will have more opportunities and we're hopeful that we'll be able to optimize or maximize them," Atkins said.

Here's a closer look at the four players the Jays added on a busy Thursday:
2B/3B Brandon Drury
If you're looking for a Drury comparison, you don't have to look far.
He's not a switch-hitter like Yangervis Solarte and the comp is far from perfect, but the profiles are similar.
Both of them can play second base and third base, and both are capable of popping 15-20 home runs.
The right-handed hitting Drury's best offensive season came in 2016 when he slashed .282/.329/.458 with 16 home runs in 134 games with the Arizona Diamondbacks, producing a league average 102 wRC+.
In 2017, he posted his best overall campaign in terms of Wins Above Replacement, providing 1.0 WAR with a .267/.317/.447 slash line and 13 homers in 135 games.
Sent to the Yanks in February in a three-team swap, Drury was almost immediately buried on the depth chart thanks to the emergence of Miguel Andujar and Gleyber Torres.
He was a superfluous piece that New York won't miss.
"We've always really liked Brandon and we talked a lot about him before he was a New York Yankee," Atkins said. "Brandon has withheld significant performance in the major leagues over several years and this year just hasn't had quite the opportunity and we feel like he can have that going forward. Whether that's at second or third or in the outfield, or playing some combination of all three, we will see ... but the versatility and the offensive profile are not easy to come by."
Turning 26 next month, Drury will be arbitration eligible for the first time this winter and is under contractual control through 2021.

OF Billy McKinney
Drafted by the Oakland Athletics with the 24th overall pick in the 2013 draft, traded to the Chicago Cubs alongside Addison Russell in the Jeff Samardzija trade in July of 2014, and then flipped again to the Yanks in the Aroldis Chapman deal two years later, McKinney is already on his fourth organization.
McKinney actually made his MLB debut in Toronto on March 30, and then hit the disabled list the very next day with a shoulder injury when he crashed into the Rogers Centre wall.
From the time the 23-year-old left-handed swinger was drafted, the questions have always revolved around his power.
Will he have enough to profile as an everyday player?
A productive hitter throughout his minor league career, McKinney has posted a career-high .273 isolated power mark this season, but as his power has increased, his slash line has suffered and he's hitting just .230/.294/.502 with 13 homers in 228 plate appearances at Triple-A.
Atkins likes the well-rounded skillset.
"It's rare to find a player that has across the board average or slightly above average on every tool," the GM said.
With the Jays' outfield depth chart pretty thin, McKinney's fourth organization will provide the soon-to-be 24-year-old with the best opportunity he's had to make an impact.
McKinney was placed as the No. 18 prospect in the Jays' system by MLB Pipeline.

OF Forrest Wall
Once a very highly-regarded prospect that the Colorado Rockies selected with the 35th-overall pick in the 2014 draft, Wall's stock has taken a hit over the years.
A second baseman for his first three minor-league seasons, the speedy 6-footer was converted to the outfield last season, a transition he's continued in 2018.
After his 2017 season ended early due to a dislocated shoulder, his start to the season was positive, as Wall slashed .305/.382/.453 in 47 games at High-A, but he's struggled since being promoted to Double-A.
In 190 plate appearances there, Wall is hitting just .206.
Across both levels, he's piled up nine home runs and 28 stolen bases, and he profiles as a potential bench piece that provides value with his wheels.
Wall was immediately sent to Double-A New Hampshire, where he'll spend the rest of the season.
MLB Pipeline installed Wall as the Jays' 24th-best prospect.

1B Chad Spanberger
It's fair to wonder which piece is the headliner in the trade with the Rockies, which could be a good thing.
While Wall's carrying tool is his speed, Spanberger is a 235-pound first baseman who likes to hit home runs.
In his pro debut last year after being selected in the sixth round out of the University of Arkansas, Spanberger slugged 19 homers in 60 games in rookie ball.
At Low-A this season, he's bashed 22 long balls in 92 games, toting an impressive .315/.363/.579 slash line.
But it's hard to read much into lower-level numbers for a college-aged player, and the left-handed hitting Spanberger will turn 23 in November.
FanGraphs prospect analysts put a 70 grade on his power, but the hit tool will likely be the deciding factor in how his stock develops as he reaches the upper levels.
He was not included amongst the Jays' top 30 prospects by MLB Pipeline.