Blue Jays SS Tulowitzki ejected from Game 3
Toronto Blue Jays shortstop Troy Tulowitzki was ejected from Game 3 of the ALCS against the Kansas City Royals. Tulowitzki was ejected by home plate umpire John Hirshbeck when he appeared to still be arguing balls and strikes.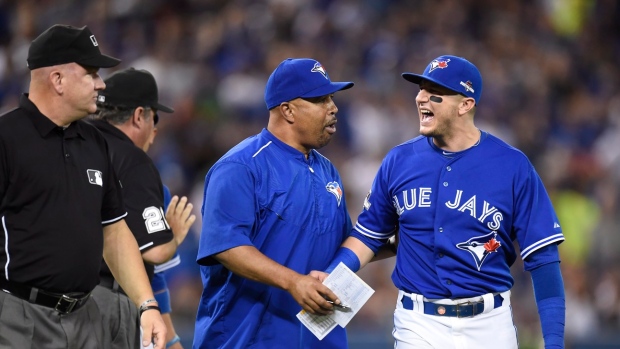 TORONTO - Troy Tulowitzki didn't agree with home plate umpire John Hirschbeck's strike zone on Monday night.
So he spoke up about it and paid the price.
The Blue Jays shortstop, who struck out to end the seventh inning on a seemingly outside pitch from Royals reliever Kris Medlen, was ejected from Game 3 of the American League Championship series for harping at Hirschbeck while taking his defensive position in the top of the eighth inning.
"I think it was obvious I didn't agree with the called third strike. And there were other pitches that were questionable," Tulowitzki said following Toronto's 11-8 win that cut the Blue Jays' deficit in the best-of-seven series to 2-1.
"I'm walking out to the field and he's looking at me and I told him that wasn't a strike. It was a quick trigger, obviously he was holding on to something or something was going on. But I didn't think what I did was going to eject me out of the game."
Tulowitzki, who became the first American League player to be ejected from a post-season game since Dwight Gooden in 1998, added that he was surprised with the umpire's call.
He looked more angry than perplexed at the time, however.
Toronto manager John Gibbons rushed out of the dugout to argue with Hirschbeck following the ejection, while bench coach DeMarlo Hale put himself in between an irate Tulowitzki and the umpire as the shortstop walked off the field.
"I didn't see it happen," Gibbons said. "I knew they were jawing a little bit back and forth when he rung him up and then it apparently carried over onto the field. That's my take on it.
"I'd rather not comment on it. ... John Hirschbeck is one of the best in the business. He's been at it forever. But that's the way it goes sometimes, really."
Tulowitzki was replaced at shortstop by Ryan Goins while Cliff Pennington filled in at second base.
The Blue Jays were leading 10-4 at the time of the ejection, with Tulowitzki going 2 for 4 with a three-run home run and two strikeouts.
Tulowitzki, one of the Blue Jays prized trade deadline acquisitions, had been struggling at the plate prior to Game 2 of the ALCS. He had two hits in that game, a 6-3 loss at Kansas City, to snap a 2-for-25 slump.
His three-run homer on Monday night, off Johnny Cueto in the third inning, gave the Blue Jays a 6-2 lead and inspired confidence on the Blue Jays bench.
"More than anything you just feel good for (Tulowitzki)," said centre-fielder Kevin Pillar. "We all know he's playing hurt. He's been struggling a little bit, for him to get that big hit is a big confidence boost not only for him but for our team."
Tulowitzki suffered a broken shoulder blade in a Sept. 12 game against the Yankees in New York when he collided with Pillar while trying to catch a fly ball.
The 31-year-old, who came into the game batting .188 (3-for-16) against Cueto in his career, dismissed the notion that he's changed anything in his approach at the plate.
"No, not really, just trying to get good pitches," he said. "Battling with the shoulder at times and trying to gut it out and give everything I have.
"Tonight it was enough to help us get a win."