Bolts' Dotchin sitting after breaking rule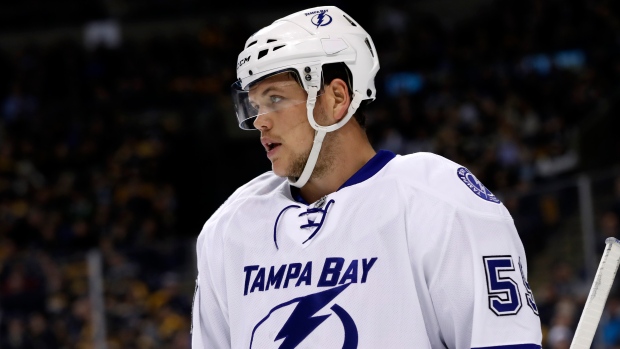 Tampa Bay Lightning defenceman Jake Dotchin has yet to appear in a preseason contest after breaking an unspecified team rule.
The team said Dotchin's benching would not impact his roster status, but he knows it can't be helping his status of making the opening night lineup.
"Obviously it's hurting me," Dotchin told the Tampa Bay Times Monday. "I want to be in there. I want to play every night. I'm doing what I can right now, working hard in practice and when I get a chance to go I'll be ready to go."
Dotchin has sat out in each of the team's four preseason games to date and it's unknown if he'll enter the lineup in any of their remaining three. He declined to tell the Times what rule he broke, calling the situation an "internal issue."
The 23-year-old made his debut with the Lightning last season, appearing in 35 games and posting 11 assists. He scored four goals and added nine assists in 35 games at the AHL level. Dotchin played 19 games in the AHL playoffs with the Syracuse Crunch, posting six assists and 43 penalty minutes.
Dotchin was among the players the Lightning exposed in June's expansion draft, though the team reached a side deal to send Jason Garrison, Nikita Gusev, a second-round pick and a fourth-round pick to the Golden Knights to protect Dotchin, among others.
He signed a two-year, $1.625 million contract as a restricted free agent in July.
The Cambridge, Ont., native owns an element of grit to his game and racked up 35 penalty minutes in his 35 NHL games. He posted 339 penalty minutes in 157 AHL games over the past three seasons. He was suspended three games in the AHL playoffs for a hit which caused ligament damage to Maple Leaf prospect Frederik Gauthier's knee.