Bombers lose home opener and QB Willy against Ticats
Zach Collaros passed for 354 yards and two touchdowns as the Hamilton Tiger-Cats scored six majors in a 52-26 rout of the Winnipeg Blue Bombers on Thursday. Drew Willy, Winnipeg's starting quarterback, left the field with a suspected head injury.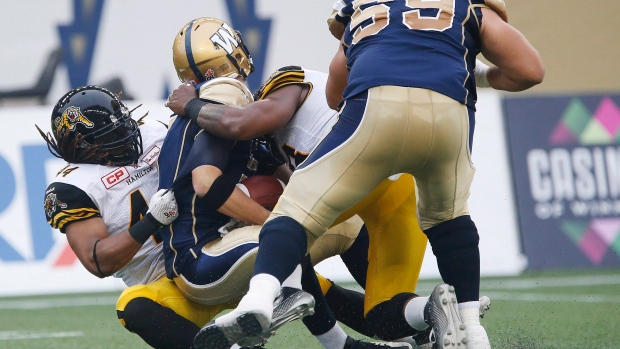 WINNIPEG - Drew Willy's night didn't go as planned.
The Winnipeg Blue Bombers quarterback was forced to watch most of his team's home opener from the players' tunnel as they lost 52-26 to the Hamilton Tiger-Cats on Thursday night.
Willy left the game with 20 seconds remaining in the first quarter with a suspected head injury after taking a helmet-to-helmet hit from Ticats defensive end Adrian Tracy. His status going forward is unknown.
"We'll see. Drew's tough," Bombers coach Mike O'Shea said of the injury. "He watched the second quarter from the tunnel so we'll see what that means for the coming week."
O'Shea would only label Willy's injury as "upper-body" and didn't know if Willy lost consciousness on the play.
Willy appeared to be knocked out as medical staff looked at him. After a couple minutes on the turf, he walked off the field to the locker-room and was replaced by Brian Brohm.
He's the fifth quarterback to be injured in the first two weeks of the CFL season, joining Montreal's Jonathan Crompton and Dan LeFevour, Edmonton's Mike Reilly and Saskatchewan veteran Darian Durant on the sidelines.
"It's tough," Brohm said. "He's a good friend of mine, a good leader on this football team. Especially when he was laying there, he wasn't moving much at the beginning. You never want to see that. Hopefully he's OK."
Hamilton coach Kent Austin said the hit on Willy didn't look intentional.
"(Willy was) getting thrown to the ground and Tracy was coming in and it's just something that happened," Austin said. "There wasn't anything malicious behind it."
"I hate especially when a starting quarterback gets hurt. I hate it for him and, personally, it's not good for the teams that experience it and it's not good for the league. I just hope he gets back soon."
Zach Collaros led to Ticats offence with 354 yards passing and two touchdowns as Hamilton crossed the goal line six times.
Collaros completed 26-of-33 pass attempts, including a 35-yard toss to Bakari Grant and a three-yard pass to Terrence Toliver.
Winnipeg didn't help its own cause — giving up 457 total yards.
O'Shea said Willy's absence affected his team "maybe more than it should."
The Ticats (1-1) had a 17-7 lead after the first quarter and 38-7 at halftime. The team announced on Twitter that the 38 points was the most first-half points for a road team in 23 years.
Hamilton got a rushing touchdown off a one-yarder by backup quarterback Jeff Matthews, while Brandon Banks returned a punt 67 yards for a score. Emanuel Davis took an interception 35 yards for a touchdown and Brandon Stewart picked off Brohm and ran 38 yards into the end zone.
Hamilton kicker Justin Medlock was good on field goals from 19, 32 and 38 yards and made all his converts.
Banks also had a punt return for a TD in his team's loss to Calgary last week.
This second one felt better with the victory tagged on.
"My job is easy, all I had to do was run," Banks said. "So I give credit to the other 11 guys that put up a good wall for me to get to get to the touchdown."
Willy was 3-of-6 for 48 yards. Brohm finished 16-of-28 for 146 yards and two interceptions. He scored a touchdown on a 16-yard run in front of 27,279 fans at Investors Group Field.
Winnipeg (1-1) scored points off a 13-yard run by Paris Cotton and a four-yarder by Cameron Marshall.
Kicker Lirim Hajrullahu was good on a 31-yard field goal, but missed both of his 32-yard convert attempts and had a single on the game's opening kickoff.
Hamilton conceded a safety to add two points to Winnipeg's score.