Boucher flips the script on Penguins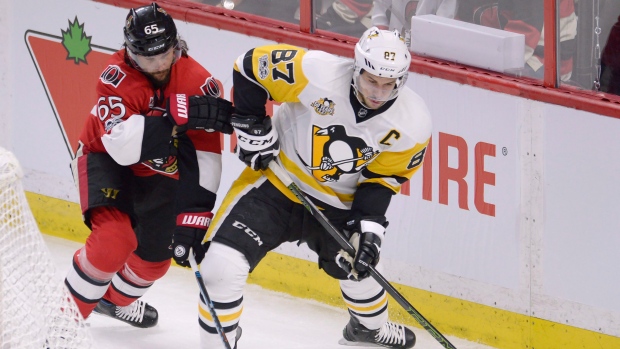 Remember how impressive the Pittsburgh Penguins were in their Game 2 victory?
After the Senators blitzkrieg of the Penguins in Game 3 at the Canadian Tire Centre, it feels like a faint memory. That impressive effort was all of three days ago.
A lot is going to be written about Pittsburgh's goaltending struggles in the first period from Wednesday night's game – such is usually the case when a team concedes four times and has to go to the bullpen in a pivotal game – and make no mistake, there's probably a legitimate goaltender debate in Pittsburgh right now. Matt Murray looked fine in relief and, quite frankly, he has outplayed Marc-Andre Fleury over the majority of the last two seasons. Head coach Mike Sullivan has a tough decision ahead of Game 4.
But the more interesting storyline is how Ottawa completely flipped the script in a matter of 48 hours. The Senators could hardly break out of the defensive zone in Game 2, melting time and time again against a relentless Pittsburgh forecheck. Their weaker defenders kept turning the puck over. Even Erik Karlsson – master of the ice flip – could do little but chip the puck off of the boards to temporarily relieve pressure. Pittsburgh had seemingly found an answer for Ottawa.
Game 3 was a completely different story. Ignore the goals for a moment. Ottawa generated 21 5-on-5 shots in the first period alone. How big of a number is that? For comparison, recall that half of Ottawa's periods in Pittsburgh saw them with a single-digit shot share. So, at least in the relative sense, it was a massive change.
What keyed the run? To my eye, it was two-fold. One: they were able to beat the Pittsburgh forecheck, easily recovering loose defensive-zone pucks and launching possession-based attacks through the neutral zone. Two: when they did get the puck in the Pittsburgh zone, it stayed there.
Karlsson, not surprisingly, was the lynchpin. I mentioned that Ottawa had 21 first-period shots on Fleury. Karlsson was on ice for 14 of those in eight minutes of ice time. You usually only see a player manage that type of shot activity against a team tanking for a lottery pick in the middle of March.
The only obvious change from the first two games of the series, to me anyway, was the flip in home-ice advantage. Sullivan had control of the matchups in the first pair of games, and then it was Guy Boucher's turn Wednesday night. I was curious, especially in light of Ottawa's first-period run, about whether or not Ottawa did anything different to get the Karlsson unit – predominantly paired with Marc Methot, and blended with all four Ottawa forward groups – better looks.
Here's a breakout of ice time across the first three games – the two with Pittsburgh having last change, and the most recent one with Ottawa having last change. My theory going into the game was that Boucher would look to get Karlsson et al. more minutes against some of Pittsburgh's depth players, and let his checking lines and defensive pairings take a bigger run at the Crosby and Malkin lines.
Boucher clearly went in a different direction.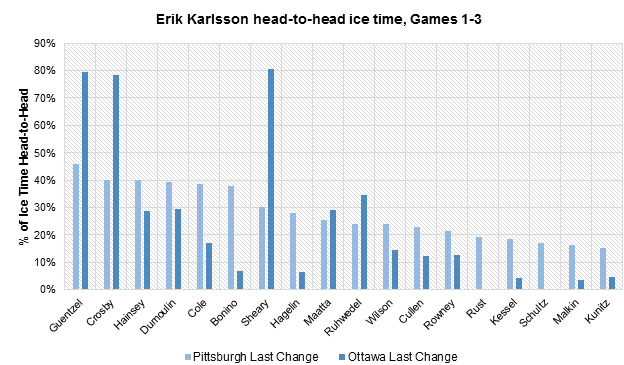 In the first two games, Pittsburgh clearly made a concerted effort to not match – or roll multiple lines and multiple pairings against the Karlsson group. I'd say that went the way of mixed results – Ottawa was the better team in Game 1, Pittsburgh the better team in Game 2. The one note is that if one line truly did get the matchup there, it was the Crosby unit. But Sullivan didn't exactly hard match.
Boucher did hard match though, getting Karlsson out every time Crosby was on the ice. Karlsson didn't have to play as many 5-on-5 minutes with the game put away by the second period, but basically any time the superstar centre jumped over the boards, Karlsson did too.
I don't know how frequently coaches hunt matchups like this against Crosby. Usually, it's the other way around – the luxury of having a Crosby in your lineup and knowing that in any one-on-one matchup, Pittsburgh will have the advantage. But Ottawa, at least for one game, did hunt here. In one way it's counterintuitive; at least to the extent that Ottawa really doesn't have the defensive depth to win games if the Karlsson pairing struggles.
In another way, maybe it makes sense. Maybe Boucher isn't that scared of Pittsburgh's depth and thinks he can break-even (or even win) a theoretical Karlsson-Crosby matchup, at least with Crosby's current state of wingers.
It will be fascinating to see if this continues in Game 4. Betting against Crosby has historically proven to be a poor choice, and no one really wins long-term trying to get the better of No. 87. But Ottawa only needs two more wins to advance, and no one is playing better right now than No. 65 in red.