Breaking Speed Limits
Speed is the engine of the game – it always has been – but the torrid pace of today's NHL has spurred a natural evolution process, Frank Seravalli and Steve Dryden write.
by Frank Seravalli and Steve Dryden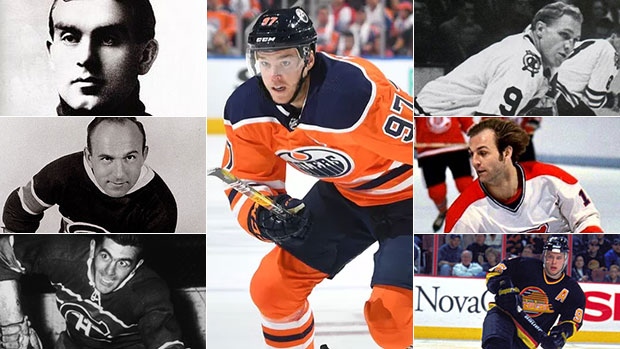 Paul Coffey's jaw nearly hit the floor when he watched Connor McDavid whirr past T.J. Brodie and the Calgary Flames last month for that searing opening-night breakaway goal.
One day after McDavid hit 40.9 kilometres an hour on the speedometer, Coffey phoned Wayne Gretzky with a simple question.
"What the hell was that?" Coffey asked. "That McDavid looks like he's in another league."
Gretzky didn't hesitate.
"Paul, you used to do that every other game," Gretzky replied.
Speed is the engine of the game — it always has been – but the speed limit has changed since Coffey blazed end-to-end.
"Is your car faster than your Dad's car?" Coffey said. "You're bleeping right it is. Today's NHL is like an Indy 500. Players are ripping around at 100 miles an hour."
Now every car, every player, is fast.
"To watch these guys, the way they're flying, I don't know how they do it for a whole shift," Columbus television analyst Jody Shelley said.
The average even-strength shift length in the NHL is down to 44 seconds, significantly lower than the nearly 57-second average when the league first began keeping individual on-ice data in 1998.
The tempo of today's game has shifted to the point that players – some of the most finely tuned physical specimens in the world – can only go that fast for that long.
"You can definitely tell the speed has increased," said Scotty Bowman, the NHL's all-time winningest coach. "Maybe not twice as fast, but it's pretty close."
Guy Lafleur used to draw oohs and aahs from the Forum faithful for the way his hair blew in the wind as he zoomed up the ice. Shelley said now "you're standing there in between the benches and it actually blows your hair back."
The torrid pace of today's NHL has spurred a natural evolution process, a survival of the fittest, which accelerated the extinction of enforcers like Shelley and anyone else on the ice who couldn't keep up.
"It's so fast that it's chaos, but it's organized chaos," said Shelley, who has 163 NHL scraps of his fight card. "The evolution has taken another step; it's gone to another level. Hockey has always been fast, but it's wide open now."
It has changed the way teams are built and prospects are scouted. Gone is the emphasis on size and brawn. The focus is on skating and hockey sense, with a leg up to those who can connect their hockey IQ with the firecrackers strapped to their feet.
Few exceptions to the rule remain.
"If somebody told me I've slowed down, well, yes, relative to everyone else," Jaromir Jagr said. "I didn't slow down. Everyone else just got a lot quicker. I'm a lot quicker now than I was then. Trust me. I've watched the tapes. I've looked at the game. The league is just a lot quicker."
If Jagr had come along now, TSN analyst Ray Ferraro wonders if he would have been viewed differently.
"Pittsburgh's Stanley Cup win in 2016 kicked everyone's vision for how a champion is constructed into a new gear," Ferraro said. "You can be small and play now, but you can't be slow. If you can't skate, you can't play."
————
The truth is, speed has held hockey in thrall since its beginnings.
It was called "The Fastest Game" and later elevated to "The Fastest Game in the World" in early 20th century newsreels.
Even before that, there was no mistaking hockey's defining element.
Cyclone Taylor, born in 1884, was the sport's first icon, remembered more than a century later not for any particular accomplishment, but for his nickname and what it said about his place in hockey.
Taylor understood the power of poetry. At 90 years old, he was still signing autographs: Fred (Cyclone) Taylor.
His would be the first of a series of nicknames that would – in part – serve as a proxy for recognizing the game's fastest and most skilled players. Cyclone. Stratford Streak. Rocket Richard. The Golden Jet. Le Demon Blond. The Russian Rocket. The Finnish Flash.
It was Taylor's league, the Pacific Coast Hockey Association, that inspired early efforts to name a fastest man on skates.
In 1923, The Vancouver Daily World asked readers to name the fastest skater in the PCHA: "This is going to be a tough ticket to write," said the Daily World. "There are about five players in the league who have every right to contest the honor."
Eleven years later, in 1934, The Canadian Press polled sports editors in the NHL's seven cities – asking who the league's fastest player was – and the consensus choice was Montreal superstar Howie Morenz, the Stratford Streak (aka the Mitchell Meteor).
Bowman, who may well be the game's pre-eminent historian, saw Morenz play as a youngster and would not quarrel with that result.
"Howie Morenz would take you right out of your seat," said Bowman, witness to nine decades of professional hockey.
In 1942, the NHL held its first-ever speed competition on Jan. 30, 1942 at Maple Leafs Gardens. Representatives from all seven teams competed and the Toronto Maple Leafs' Syl Apps skated away with the title and a wrist watch as first prize. His winning time was 14 and 4/5 seconds, which equated to 23 mph (36.8 kph).
"It was a colourful sight to see these stars pound around the surface at breakneck speed," reported the Toronto Daily Star.
Popular Mechanics published a story in 1968 that claimed Chicago's Bobby Hull reached speeds of 29.7 mph (47.8 kph) without the puck and 28.3 mph (45.5 kph) with it. There is no explanation of the methodology to reach those numbers, but if accurate, that would suggest Hull was in the same neighbourhood as McDavid who reached 25.4 mph with the puck in his first game this season versus Calgary.
Regardless of whether Hull could skip actually a stage or two of the evolutionary process and skate faster than someone 60 years into the future, there is no doubting The Golden Jet lived up to his nickname.
"Bobby Hull could take the puck from behind his own goal and make a rink length rush," said Bowman. "He would just blow by guys."
Perhaps nothing said how much speed meant to hockey as a move by Hull's team in 1972. At the urging of owner Bill Wirtz, the Hawks placed Dutch speed skater Ard Schenk on their negotiation list, giving them exclusive rights to sign the Olympian who had just won three gold medals in Sapporo.
Schenk never made the jump to hockey. But the NHL already had its own triple gold medalist: Bobby Orr.
"Bobby was the best player on the ice; he was the fastest player on the ice and it wasn't even close," Bowman said. "He would just go, go, go. There was no one else who played like him. There was no one who skated like him. It was the acceleration. He would just pick up the puck and skate away from people."
Bruins' Hall of Famer Johnny Bucyk said the game-changing defenceman had 16 levels of fast.
According to Orr, himself, there is at least one player who was a better skater.
"I couldn't skate like Paul Coffey and I'm not just being humble," Orr told the Edmonton Journal in 2005. "I'll tell you a story that sums it up. My dad used to call me. He'd say, 'Did you see that Coffey skate? He's a better skater than you are.' My dad said that. I'd ask him, 'Am I even close?' True story. That sums it up,"
A half-century after the NHL's first fastest skating competition at Maple Leaf Gardens, the NHL introduced a speed contest — without the puck – to the All-Star Game weekend. Sergei Fedorov was the inaugural winner in 1992. Four years later Mike Gartner set the record for fastest lap (13.386 seconds) around the ice, a mark that stood for 16 years.
It was not until 2012 that Carl Hagelin circled the rink in 13.218 seconds to topple Gartner's record.
Within five years, however, everything would change and the race was back on.
————
Officially, McDavid is the world's fastest skater in name only, at least according to All-Star Skills Competition record book.
That title belongs to Detroit centre Dylan Larkin, who took down Hagelin's mark with one lap at 13.172 seconds in 2016 – a new record that Larkin said "should never have happened." Larkin beat Hagelin by one one-hundredth of a second with the help of a flying start from the blueline, an edge given in no other prior competition.
"It was a weird situation," Larkin said. "They said I could start from the blueline, so why wouldn't I take that? It's a huge advantage."
One year later, McDavid tried to top Larkin in Los Angeles, but he was forced to sprint from a dead stop – with officials marking his starting line on the ice within two feet of the redline.
McDavid won the competition with a time of 13.31 seconds, or 0.138 of a second slower than Larkin. It was still faster than Gartner's original time, but it left McDavid with something of a sour taste in his mouth over the apples-to-oranges comparison.
"It's not a big deal, it's an All-Star Game," McDavid said. "But it was just one year where they allowed a running start. I don't know why. It definitely makes a difference to get a running start. That's going to be the record for a long, long time – if not forever – because no one's ever going to beat that."
Larkin, who was not part of last year's All-Star festivities, didn't watch McDavid's attempt.
"I heard about it pretty quickly on Twitter, getting tweets from McDavid people. There are a lot of them. Trust me," Larkin said. "They think I don't know it's a different race. But I do."
That starting point discrepancy is not the only reason why Coffey – who never won a speed-skating competition – believes the skills contest is a poor trial to determine the NHL's most fleet of foot.
"There is no puck on the stick. It's not for distance. It's from a stop. It's just one lap around the net," Coffey said. "There are a lot of fast players in the NHL, but everything changes with that little piece of rubber on your stick. McDavid can do everything at top speed."
In Coffey's opinion, the lineage of fastest skater goes from Orr to Coffey to McDavid, with all due respect to the Russian Rocket. Coffey wasn't bragging. McDavid passes Coffey's eye test as he's charging up the ice.
"The fastest skaters, we don't look like we're moving, but you're passing guys," Coffey said. "That's the best way I can explain. He looks like he's not moving, his legs aren't moving 100 miles an hour. He is smooth and he's gone."
McDavid has struck fear into the feet of all-star-calibre defenceman with not only that deception, but his ability to get to a full stride quicker than just about anyone else. Crossovers are his jet fuel.
Personal skills coach Darryl Belfry, who works with the Maple Leafs among a roster of NHL stars, said that the average third or fourth-line player crosses his feet over once every 12 to 14 strides. Sidney Crosby, Patrick Kane, Nikita Kucherov and McDavid crossover more than once every three strides.
"If he's idling and waiting to see how the play materializes, he can get up to top speed in a couple strides," Bowman said. "The best comparison I can make to Connor McDavid is Bobby Orr. They were able to generate that speed, and have the puck with them…How could you be so much in control when you have so much speed? That's probably the difference maker for those players."
McDavid recognized early that crossovers "allow me to get to top speed faster." For McDavid, maybe the most highly evolved skater ever, it's second nature.
"It's just something I was always good at," McDavid said. "I don't want to say I was a natural, but I was always skating. I was always on my rollerblades from day one. It kind of just naturally came from that, from being on my skates all day."
He can't explain how or why he picked it up.
"You can't teach it," Coffey said. "You just have it."
Larkin said he "absolutely" would like to go head-to-head with McDavid at the next All-Star Skills Competition to settle the score, potentially in Tampa Bay this January.
"I don't know who would win," Larkin said.
Coffey thinks he knows.
"McDavid is the fastest in the game … until 10 years from now, when we're talking about someone else," Coffey said. "That's just the way it is."