Bruins series gives Gardiner shot at redemption
Maple Leafs defenceman using disappointment from his performance in Game 7 last season as motivation for this year's rematch with the Bruins, Kristen Shilton writes.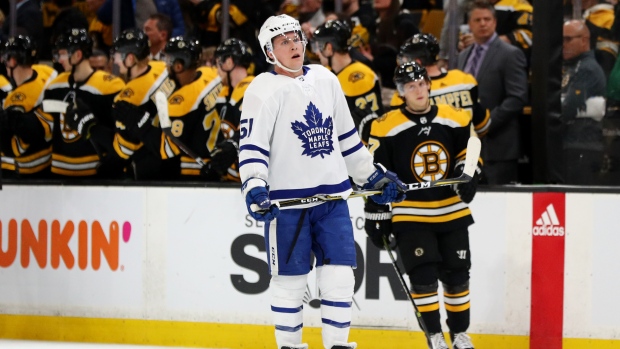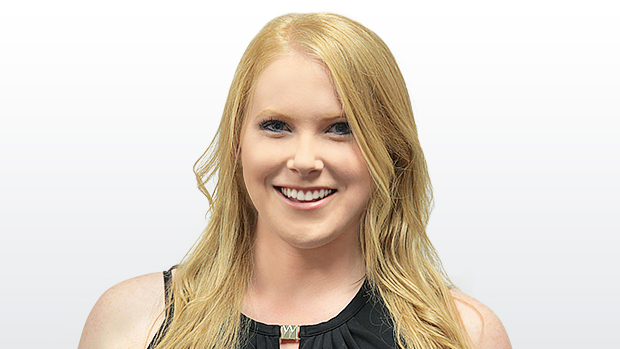 TORONTO – Jake Gardiner says he's never watched any tape of the Maple Leafs' Game 7 loss to the Boston Bruins in last spring's first-round playoff series.
It would be too torturous an exercise to see his minus-5 performance play out again, to revisit the third-period collapse where Toronto's one-goal lead evaporated with Gardiner on the ice for all three of Boston's unanswered goals.
Gardiner shouldered the blame for the Leafs' elimination in an emotional post-game media scrum, saying he "let a lot of people down."
Fast forward a year and the defenceman is using that disappointment as motivation for his shot at redemption when the Leafs open another first-round series against Boston on Thursday.
"It was for sure a couple weeks [before I got over it]. It was tough," said Gardiner after the Leafs' team meeting on Tuesday. "You never forget it, but you put it to the side and it drives you to work harder and be better."
Leaning on supportive friends and family, Gardiner turned the page on a new season with the Leafs – one that ended up being fraught with even more challenges.
During a rough individual stretch in January, Gardiner was booed off the ice by home fans after a poor short-handed play against Colorado's Carl Soderberg. Then a pair of back injuries wound up costing him 20 games.
Gardiner's risky style of play has made him a polarizing figure in Toronto, even when he's produced strong offensive numbers. The Minnetonka, Minn., native ranked in the top-20 among NHL defencemen with 52 points (five goals, 47 assists) in 82 contests last season. He followed that up with a respectable 30 points (three goals, 27 assists) over 62 games this year.
"We all lost; we were all there," said Leafs' coach Mike Babcock. "So, I think Jake Gardiner is a really good player. I think he's someone that people have decided isn't a good player so they pick on him. I'm telling you right now, we can't find another one. I think he's a good player. I'm going to play him a lot."
The idea that Gardiner is irreplaceable to the Leafs ties into another postseason narrative. Whatever run Toronto goes on this spring could well represent the last games Gardiner ever plays for the franchise.
Now 28 and the second-longest tenured Leaf, Gardiner has spent the entirety of his 551-game career in Toronto. He will be an unrestricted free agent for the first time on July 1. The Leafs' tenuous cap situation will likely prevent the team from offering Gardiner a salary comparable to what he'll fetch on the open market, making his long-term future uncertain.
"I've been with this team a long time, [with] a lot of these guys, and I definitely have to take advantage of [this run]," Gardiner said. "Every game you play, you learn something new, [learn] what works, what doesn't. On the ice, off the ice, good media, bad media, it comes with experience."
In some ways, Gardiner is just grateful to be available for this postseason. Sidelined for five weeks through the beginning of April with a back ailment, there were times when Gardiner wondered if he'd be healthy enough to dress again.
The Leafs' last two regular-season games were a chance to test the waters, and Gardiner says his back "feels good." Now he's ready to help the Leafs find a way past their recent postseason rivals.
"We were right there with them, so we know we can beat them," he said. "We were talking [as a group about] if you're up in a game, make sure you finish it. Any time you have a defeat like [last year] it drives you to be even better each year. But this is a different team. There are different guys on the team and it's a fresh start."
Babcock hasn't shied away from tinkering with his lineup in the lead-up to playoffs, shifting Gardiner from his usual place next to Nikita Zaitsev at Monday's practice to a pairing with Travis Dermott. That's all well and good with Gardiner, who has shown good chemistry with Dermott in the past.
The key for Gardiner, and all the Leafs still stinging from last spring, will be to treat this series like the fresh start that it is.
"The great thing about it is, it doesn't matter anymore what happened in the regular season or anything like that," said Patrick Marleau. "It's all about what's here now and winning games and when the focus gets that narrow, it helps. Every time you get on that ice, it's a chance to prove something and you have to be ready to excel."