Bruins trade F Vatrano to Panthers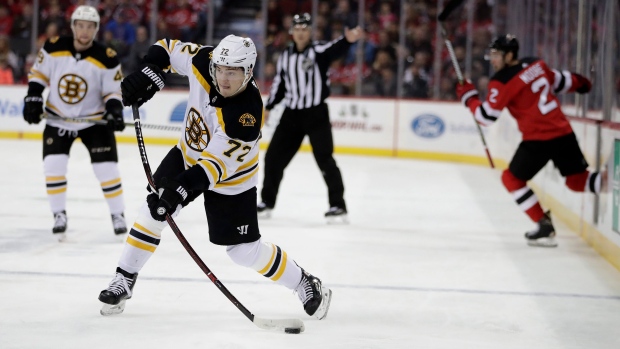 The Boston Bruins have traded forward Frank Vatrano to the Florida Panthers for a 2018 third-round pick.
The 23-year-old has two goals and a minus-3 rating in 25 games with the Bruins this season. He has been out of the Bruins lineup since Feb. 6 and was listed at No. 42 on the TSN Trade Bait board.
Vatrano scored 10 goals and posted 18 points in 44 games with the Bruins last season.
Undrafted in the NHL, Vatrano joined the AHL's Providence Bruins in 2015 after finishing his season with UMass-Amherst in the NCAA.
He debuted with the Bruins during the 2015-16 season, scoring eight goals and 11 points in 39 games. In 36 games at the AHL level that season, Vatrano scored 36 goals and posted 55 points in 36 games with Providence.
In total, Vatrano owns 20 goals and 31 points in 108 career NHL contests.
With the third-round pick, the Bruins now once again have a selection in each of the first four rounds of June's draft. Boston traded their own third-round pick to the New York Rangers earlier this week for defenceman Nick Holden.
More details to follow.