By the numbers: Can Stanton be stopped?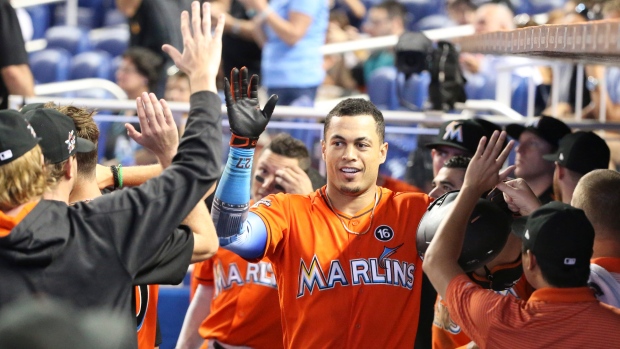 Up until the All-Star break, it was a close race for the Major League Baseball home run lead. Aaron Judge got out to a hot start but Cody Bellinger, George Springer, Joey Votto and Giancarlo Stanton were all within five of the lead.
Since then, it's been all Stanton. Coming into play Tuesday, his 43 long-balls are seven ahead of Judge and nine ahead of Bellinger and Mike Moustakas.
The Miami Marlins' outfielder has been tearing the covers off baseballs recently and there aren't a lot of pitchers around the MLB that can stop him. Stanton's pace from the last 11 games has been particularly eye-popping. He has 10 home runs – more than the combined total of nine teams – to go along with 19 RBI, a .381 batting average and a slugging percentage of 1.143.
But the 27-year-old has been doing it all season long. From July 5 on, he has 22 home runs, seven more than anyone around the league.
Stanton has been one of baseball's most feared hitters since his debut on June 8, 2010. He is tied with Jose Bautista for the most home runs since then with 251, narrowly edging Edwin Encarnacion and Nelson Cruz at 249 and 248, respectively. In February of 2015, Stanton was handed the largest contract ever in North American sports at 13 years, $325 million.
He is easily the greatest home run hitter in Marlins' franchise history.
Top home runs seasons in Marlins history
| Player | Number | Season |
| --- | --- | --- |
| Giancarlo Stanton | 43 | 2017 |
| Gary Sheffield | 42 | 1996 |
| Giancarlo Stanton | 37 | 2014 |
| Giancarlo Stanton | 37 | 2012 |
| Giancarlo Stanton | 34 | 2011 |
| Miguel Cabrera | 34 | 2007 |
| Miguel Cabrera | 33 | 2004 |
In fact, Stanton might be destined for the history books in 2017. With 115 games under his belt and 43 home runs, he is closing in on Roger Maris' total of 61, the largest number of home runs in a season outside of the steroid era. It took Maris 114 games to hit 43.
There are no questions surrounding Stanton's dominance, but there will always be about his health. In eight seasons, he has never played more than 150 games. After his second-highest total in 2014 with 145 games played, his next best is 123. In 2015, he was hit with a pitch that broke the hamate bone in his left hand, forcing him to miss the final 88 games. Last year, he missed a total of 43 games with various injuries.
But maybe his injury woes are behind him. Finally healthy this year, he has played in all but two games this season and has never looked better. With the Miami Marlins sitting at just 57-60, it doesn't appear Stanton will continue mashing baseball into October, but reports emerged Tuesday saying he had cleared revocable waivers which would allow him to be traded. Contenders are sure to be interested but what price tag Stanton may have could make a potential trade difficult. Deadline deals involving controllable superstars – especially ones with $325 million contracts – aren't common.
But neither is someone who can hit a baseball like Stanton.
He will look to continue his career-year Tuesday as the Marlins continue their series with the San Francisco Giants.
SEASON STATS
Home runs - 43*
Runs batted in - 93
Batting average - .283
On-base percentage - .374
Slugging percentage - .640*
Runs scored - 83
* Leads league