Camp curiosity Luciano hopes to stick with Blue Jays
After the Toronto Blue Jays rolled the dice in the Rule 5 Draft back in December, stealing Elvis Luciano from the Kansas City Royals for $100,000, the wiry right-hander's time is now due to the 19-year-old's delivery, his frame, and a fastball that averaged 93.1 mph last season, Scott Mitchell writes.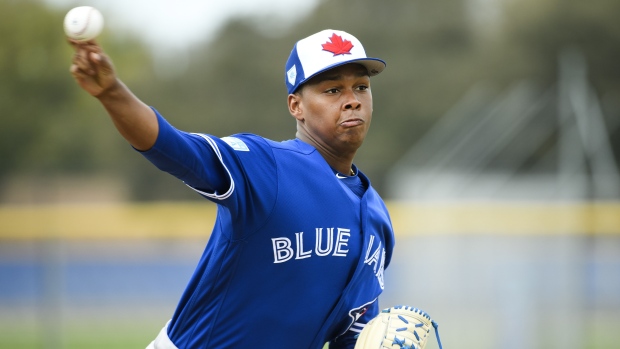 DUNEDIN, Fla. — Teoscar Hernandez dug into the box on a dusty diamond at the back of the Bobby Mattick Training Center on Wednesday, readying himself to face 19-year-old Elvis Luciano.
Normally, a pitcher of Luciano's age would simply be trying to make an impression against a big leaguer in this situation, one that could be filed away by the coaching staff for well down the road.
This situation is much different.
Thanks to the fact the Toronto Blue Jays front office rolled the dice in the annual Rule 5 Draft back in December, stealing him from the Kansas City Royals for $100,000, the wiry right-hander's time is now.
It has to be.
The equation is simple: Carry him on the roster all season or be forced to offer him back to a K.C. organization that would welcome him home with open arms.
It makes every spring scenario from here on out an important one for Luciano, who doesn't speak English and was surprised to be picked in the first place.
"I liked the colours (of the Blue Jays)," he said with a slight grin through translator Tanya Bialostozky. "I just thanked God for the opportunity."
Hernandez, wearing a C-Flap protector on the left side of his face and a big, Barry Bonds-style pad on his left elbow, watched a couple of pitches in the dirt.
The next one got away from Luciano, riding up and in at Hernandez, striking him on the pad as he hopped out of the box and GM Ross Atkins looked on with concern.
The outfielder was fine. Evidence of that came a couple pitches later when he took one deep over the left-centre field wall.
Welcome to the Elvis Luciano Experience.
Throwing a 19-year-old who has never pitched above rookie ball into the major-league mix is going to have obvious bumps in the road, but the question is whether the Jays have enough patience to get Luciano through the 2019 season, at which point he can then be shuttled back to the minors in 2020 to continue developing as a starter.
The next five weeks will be interesting.
"For a youngster that just turned 19, his stuff is electric," said pitching coach Pete Walker, who tried to help Luciano's confidence after the Hernandez home run, joking that the wind was blowing and it was actually a pop up. "He hides the ball very well, his changeup is outstanding, his breaking ball is a little bit of a work in progress, but his fastball is major league ready."
Right now, Luciano is a camp curiosity.
Other players know the situation he's in, and they're interested in getting a look.
"You can tell he's got a power arm," said catcher Reese McGuire, who's just starting his battle for the backup job with Luke Maile. "The secondary pitches that I saw in the one bullpen that I caught were slider and changeup, and he located to both sides of the plate well with them. The changeup definitely looked like one of his better secondary pitches. Really good arm speed, mimicking the fastball, pretty good spin and falls downward. He was a little nervous, obviously, because it was one of the first ones that he threw, but you could see why we're taking a chance on him."
As McGuire noted, the cambio has drawn rave reviews early on, with a couple of head-shaking reactions during live BP on Wednesday.
There are many reasons the Blue Jays gambled.
They love his delivery, his frame, and a fastball that averaged 93.1 mph last season, touching as high as 97.
The sink, fade and velocity separation on the changeup are exciting the coaches, too.
Consistency with the command, however, is a giant work in progress, as you'd expect from a kid who just blew out 19 candles on Feb. 15.
Luciano will get opportunities early in the spring, as the Jays try to figure out if their low-risk, high-reward gamble will work.
"I'm fired up," Atkins said. "I'm excited to see that. I imagine it won't be seamless and there will be some potential bumps for as young as he is. How he handles seeing the Yankees lineup for the first time and then for the third and fourth and fifth time, potentially. Based on what we've learned about him, I'm more excited than anxious, for sure.
"I've seen him throw a bullpen and I've watched a lot of video, but more important is what our scouts and coaches have seen. It's been impressive. I think more than his stuff, he's seemed relatively relaxed and at ease, which, for someone his age, is really encouraging."
Spin rate is a term that has been buzzing through Major League Baseball for a couple of years now, but it's still relatively new to most, including those who are trying to implement the data in practical fashion once it's collected.
This spring, the Jays have been using Rapsodo technology to measure the spin and axis, giving them the movement and trajectory of every baseball thrown.
Sanjay Choudhury, manager of baseball analytics for the Blue Jays, can easily describe it in layman's terms.
"It's kind of like a radar gun on crack," he said. "You're trying to measure more attributes of the pitch."
After catching him, McGuire noted the ride on Luciano's four-seam fastball, but he's not exactly a spin-rate darling.
Last season, split between two rookie-ball affiliates in the Royals organization, Luciano's fastball spin checked in at 2,300-2,350 RPM, which would be above MLB average, but nothing extreme.
Same thing with the changeup, which lands in the 1,800 RPM range.
"His fastball, we think, has good run," Choudhury said. "It has two-plane movement, that life, that we're really looking for, able to backspin a ball, side spin it, and have it kind of move in two dimensions. Then he's able to kind of kill some of that in his changeup. His changeup has depth and that life to it, as well."
You can cherrypick exciting comparisons such as Jameson Taillon (2,350 and 1,714), J.A. Happ (2,333 and 1,617), and Trevor Bauer (2,324 and 1,852).
You can find just as many uninspiring matches, showing that spin rate is just a part of the overall package.
"I think one of the challenges, usually, for younger players is there's an element of projection involved, whereas for a major leaguer it's kind of 'this is what it looks like and it's probably going to be pretty similar when he shows up to camp,' " Choudhury said. "For a 19-year-old, there's usually an upward trend but you don't really know."
McGuire, however, can feel a high-spin fastball, and Luciano's comes close.
"There's a little bit of a difference with the way the ball comes in," McGuire said. "It feels as if it's coming through my glove and it feels as if it's got a ride to it as it's coming it. It's coming down off the mound, but the way the ball is spinning it's just riding right through and a little bit upward."
Last year, the Jays had one Rapsodo unit. This year, they'll outfit each minor-league affiliate with one.
No one is really sure where this trend will take baseball, but the Jays are likely moving towards the forefront with its new analytically-open coaching staff.
"Partially, it's that we feel better with the technology, and it's partially, as a staff, both the nerds, the pitching coaches, the hitting coaches, we all have a much better idea of what to actually do with the data and how it can feed back into instruction and feed back into measurement," Choudhury said. "What you don't want to do is invest in all of this and collect all these numbers, but the player has no idea what it means and the coaches don't know what it means.
"We're learning a lot of this stuff. The whole industry is learning. A lot of teams will use it to some extent now, but we want to approach it kind of with humility and curiosity for how we can continue to get better."
The Luciano acquisition is an intriguing blend of analytics and objective scouting attributes, but there isn't much time to marry the two on a normal developmental track.
Luciano will simply have to get hitters out.
"Any time you get a Rule 5 guy that's in a position like that, you certainly want to challenge him a little bit and see what he can do against some good hitters," Walker said. "There will be times when he pitches early in the game, I want to try to get him to face some pretty good hitters and, obviously, ease him into it, but he's going to be here throughout camp and he'll get plenty of opportunities to show what he can do but he'll be challenged for sure. We have to find out, early."​