Canada routs Belarus, still unbeaten at WHC
Ryan O'Reilly scored twice as Canada remained unbeaten at the world hockey championship with an 8-0 rout of Belarus on Monday. Canada broke a close game open with four second-period goals to improve to 3-0 in St. Petersburg, Russia.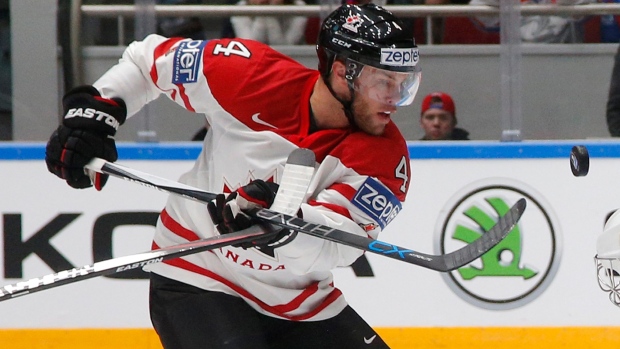 ST. PETERSBURG, Russia - Matt Duchene says opponents always bring their best when they face Canada at the world hockey championship.
So far the defending champions have been able to respond to the challenge, even if it takes them a while to get going.
Buffalo Sabres forward Ryan O'Reilly scored twice Monday as Canada improved to 3-0 at this year's championship with an 8-0 rout of Belarus.
Playing their third game in four days, the Canadians followed a similar pattern to previous wins over the United States and Hungary. Canada allowed Belarus to keep the score close through 20 minutes before breaking the game open with four second-period goals.
"We're going to get every team's best game," said Duchene, who had a goal and two assists against Belarus and is tied for the team lead with five points. "The kid yesterday on Hungary that scored picked up the puck. That kind of tells you what it means to score against us and what it means to play against us. So we're going to get everybody's top game right off the bat and it's all about just staying patient, weathering the storm, and then once we get one or two, we're going from there."
The Canadians once again deployed a balanced attack, with seven different players scored in all situations.
O'Reilly's first goal of the tournament came from a second-period short-handed marker that was ruled to have deflected into the net off his skate following a pass from Boone Jenner. The second was an own goal off the skate of a Belarusian defender at 1:26 of the third.
Corey Perry, Taylor Hall and Mark Stone contributed at even strength while Derick Brassard, Duchene and Michael Matheson all scored with the man advantage as the Canadian power play went 3-for-5, rewarding coach Bill Peters for showing patience with his special teams.
"We talked about making some adjustments," said Peters of a power play that had gone 1-for-10 in Canada's first two games. "We talked about possibly changing our power-play units. We felt we gained a little bit of momentum in the last game, we left them together and I think that familiarity paid off."
Kevin Lalande, a 29-year-old native of Kingston, Ont., was lifted from the Belarusian net at the 11:39 mark of the second period after giving up five goals on 18 shots. Dmitri Milchakov stopped 19 of 22 shots the rest of the way.
Cam Talbot was perfect in goal for Canada, making 13 saves for his first shutout of the tournament.
Duchene was a member of Canada's gold-medal winning squad in Prague in 2015, and says this year's team is similarly focused on keeping good habits.
"We only allowed 13 shots so I think we're as pleased with that as with the goals we're scoring."
He also sees the team improving as it goes along in the tournament. "We didn't love parts of our game against Hungary. It was a tough game to play in-they worked really hard-but so do these guys (from Belarus). We were more structured today and played a much better game today."
Canada has now outscored its opponents 20-2 in three games and sits at the top of the Group B standings with nine points along with Finland, which beat the Americans 3-2 Monday. Slovakia, at 2-0, will face Germany on Tuesday.
In Group A action in Moscow, Russia beat Latvia 4-0 to move to 2-1 in the tournament, while the Czech Republic remained undefeated (two regulation wins, one overtime win) with a 4-2 victory over Sweden.
Canada will enjoy a day off on Tuesday, then practice on Wednesday before facing Germany in its next game on Thursday.
Note to readers: This is a corrected story. A previous version had the incorrect score for the Russia vs. Latvia game