Canada's Virtanen reconnecting with Finnish roots at world juniors
The announcer at Helsinki Ice Hall pauses before trying to pronounce the names of Canada's players at the world junior hockey championships.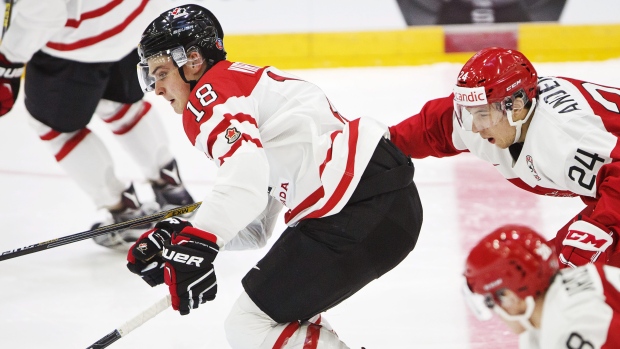 HELSINKI - The announcer at Helsinki Ice Hall pauses before trying to pronounce the names of Canada's players at the world junior hockey championships.
All except Jake Virtanen, which he attacks with Nordic zeal: "YAKE VEER-tah-nen."
Virtanen hasn't earned any points at the world junior hockey championship for Canada so far, but he's been an impact player on the ice and a leader in the locker-room as one of four returnees from last year's gold medal-winning team.
He's also been something of a tour guide for his teammates, as his father Rainer emigrated from Finland to Canada as a child. The Virtanens still have family about five hours away from Helsinki, the nation's capital where the world juniors are being held.
"Obviously, I'm fully Canadian but I have that dual citizenship with me and I've got that Finnish blood in me, too," said Virtanen, who was born in New Westminster, B.C., but was raised in nearby Langley and Abbotsford.
As a result, he doesn't quite wrap his tongue around his last name quite like the Finns do, instead going with a more Canadian "Jake VIHR-tan-in." Or just "Verts" to his teammates.
Finnish hockey fans haven't quite adopted him as one of their own, but they recognize the roots of his surname and he has a large cheering section of family at all of Canada's games in the preliminary round of the international tournament.
"It's a little different," said Virtanen on Tuesday of having a large cheering section despite being so far from Canada. "I did it before when I was here for the under-18s (in 2014) but being in Helsinki with a bigger town, the last time it was in Imatra, it's a little different.
"There's a lot more fans, a lot more media. It's pretty cool, I'm having a lot of fun with it."
Virtanen was a late edition to Canada's world junior roster after the Vancouver Canucks gave him permission to join the team on Dec. 13. The NHL rookie has a goal and three assists in 19 games with Vancouver and has no points in two games with the minor-league Utica Comets.
He's the only player on the world junior team that has regular-season NHL experience.
Virtanen's family — which mainly lives about five hours away from Helsinki — is pleased to have the impromptu reunion.
"My dad hasn't been here in a while, so he's happy that the world juniors are here so he come back and have fun here," said Virtanen.
His heritage is never far from his mind, as Virtanen just has to roll up his sleeve to see a large tattoo of the Finnish coat of arms on his right forearm. The distinctive insignia has a crowned heraldic lion with its right foreleg replaced with an armoured hand wielding a sword, while its hindlegs stand on top of a sabre.
"My grandpa loves it," said Virtanen of the tattoo which he got last summer. "I told my grandma I was getting it and she was like 'you don't need any tattoos,' that's what any grandmother would say.
"But my grandpa was real excited. He said 'that's the best looking lion I've ever seen.'"
— Follow @jchidleyhill on Twitter