Canada tweaks lines ahead of second pre-tourney game
Head coach Dominique Ducharme tweaked his forward lines as Canada prepares for its second pre-tournament game against the Czech Republic.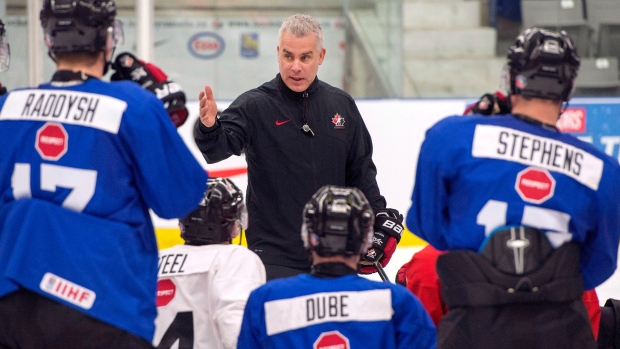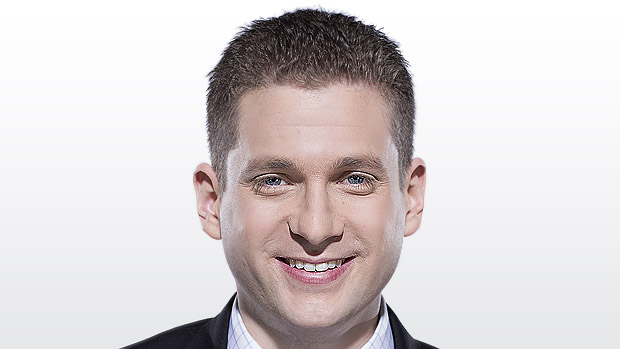 Team Canada practised on Tuesday in Ottawa at the Canadian Tire Centre. TSN's Mark Masters is with the team and has the latest as Canada prepares for its second pre-tournament game against Czech Republic on Wednesday in Ottawa.
* For the first time since the 22-man roster was finalized, head coach Dominique Ducharme tweaked his forward lines. Mitchell Stephens and Blake Speers flipped spots at Tuesday's practice. Stephens moved up to skate with Dylan Strome and Pierre-Luc Dubois while Speers was with Anthony Cirelli and Dillon Dubé. "It's time to try things," Ducharme explained. "We liked the (Mathew) Barzal line last night, we liked the (Nicolas) Roy line, we thought the two other lines were good, but I think we can get more out of them."
* Canada has posted three straight shutouts (two scrimmages at the selection camp and then Monday's game against Finland) so Ducharme hasn't touched his defence pairings. He's been especially impressed by the duo of Thomas Chabot and Philippe Myers. "Both guys, the way they move and transition is really good," Ducharme said. "Defensively, they're so mobile that they're right on top of guys and they don't give (them any) time and space. I like the way they work together."
For Myers, the top-pairing assignment is all the more impressive when you consider every NHL team passed on him at the 2015 draft. In fact, he's the only player on Team Canada who hasn't been drafted. "He's a stud," Barzal said. "Some guys fly under the radar, but I don't know how a guy who's 6-foot-5 and moves the way he does and shoots the way he does can go undrafted. I'm sure we'll see him in the NHL real soon." Myers insists he never lost faith that his career would turn around. "At 17, I had a tough season, battling through injuries, which didn't allow me to perform at my best," he explained. "When I didn't get drafted, I didn't take it the wrong way. I just realized that I had to work harder so I put a lot more hours in the gym that summer."
Myers has always been on Hockey Canada's radar. He was on Team Atlantic at the under-17 level and was at the summer camp for under-18 hopefuls, but ultimately didn't make the team. "He's always been a good skater and I think that skating always allowed him to have an asset of skating past players when he was younger, but it caught up to him when he got to the Quebec league," said Ryan Jankowski, Hockey Canada's director of player personnel. "He had a tough draft year and there were a lot of things in his game that weren't quite there yet and there was a lack of confidence in his game. He found a way to develop and push through that and put one tough year behind him."
After the draft snub, Myers attended Calgary's development camp and felt really good about his game even though the Flames didn't invite him to training camp. He did get an invite from the Flyers and took full advantage of the opportunity. "I got a contract and from there my confidence just kept growing and growing," Myers said with a smile. "I got the coach's trust back in Rouyn and I got a lot of opportunities and I took advantage of them." Myers put up 17 goals and 45 points in 63 games last season helping the Huskies make the Memorial Cup. His teammate in Rouyn-Noranda, Jeremy Lauzon, is among those who can only marvel at the transformation. "It's amazing," said Lauzon. "We both came into the Q at the same time and I remember he had no confidence in his game, but right after he signed in Philly he played so good. In one year it's amazing what he did." And now Myers is allowed to experience a lifelong dream. "Since I was a child I've been watching the world juniors with my family," the Moncton native said. "It's a great honour to be part of this process."
* Stephens, one of five returning players on the roster, likes the way the team is coming together. "There's a lot of good chemistry in the group, a lot of guys who are becoming best friends so it's awesome to see," the Tampa Bay Lightning prospect said. Apparently many of the guys are playing cards to relax with Shnarps the game of choice (although Stephens struggled to explain the rules).
Two guys who never thought they'd be bonding over a game of cards? Kamloops goalie Connor Ingram and Barzal, a forward on the Seattle Thunderbirds. "We didn't get along before I knew him," Ingram said. "We really didn't get along my first year in the WHL. I remember after a game, the only time I've ever thrown a blocker at a guy was Mathew Barzal. But ever since we've been here we've become good friends, actually. He's fun to joke around with." What about this blocker-throwing incident? "It was a game at Kamloops, we were winning 3-2, they pulled their goalie and he shot a puck and it beat me clean, but hit the crossbar and went out of play. We called a timeout and he spent the full 30 seconds down in my crease just in my ear. After the game I was up in his face telling him, 'We run this town,' or whatever. At summer camp that's one of the first things we talked about and now it's something we joke about." Asked about Ingram's personality, Barzal starts laughing. "He's just a little bit of a goalie," the Islanders prospect said. "He's super funny, really easygoing and makes jokes about himself all the time, which is pretty funny. I never knew how funny he was. He's really opened up since he's been here."
* Canada hasn't officially named a starting goalie for Wednesday's game against the Czechs, but Ingram is expected to get in at some point during the pre-tournament schedule. The world juniors will be his Team Canada debut at an international event. Is he looking forward to putting the jersey on in a meaningful game? "It's funny, yesterday I was trying to put my jersey on and it got caught on my chest protector and I needed some help. That's not how I pictured the first time I put a Team Canada jersey on to go (laughs) but it will be exciting whenever it happens." That's the type of self-deprecating humour Ingram has become known for around the rink. The Saskatchewan native does get serious when asked if he can put into words how much this opportunity means to him. "I don't think I can," he said. "It's something special for sure." Ingram is competing with Carter Hart for the starting job and so far the Silvertips keeper has not allowed a goal in two scrimmages and one pre-tournament game (39 saves). Ingram isn't fazed by this. "It's nothing new for that guy. You see it in Everett all the time. It's what he does."
* Chabot was in high demand after Tuesday's practice as the local media flocked to the newly-minted alternate captain. The Senators prospect, who spent the first month of the season in the NHL getting into one game, believes his time in the professional ranks will help him at the world juniors. "I learned a lot in Ottawa. Off the ice, on the ice, I learned a lot of things. I've grown a lot as a player, become more of a pro player. When I got back to Saint John it helped me a lot. I worked a lot on my defensive game. If I compare to the last couple of years, I think I'm a better, more complete defenceman. I can be on the power play and play against the top players on the other team." Chabot said being part of a Western Conference trip with the Senators allowed him to see how guys handle things on the road and what it takes to stay at the top of your game.
Team Canada got to use the Senators dressing room for practice on Tuesday although Chabot didn't get his old stall back. He was one spot away. Nonetheless, he acknowledges being able to play for Team Canada in Ottawa is "special for sure. It's going to be fun to be back. I know this place pretty well."
* One of the scarier moments in the CHL last season occurred in the QMJHL playoffs when Lauzon's neck was cut by a skate blade during a game against the Blainville-Boisbriand Armada. Lauzon was rushed to hospital and needed surgery. And yet the Bruins prospect insists the worst injury he's sustained in hockey is a concussion that sidelined him for all but 13 games this season. "With the throat I knew I was getting better so I could be optimistic, but with a concussion you never know when you'll be ready," he explained. "You never know when you'll feel better. You can wake up one day and feel great and wake up the next day and feel worse than ever. I think it's the worst injury you can have in hockey." Lauzon sustained the concussion in a game on Oct. 8 and didn't return to the lineup until Nov. 4. It was the second concussion of his career. Lauzon said after the freak neck injury last year, one of his goals was to not miss any time this season. "I wanted to play the full year this year," he said. "I played two games after my pro camp and got concussed so I'm just happy to be here now."
-
* Lines at Team Canada practice:
Dubois-Strome-Stephens
Joseph-Barzal-Raddysh
Jost-Roy-Gauthier
Dubé-Cirelli-Speers
McLeod
Chabot-Myers
Bean-Juulsen
Fabbro-Clague
Lauzon
Ingram, Hart
* PP units at Team Canada practice:
Chabot
Barzal-Raddysh-Strome
Dubois
-
Myers
Bean-Gauthier-Jost
Roy