Canadian Pospisil upsets World No. 1 Murray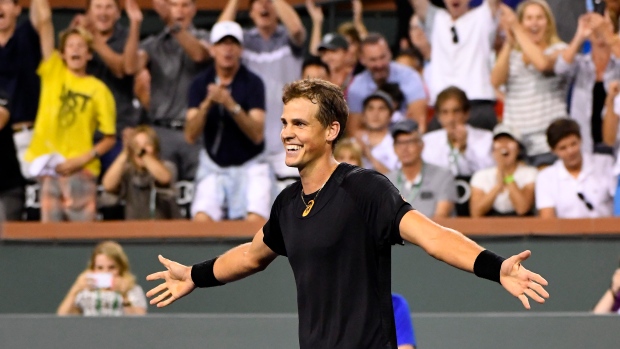 INDIAN WELLS, Calif. -- Anything is Pospisil. Three words you may have heard before but not many people, if any, would have said them again heading into Vasek Pospisil's second round match at the BNP Paribas Open on Saturday night against the World No. 1 Andy Murray.
Let's be honest, the cards weren't exactly stacked in the Canadian's favour. A 3-20 career record against top-ten opponents, an 11-match winless streak against top-five players in the world and an 0-4 career head-to-head record against Murray. Add in just 13 wins in his last 37 singles matches overall.
But you can throw all that out the window, because the 26-year old native of Vernon B.C. came up with the biggest win of his tennis career, stunning the defending Wimbledon Champion 6-4, 7-6 in an hour and 51 minutes in front of a boisterous crowd at the main stadium court in Indian Wells, California. Not bad for someone who needed to win a pair of qualifying matches just to get into the main draw and had been playing lower-tier Challenger events of late.
If I pick a handful of great moments in my career, this is definitely one of them," said Pospisil. "To beat the No. 1 player and somebody as accomplished as Andy, one of the greats of the game, is amazing."
Both players took their time getting into the match with four breaks of serve in the first seven games. Then it was Pospisil who hit a great forehand service return down the line to jump ahead 5-4. In the next game he held serve to take the opening set 6-4.
Pospisil then broke again in the first game of the second set and had break chances to go up 3-Love but instead it was Murray who held serve and then broke back and levelled things up 2-2. The players stayed on serve the rest of the way until the tiebreak.
Pospisil took an early 3-1 lead in the tiebreak after Murray double faulted for the seventh time in the match. He then increased the lead to 6-2 with some smart aggressive tactics at the net. After dropping both points on his serve, Pospisil, on his fourth match point, capitalized on a weak forehand from Murray and hammered it cross court to secure the victory. The pro-Canadian crowd, which included musician David Foster and former boxer Mike Tyson, went into a frenzy and the weight of the past 14 months for Pospisil seemed to disappear.
"I was telling myself, especially in the tiebreak, I remember saying whatever the score I don't want to have any regrets. I don't want to come out of the match thinking why did I play a passive point when I am playing a baseliner who's one of the best baseliners ever," said Pospisil, who will see his ranking improve from 129th in the world." I just did well to keep focused on what I wanted to do on playing aggressive and taking it to him coming into the net, kind of giving him different looks and played it a little bit differently than I did against him the previous times and it worked out tonight."
The aggressive style encouraged by his new coach, 17-time Grand Slam doubles winner Mark Woodforde paid off. Mixing in his serve and volley game at times seemed to catch Murray off guard and Pospisil performed like the player he was three years ago when he was ranked as high as No. 25 in the world.
"Crowds like it when guys are being aggressive," said a gracious Murray. "He came up with some fantastic shots. I didn't serve particularly well tonight, which didn't help things. And then in the second set, he started to play more aggressively. I was giving myself decent looks at passing shots. I missed a few tonight. He also came up with some really good reflex volleys on important moments and important points."
Pospisil, who won the doubles title at Indian Wells two years ago, had 27 winners on the night and won 71 per cent of points on his first serve. He became the first Canadian to beat a World No.1 since Daniel Nestor defeated Stefan Edberg in a Davis Cup match in Vancouver 25 years ago.
"I felt like a big result was coming, because I believe in my abilities, but just kind of had to put the pieces together again," Pospisil said. "Obviously to beat the No. 1 player in the world is incredible. I mean, it's the biggest win of my career, and I'm just thrilled right now."
NOTES:
Pospisil had dropped all four career meetings with Murray and hadn't won any of the nine sets they had played until Saturday night.
Pospisil's next opponent will be Serbian Dusan Lajovic, ranked 106 in the world. Pospisil won their only career meeting in straight sets on grass in the Netherlands in 2014.
Pospisil has played five matches over five days at Indian Wells this year. He has won all five of those matches – two qualifying and two main draw singles matches and one main draw doubles match with partner Steve Johnson. He will get a well-deserved day off on Sunday.