Canadiens beat Lightning to push series to Game 6
Pierre-Alexandre Parenteau scored the winner in the third period as the Montreal Canadiens beat the Tampa Bay Lightning 2-1 in Game 5 Saturday night to stay alive in their second-round series. Devante Smith-Pelley also found the back of the net for the Canadiens, who still trail 3-2 in the series.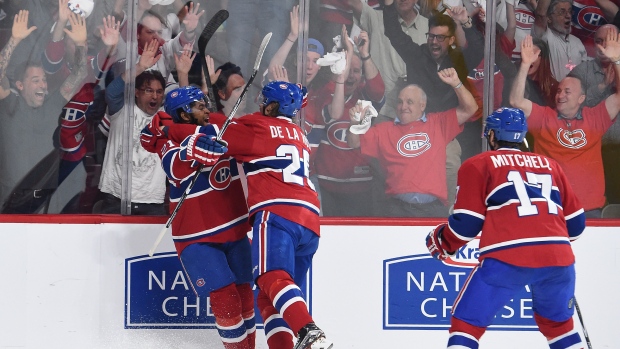 MONTREAL - What a time for two struggling Montreal Canadiens to get their first goals of the playoffs.
Devante Smith-Pelly got Montreal started and Pierre-Alexandre Parenteau had the winner with 4:07 left in regulation time in a 2-1 victory over the Tampa Bay Lightning on Saturday that kept the Canadiens playoff hopes alive.
"I hope they showed the replay of the bench, the boys were so fired up," forward Max Pacioretty said of the goals from unexpected sources. "P.A.'s had a lot of chances, especially of late, so to see him get rewarded was great.
"He's an important part of this team. Happy to see him get that break, and same for Devo. It was a great shot. Opened up the scoring. Broke the ice. It shows that anyone on this team can step up."
Steven Stamkos had tied the game at 9:27 of the third period.
The Lightning wasted a second chance to eliminate Montreal, although they still hold a 3-2 lead in the best-of-seven second-round series heading into Game 6 on Tuesday night in Tampa, Fla.
The Canadiens are in the reverse situation from the opening round, when they got up 3-0 on Ottawa only to lose the next two. They managed to close that one out in Game 6 on a 43-save shutout from Carey Price.
Now it is Tampa on the hotseat, having won three only to lose the next two. Montreal coach Michel Therrien said his team felt tremendous pressure in that same situation.
Tampa coach Jon Cooper got a laugh when he said: "Did you ask that question (about pressure) to coach Therrien after they lost the second game to Ottawa? Whatever his answer was, I'll go with that.
"The only thing missing was that we were a goal short. I thought it was a really entertaining hockey game. You look at the series, there's been a blowout each way and three nailbiters. These are two even teams."
It was a thriller, with Montreal holding a 29-25 shot advantage. The Bell Centre crowd, buoyed by Montreal's 6-2 win in Game 4, was the loudest it has been in the post-season.
"We don't want this thing to end," said Parenteau. "We worked hard for each other and we got rewarded. We won two games and hopefully it's not over."
P.K. Subban slipped the puck to Parenteau for a shot over goalie Ben Bishop's glove for the winner.
Smith-Pelly got Montreal on the board 9:03 into the game on an off-wing wrist shot to the top corner that went in and out so quickly it needed video review.
"It seemed to give everyone a rush of adrenaline," said Smith-Pelly. "After that goal everyone was into it, the crowd was into it. It felt good."
Since the start of the series the Canadiens have hit several posts and crossbars, so many that Subban said this week that Bishop was "sitting on a horseshoe." Subban, Parenteau (from the slot) and Jeff Petry all struck the iron in the second period.
Cooper shook up his units in Game 5, moving Stamkos from centre to right wing with Valtteri Filppula up the middle, and it worked.
Tampa Bay made its push in the third. Moments after Price robbed Filppula from the doorstep with a glove save, Anton Stralman's blast got through traffic and Stamkos was there to slam it in to tie the game 1-1 at 10:56.
Notes — Obscure stat: With a 6-2 win in Game 4, Montreal became only the second team to avoid a four-game sweep with a road win of four or more goals. The last? Pittsburgh 10-3 over Philadelphia in 2012. . . Nathan Beaulieu, injured in the first round, returned after missing seven games. Greg Pateryn was scratched. . . The Bolts scratched Vladislav Namestnikov and went with seven defencemen. Brenden Morrow returned, bumping Jonathan Drouin.