Canadiens' Desharnais not travelling due to illness
Montreal centre David Desharnais will not travel with the Canadiens as they hit the road for the next two games in their Eastern Conference semifinal series with the Tampa Bay Lightning. Desharnais missed Game 2 on Sunday with an illness as the Canadiens fell 6-2 to the Lightning.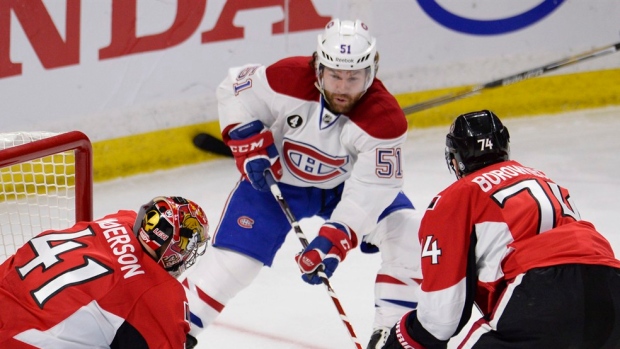 TAMPA, Fla. - David Desharnais did not travel to Florida with the Montreal Canadiens because of illness, but coach Michel Therrien did not rule out the centre playing in Game 3 against the Tampa Bay Lightning on Wednesday night.
Desharnais has an illness that prevented him from flying with the rest of the team Monday after missing Game 2 on Sunday. With an extra day off before the series resumes, there's time for Desharnais to make the trip himself.
"Before I make any decisions regarding the lineup, I need to find out if David is going to be available to play," Therrien said on a conference call Monday. "There's a possibility that he'll be there Wednesday night, but we're not quite sure yet."
Brian Flynn replaced Desharnais in the lineup for Game 2, a 6-2 loss at Bell Centre.
Desharnais has two assists in seven playoff games this spring.
Montreal trails the series two games to none.