Canadiens leaning a lot, maybe too much, on Price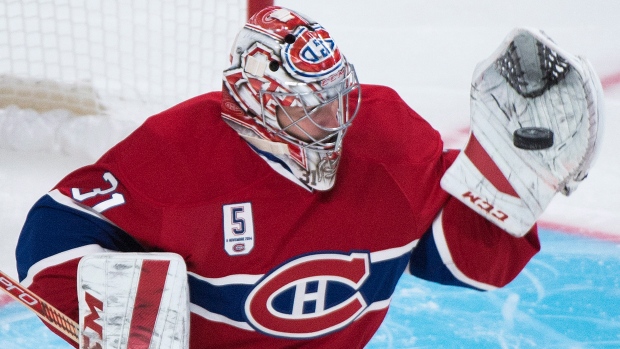 If there is one question I get more than any other this season, it's what to make of this year's Montreal Canadiens. At 28-13-3 (59 points), Montreal has a fairly considerable lead over the playoff hopefuls currently sitting outside of the top-eight. Because of this, attention has rightly turned from whether or not the team will make the postseason, to whether or not the team can make a deep playoff push.
Montreal, by virtue of their impressive point totals and last year's deep post-season run, has emerged as one of the favorites to represent the Eastern Conference by some observers. They make up part of a five-team group – including Tampa Bay, Detroit, New York Islanders, and Pittsburgh – that look like they'll spend the next month or two securing playoff berths.
What's interesting about this group is that at least four of them would range from 'very good' to 'elite' in terms of controlling play at 5-on-5 – something we have come to expect from basically every quality playoff contender. Recall the puck possession graph put together at Habs Eyes on the Prize from 2013, illustrating how the vast majority of great teams routinely out-shoot the opposition at 5-on-5. Control of play at even-strength isn't the only way to measure a team, but it's certainly the first thing you should be looking at in determining the quality and legitimacy of a team as they head into the playoff foray.
This brings us back to the 'group of five' above. Are there any teams that feel more like pretenders than contenders here? We can quickly graph out each team's Scoring Chance% and Corsi% for this season. Remember, 50% is break-even for both metrics – the measure of a truly 'average' team in terms of controlling play. Based on the standings alone, we should expect each of these teams to sit comfortably above that 50% mark. Is that true?
It's hard not to look at this graph and come off as anything other than underwhelmed with the Canadiens – at least relative to some of the other great teams in the East. Teams have out-chanced and outshot the Habs all season long.
On the other hand, Detroit, New York, and Tampa Bay have all been crushing their opposition in terms of territorial control, and Pittsburgh isn't too far behind on that front.
From a raw skating perspective, it shouldn't be in dispute that Montreal's a vastly inferior hockey team here. Their underlying numbers are actually more comparable to teams like Arizona and Philadelphia, neither of whom can expect to sniff the postseason in 2014-2015.
Territorial control is hugely important, but it isn't everything. Goaltending is vital to succeed in today's NHL – the Minnesota Wild and Edmonton Oilers are great examples of what can happen to teams who have improved on a puck-possession front, but don't get the requisite number of saves, and the Montreal Canadiens are a great example of what happens when your goaltender stops virtually everything.
That, really, is the big answer as to how and why Montreal is able to get away with poorer performance than we would expect from most playoff-calibre clubs. Look at a graph of each starting goaltender for our group of five.
Horizontally, you will find the goaltender's raw save percentage at 5-on-5. Vertically, you will find the goaltender's save percentage at 5-on-5, adjusted for shot quality by shot distance against (courtesy War on Ice). The size of the bubble will indicate goaltender workload, or how many shots he has seen over the course of this season.
If you were looking to make a compelling argument as to why Carey Price should be tops in the Vezina Trophy conversation this year, this graph should be Exhibit A. Carey Price is being compared to four quality goaltenders, all of whom have played reasonably well this season. And yet, there's really no comparison – Price has stopped shots at a comfortably better rate no matter what way you look at it, and that's while carrying a pretty heavy workload burden.
So, at least in the goal suppression department, Montreal has one of the league's most lethal weapons. Montreal's inferiority at 5-on-5 is counteracted, at least in part, by the fact that Carey Price is there to clean up most of the team's mistakes. It's an unbelievable asset the team has, and it's one of the big reasons why they're returning to the playoffs again this season. But, if you're looking at this team and trying to bridge the connection between 'can reach the postseason' to 'can legitimately contend for the Stanley Cup', you need to resolve the previously-mentioned problems. A goaltender can patch up a lot of mistakes, but eventually, you run into a team with comparably good goaltending and twice the skating ability. Like, say, last year's New York Rangers.
It's in Montreal's best interest, assuming this is a year that they want to make another Stanley Cup push, to look for some complementary help in the skating department. The Pacioretty group and Subban pairing have been sensational, but production really tapers off as you whittle down the lineup, and it's bringing the overall play of the team down substantially. Consequently, I anticipate Marc Bergevin will be quite active in acquiring some depth talent over the next few weeks.