Canadiens offence too much for Devils
Tomas Plekanec and Dale Weise each scored twice and P.K. Subban assisted on three power-play goals as the Montreal Canadiens downed the New Jersey Devils 6-2 on Saturday night.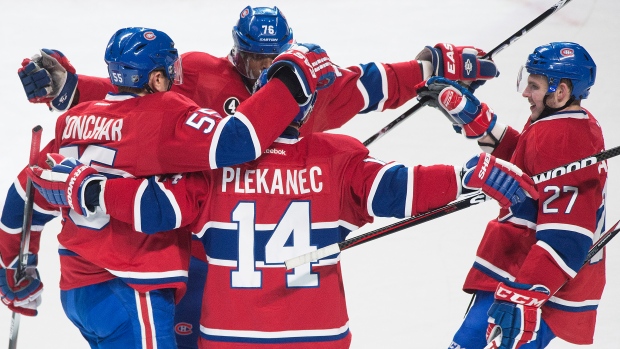 MONTREAL - With only six goals in their previous four games, the Montreal Canadiens scorers were anxious to break out with a big game.
It came Saturday night against a New Jersey team using backup goalie Keith Kincaid and playing a second game in as many nights.
The floodgates opened as Tomas Plekanec and Dale Weise each scored twice in a 6-2 victory over Devils.
"We know how tough it can be at times to score," said defenceman P.K. Subban, who assisted on three power-play goals in the second period. "It's not easy, especially in the second half (of the season), teams are trying to bear down.
"But we did a lot of things well. We moved the puck well and got to net when we had to. Our focus from the start was to try to generate as many shots as we could and we had 15 in the first period. Good things happened for us."
Montreal had a 44-22 shot advantage
Andrei Markov, Lars Eller and Plekanec scored in the middle period, while Plekanec and Weise had goals 30 seconds apart and Weise added a late one in the third for Montreal (33-15-3).
Michael Cammalleri, with his 18th of the season, and Jacob Josefson scored for New Jersey (21-23-9), which ended a three-game winning streak, including a 4-1 win Friday night over Toronto. They also saw a six-game run with at least a point end.
"Their juice and execution was a little better than ours," said Cammalleri. "There were a couple of spurts where we took the game back a bit, and there were some untimely penalties and they really took advantage of them.
"They made some strong plays. That really turned the tide."
The Devils scored on their first attempt as Jaromir Jagr dropped to Peter Harrold for a shot that was deflected to the top corner past a helpless Carey Price by Cammalleri.
Dainius Zubrus took a double minor for high-sticking Subban and the Canadiens scored twice.
Markov drilled a feed from Subban from the point past Kinkaid at 11:21. Then Eller one-timed a cross-ice feed at 12:20, ending a 14-game goal drought. Plekanec scored from the top of the right circle at 19:50.
"That was huge," Weise said of the power-play goals, the team's first in five games. "That was the turning point of the game."
Josefson closed the gap when he finished a two on one with Tuomo Ruutu 3:01 into the third.
Plekanec fired his 15th of the season into an open net at 12:04 and Weise put in a rebound at 12:34. Max Pacioretty fed Weise in front for his second goal at 15:18, while David Desharnais picked up his third assist of the game.
"We wanted our team to be aggressive tonight," said Montreal coach Michel Therrien. "We wanted to put pucks at the net. Our guys focused on that.
"It's good for the confidence of the team."
The Canadiens hope that carries into a game Sunday night against the rival Bruins in Boston. Montreal will be looking for a sweep of its season series after taking their first three games against the Bruins by a combined score of 13-5.
Notes: Subban also had three assists in a 4-2 win in New Jersey on Jan. 2. . . Manny Malhotra, Mike Weaver and Michael Bournival were scratched for Montreal. The Devils sat out Michael Ryder and Eric Gelinas.