Canadiens snap skid against Oilers
Tomas Plekanec had a goal and three assists as the Montreal Canadiens beat the Edmonton Oilers 5-1 on Saturday afternoon to snap a four-game losing streak. Brendan Gallagher and P.K. Subban both had a goal and an assist while Lars Eller also scored for the Canadiens.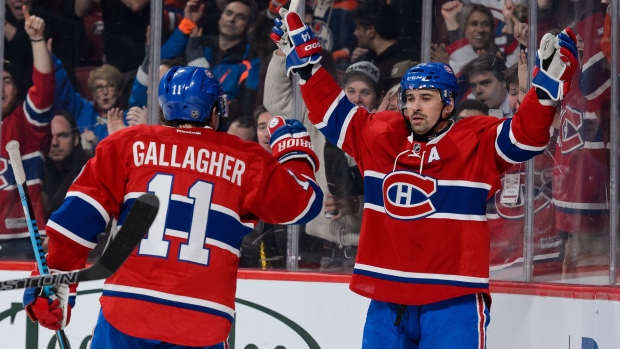 MONTREAL - Tomas Plekanec and the Montreal Canadiens finally had something to smile about, although they won't have long to enjoy it.
Plekanec, who had gone seven games without a point, had a goal and three assists as the Canadiens ended a four-game losing run with a 5-1 victory over the Edmonton Oilers on Saturday afternoon.
The Canadiens (25-24-4) are back at it Sunday afternoon when the Carolina Hurricanes visit, while the Oilers (21-27-5) move on to New York to face the Islanders.
"No complaints this time," said Plekanec. "We played with confidence.
"We moved the puck really well and scored some goals. Hopefully this is the start of the solid winning streak that we need and that we keep it going."
The Canadiens, who started the season 19-4-3, picked up only the sixth win in their last 27 games.
Benoit Pouliot scored shorthanded in the third period for Edmonton's only goal. The Oilers had roared out of the all-star break with a pair of one-sided wins only to have it dished back to them by the Canadiens.
"We played two really good games, then maybe got a little too comfortable and didn't put in the work to be successful," said Oilers coach Todd McLellan. "So maybe we learn and go to New York and try to repair a few things.
"That's as bad as we've been in a long time. We didn't skate well, we didn't pass, our structure was poor and, when you're playing against a team like Montreal that's hungry and prepared to get it right and play hard all night, it's not going to cut it. We got what we deserved."
It was a first visit to the Bell Centre as an Oiler for phenom Connor McDavid, who waged a game-long battle with defenceman P.K. Subban and still managed to get some scoring chances, although he was held off the scoresheet for the first time in three games since returning from a collarbone injury.
The 19-year-old dazzled late in the game as he split the defence and got off a shot with his stick between his legs — all at top speed — only to miss the net.
"I thought we did a pretty good job against him, but he had his chances," said Montreal winger Brendan Gallagher. "People in Edmonton should be excited about what they've got."
Gallagher and Subban each had a goal and a helper while Lars Eller and Tom Gilbert also scored for Montreal, which beat the Oilers for the first time in five meetings since 2013-14. Montreal outshot them 35-24.
Montreal opened the scoring at 7:27 when Plekanec's one-timer was tipped in at the crease by Gallagher with a man advantage. It was Montreal's fifth straight game with a power-play goal.
Eller was left alone in the slot to take a feed from Tomas Fleischmann and beat Cam Talbot with a low wrist shot at 16:11.
A Plekanec pass on a rush down the left wing hit a skate and went in 11:48 into the second frame, and the Czech veteran fed Subban for a high shot that went in on Talbot's glove side at 18:01.
Talbot, who allowed four goals on 22 shots, was replaced by Anders Nilsson to start the third period and the Oilers got on the board at 1:51 when Pouliot blew past the defence and lifted a backhand shot over Ben Scrivens.
Gilbert sneaked in from the point to tip a Plekanec pass behind Nilsson at 9:59.
It is the 25th time Montreal will play a pair of afternoon games on Super Bowl weekend. They are 26-18-5 in those games.