Canes re-sign van Riemsdyk to two-year deal
The Carolina Hurricanes have reached an agreement with defenceman Trevor van Riemsdyk on a two-year, $4.6 million deal. The deal will play van Riemsdyk $2.1 million in 2018-19 and $2.5 million in 2019-20 with an AAV of $2.3 million.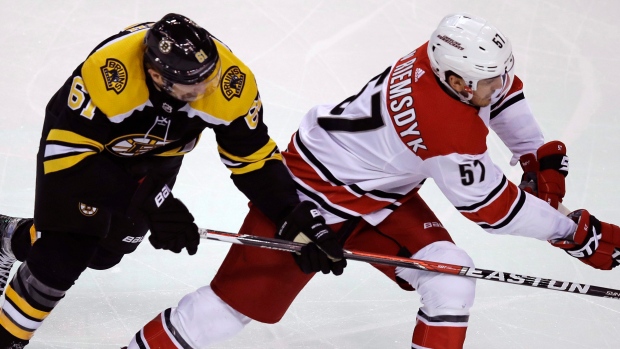 RALEIGH, N.C. — The Carolina Hurricanes and defenceman Trevor van Riemsdyk have agreed to a two-year contract worth $4.6 million.
Under terms of the deal announced Thursday, van Riemsdyk will make $2.1 million this season and $2.5 million in 2019-20.
Van Riemsdyk and the team agreed to the deal after the defenceman filed for arbitration. He led the team with a plus-minus rating of plus-9 last season and had a career-best 13 assists.
Carolina acquired van Riemsdyk from Vegas a day after the expansion draft, and the new deal bolsters the Hurricanes' depth on the blue line. They picked up Dougie Hamilton last month in a five-player trade with Calgary and signed free agent Calvin de Haan earlier this week.