'Canes sign Ward to two-year, $6.6M deal
The Carolina Hurricanes announced on Thursday that the team had come to terms with Cam Ward on a two-year deal that will play the 32-year-old goaltender $3.5 million in 2016-17 and $3.1 million in 2017-18.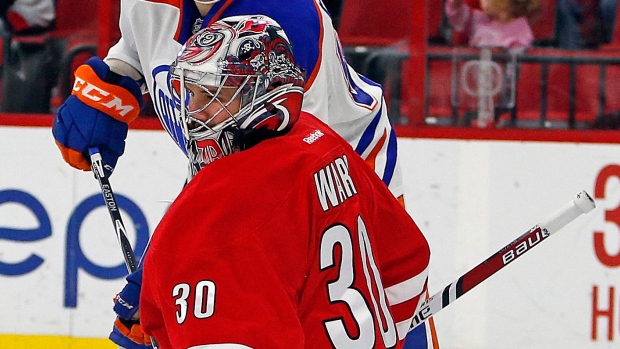 RALEIGH, N.C. — Cam Ward got his wish to stick with the Carolina Hurricanes a little longer.
The team announced Thursday it has signed the goaltender to a two-year, $6.6 million contract extension that allowed him to avoid free agency. Ward will be paid $3.5 million next season and $3.1 million in 2017-18, keeping the 32-year-old netminder with the team that selected him in the first round of the 2002 draft.
"Obviously I've been here for my whole career — Raleigh and the Hurricanes are really the only place that I know, and we consider it home," Ward said in a phone interview with The Associated Press. "So just even slightly thinking about the chances of not coming back, that can weigh on you.
"But I remained hopeful and optimistic that something could get done. And I'm just thankful that something did get done."
His tenure with the team includes the Hurricanes' run to the 2006 Stanley Cup, with Ward earning the Conn Smythe Trophy as the most valuable player of the playoffs as a rookie that year.
Ward, the only remaining player from that Cup-winning team, is the team's all-time leader with 269 wins, 23 shutouts and 564 games played by a goaltender. Ward's 269 wins rank 17th in NHL history for most wins with one franchise.
"Cam has been a major face of the Hurricanes both on the ice and in our community for more than a decade," general manager Ron Francis said in a statement. "We are happy he has chosen to continue his career in Carolina."
His future with the Hurricanes has been a frequent topic in recent months. He finished the final year of a six-year contract that paid him $6.8 million, going 23-17-10 with a 2.41 goals-against average that was the second-best of an 11-year NHL career.
Ward, married with two children, said in April his priority was "being where I'd like to be, and hopefully I get that option."
"You've just got to put (the uncertainty) aside and go out there and do your thing and try to move forward," he said on Thursday. "I've always known that the coaching staff, the organization, my teammates have always believed in me and know what I'm capable of doing. That gives me confidence to want to come back and keep going with it."
The Hurricanes also agreed a one-year deal with centre Derek Ryan worth $600,000 on the NHL level or $300,000 in the American Hockey League with a guaranteed minimum of $350,000.
___
Follow Aaron Beard on Twitter at http://www.twitter.com/aaronbeardap