Cantley, Quebec wins Kraft Heinz Project Play grand prize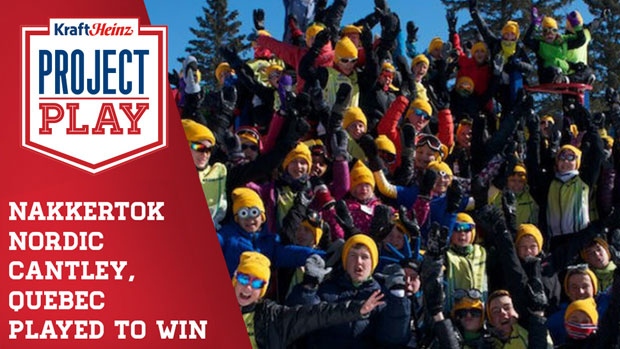 On Thursday, Kraft Heinz, together with Bell Media's TSN and RDS, announced the 2016 Kraft Heinz Project Play Grand Prize winner: Nakkertok Nordique from Cantley, Quebec. From the 820 nominations across 550 Canadian cities, the non-profit Nakkertok Nordique cross-country ski club is proudly taking home the winning title and $250,000 towards infrastructure and facilities upgrades.
Nakkertok Nordique is a 1,400 member cross country ski club run by volunteers who maintain its trails, cabins, parks and outdoor equipment. As winters get warmer, the club can no longer rely on Mother Nature to provide the right conditions to play, and asked Kraft Heinz Project Play to help bring the snow. The $250,000 will be used to help purchase a snowmaking system to increase the ski season by 30 per cent, and additional equipment to update trails for summer months.
"Canadians across the country were inspired by the story of Nakkertok Nordique. From coast to coast they cast their votes for this passionate place to play – and together with their support we're making it snow!" said Joanna Milroy, Marketing Director, Kraft Heinz. "Without snow, the Nakkertok Nordique has been forced to lose its early season, close trails and cancel annual races. The funding from Kraft Heinz Project Play will now ensure it can open its doors and trails for the community all year-round."
Three-runner up finalists, Jaffray Melick Ballfields (Kenora Ontario), Pearlgate Track and Field Club (Mount Pearl, Newfoundland) and Chase and District Skate Park (Chase, British Columbia) will also receive $20,000 to support their nominated place to play.
"Congratulations to the Nakkertok Nordique ski club on taking home the Grand Prize title and $250,000 for much-needed upgrades," said James Duthie, TSN Host and Kraft Heinz Project Play Ambassador. "While Kraft Heinz Project Play 2016 comes to an end, we encourage all Canadians to continue keeping our communities strong and united through the places we play."
Kraft Heinz Project Play believes that building better communities begins with building better places to play. Over the past eleven years, Kraft Heinz has supported 157 communities, contributing more than $4.5 million dollars to play-based infrastructure projects across Canada.
For more information about Kraft Heinz Project Play visit kraftheinzprojectplay.com.