Canucks vs. Panthers gameday preview
The Vancouver Canucks (20-21-5) will attempt to snap a three-game losing skid this afternoon when they host the visiting Florida Panthers (17-18-8) at Rogers Arena.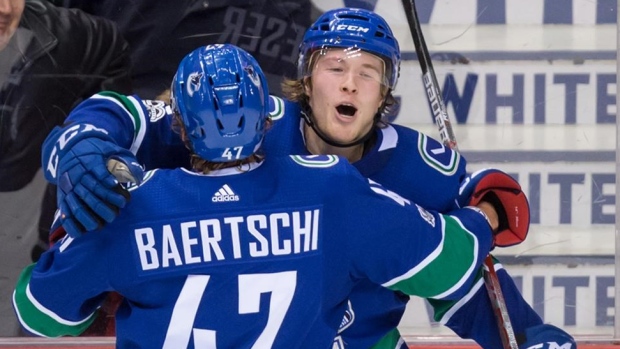 VANCOUVER – The Vancouver Canucks (20-21-5) will attempt to snap a three-game losing skid this afternoon when they host the visiting Florida Panthers (17-18-8) at Rogers Arena.
The Canucks dropped to 0-2-1 in their last three outings and 1-3-1 in their past five following a 4-3 overtime loss to Arizona on Thursday night. Sven Baertschi scored twice and rookie Adam Gaudette had the other. Baertschi has scored three times in his past four games while Gaudette has found the back of the net in two of the last four.
Those two are have the hot hands these days. However there are a number of Canucks who are experiencing lengthy goal-scoring droughts. Brock Boeser has gone five games without a goal, Antoine Roussel and Tyler Motte have each gone six without scoring, while Bo Horvat, Jake Virtanen, Brandon Sutter and Loui Eriksson have all gone eight without putting a puck in the net, Markus Granlund has gone 11 without scoring while Nikolay Goldobin and Jay Beagle have each gone a dozen games without finding the back of the net.
A knee injury will keep leading scorer Elias Pettersson out of the lineup for a third straight game. The team's scoring leader has skated on his own the past two days, but is not yet ready to return to action. Without Pettersson this season, the Canucks are 3-4-1 and have scored 14 goals in those eight games – and just 12 in regulation. Josh Leivo practiced Saturday and could return to the lineup today after missing the past three games with back spasms. If Leivo plays, the Canucks will be required to make a roster move to activate him from injured reserve.
The Canucks are 3-for-24 (12.5 per cent) on the power play in seven games since Christmas – with two of those goals coming in the same game in Ottawa on Jan. 2. They are goalless in 10 attempts over the past three games.
As is his custom, Travis Green did not name a starting goalie the day before the game. It's possible that Thatcher Demko could make his season debut Sunday. The 23-year-old's lone NHL appearance came in an afternoon home game against Columbus last March.
At the other end of the ice, Roberto Luongo is expected to get the start in goal for Florida. Luongo allowed three goals, made 23 saves and picked up an assist in a 4-3 loss in Calgary on Friday night. Luongo, who turns 40 on April 4th, holds the Canucks franchise record for wins (252) and shutouts (38). With 479, he is six victories away from passing Ed Belfour for third all-time in NHL history and with 1,023 appearances in his legendary career is now just seven games away from passing Patrick Roy for second in all-time games played by an NHL netminder.
The Panthers are winless in five (0-3-2) as they work their way to the west coast. Their last win came on New Year's Eve in Detroit which means 2019 hasn't been a happy new year so far for the Cats.
Jonathan Huberdeau leads the team in scoring with 12 goals and 35 assists for 47 points while Mike Hoffman is Florida's top goal scorer with 21 on the season. Hoffman, Huberdeau and Evgenii Dadonov scored the Panther goals in Calgary on Friday.
Veteran defenseman Keith Yandle will extend his NHL Ironman streak to 759 games this afternoon. It's the sixth-longest consecutive games played streak in NHL history. Yandle will represent the Panthers at this month's NHL All-Star game in San Jose. Yandle leads the Panthers with 23 power play points. The team has the fourth-ranked PP in the league (27.0 per cent) and third overall on the road (27.8 per cent). Hoffman is pacing the Panthers with 10 power play goals on the season.
Alexander Barkov leads all NHL forwards in average ice time per game at 23:12. Including overtime, he logged a season-high 28:18 in Edmonton on Thursday night. Barkov has taken 1,076 face-offs this season – second only to the Canucks Bo Horvat who taken 1,140.
Horvat scored the third period winner when the Canucks beat the Panthers 3-2 in Sunrise, Florida on October 13th. Antoine Roussel scored on a penalty shot in his Canucks debut. The game is remembered for Mike Matheson's hit that left Pettersson concussed. Matheson was suspended for a pair of games while Pettersson missed the following six contests. Pettersson had scored a power play goal in that game prior to be forced out of action.
Entering play today, Matheson is an NHL worst -21 this season. Erik Gudrbanson is next at -20.
POSSIBLE CANUCKS LINE-UP
Baertschi-Horvat-Boeser
Roussel-Sutter-Virtanen
Goldobin-Granlund-Leivo
Eriksson-Beagle-Motte
Edler-Tanev
Hutton-Stecher
Pouliot-Gudbranson
Demko
POSSIBLE PANTHERS LINE-UP
Huberdeau-Barkov-Dadonov
Hoffman-Borgstrom-Malgin
Vatrano-Lammikko-Brouwer
Hawryluk-Sceviour-Haley
Matheson-Ekblad
Yandle-Pysyk
Kiselevich-Weegar
Luongo