Capitals have impressed against Penguins' potent power play
Washington's performance on the penalty kill through three games has put the team in position to pull off an upset against Pittsburgh, Travis Yost writes.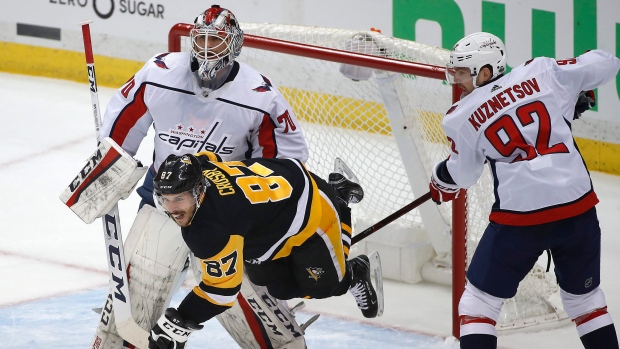 In my preview of the Pittsburgh Penguins – Washington Capitals second-round series, I noted what I figured could end up being an important storyline:
"The way I see it, Washington has two ways through this series. The first is obvious: Holtby needs to outplay Murray and probably by a considerable margin. Second, Washington needs to have a decisive special teams advantage. The Capitals did own the best opening round power play (33 per cent; 13.0 goals per 60 minutes), which is a strong carryover from the regular season. But Pittsburgh also owned the league's best power play during the regular season (26.2 per cent; 9.8 goals per 60 minutes.)"
So far, so good.
Every second-round series has been compelling for a multitude of reasons, but I think Washington's early series lead has been the most surprising. Washington obviously is a talented team, but no group has had much of an answer for the Pittsburgh buzz saw this season, especially during the second half of the year. Add that to the torturous history between these two sides and you had the recipe for what seemed like a probable Pittsburgh victory.
But Washington has so far checked the two critical boxes referenced above. There's no doubt that Braden Holtby has out-played Matt Murray through the first few games – he's stopped 91.3 per cent of shots, whereas Murray has stopped just 89.7 per cent. I don't think it's surprising that Holtby's been better, but the spread between the two is sizable. It's the type of spread you need to win a series like this.
The second box is more interesting to me though, and that's how Washington has bottled up Pittsburgh's power play. The Penguins were the league's best with the man advantage during the regular season by a ridiculous margin. They generated more than nine goals per 60 minutes during the regular season – best in the NHL and 30 per cent better than a league average power-play unit. The unit keying most of that success is loaded with weapons. Sidney Crosby, Evgeni Malkin, Phil Kessel, and Patric Hornqvist make up the four-forward group, with Kris Letang or Justin Schultz walking the blueline.
In the opening three games, Pittsburgh has just one power-play goal in nine opportunities (11 per cent), that one coming via Hornqvist in Game 3. In small samples like this any unit – even an elite unit like Pittsburgh's – can appear temporarily cold. But Pittsburgh's unit has definitely slowed a bit, even if you put the lack of goal-scoring aside.
NST does a great job of tracking scoring chances – effectively all shot attempts generated from the dangerous scoring areas on the ice. Marry that up against the slowing goal production, and you have what seems to be an obvious correlation: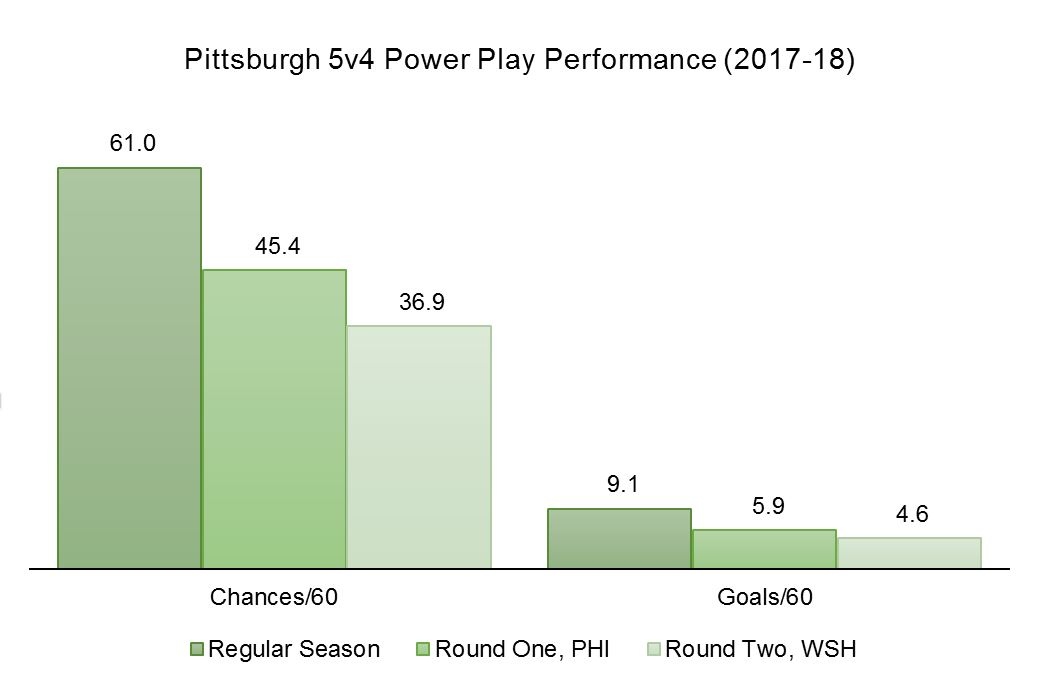 Pittsburgh hasn't changed much in deployment through the first three games – the only notable callout would be the provisioning of more minutes to winger Jake Guentzel with Malkin sidelined for pieces of the series. Losing a superstar is always going to hurt team production, but Malkin's absence could take that to the next level. After all, Malkin's 38 power-play points this season were third highest in the NHL, trailing only teammate Phil Kessel and Winnipeg winger Blake Wheeler. Malkin has still managed to generate the most power-play shot attempts for Pittsburgh in the series despite missing significant time.
On the Washington side, there hasn't been anything out of the ordinary about the deployment from coach Barry Trotz. Legacy penalty killers Matt Niskanen, Brooks Orpik, Jay Beagle and John Carlson are soaking up most of the minutes so far just as they did during the regular season. But give Washington credit for not putting themselves in a disadvantageous position. The Capitals have had to kill nine penalties in three games, or three per game. The Flyers one round ago against the Penguins were short-handed 25 times in six games, or more than four per game.
Ultimately, I think Pittsburgh's body of work on the power play will win out at some point – they are too productive and still have the personnel in place to wreak havoc on any team, particularly so with Malkin back in the fold. But the reality is the Penguins are three games into a seven-game series and in a 2-1 hole. And Washington has done an admirable job of being disciplined – both in terms of taking penalties and being able to kill them off.
Sometimes small sample sizes win out. If Washington can hold on for just a couple of more games, they could pull off this upset.