Mitchell, Breaux lead CFL All-Free Agent Team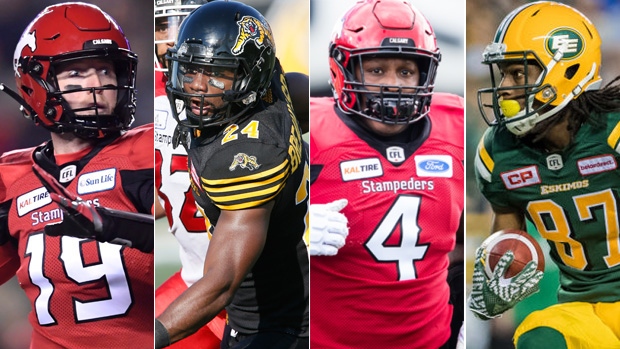 There has never been a CFL free agent season like this one, with more than 250 players still eligible to hit the open market on Feb. 12.
So with oodles of top talent up for grabs, we wanted to see what an all-free-agent team would look like.
The Atlantic Schooners are still at least a year away from fielding a team, but if they were in operation right now what kind of roster could the CFL's 10th team build from free agency alone?
It turns out, a very good one.
So here is our 2019 Schooners roster, built exclusively through free agency.
Team compiled by TSN Football Reporter Farhan Lalji and TSN Football Insider Dave Naylor.
Offence

Quarterback: Bo Levi Mitchell
2018 Team: Calgary Stampeders
2018 Stats
COMP

356

ATT

585

YDS

5,124

TD

35

INT

14

Running Back: William Powell
2018 Team: Ottawa Redblacks
2018 Stats
ATT

251

YDS

1,362

AVG

5.4

TD

6
Slotback: Greg Ellingson
2018 Team: Ottawa Redblacks
2018 Stats
GP

17

Rec

91

Yds

1,086

TD

5

Slotback: Bryan Burnham
2018 Team: BC Lions
2018 Stats
GP

18

Rec

67

Yds

1,029

TD

9

Wide Receiver: Derel Walker
2018 Team: Edmonton Eskimos
2018 Stats
GP

11

Rec

51

Yds

875

TD

8

Wide Receiver: Eric Rogers
2018 Team: Calgary Stampeders
2018 Stats

Offensive Tackle: SirVincent Rogers
2018 Team: Ottawa Redblacks

Offensive Tackle: Randy Richards
2018 Team: Calgary Stampeders

Offensive Guard: Landon Rice
2018 Team: Hamilton Tiger-Cats

Offensive Guard: Sukh Chungh
2018 Team: Winnipeg Blue Bombers

Centre: Ucambre Williams
2018 Team: Calgary Stampeders
Defence

Defensive End: Willie Jefferson
2018 Team: Saskatchewan Roughriders
2018 Stats
GP

18

DT

34

Sacks

10

Int

2

Defensive End: Shawn Lemon
2018 Team: Toronto Argonauts/BC Lions
2018 Stats
GP

18

DT

21

Sacks

11

Int

0

Defensive Tackle: Micah Johnson
2018 Team: Calgary Stampeders
2018 Stats
GP

17

DT

28

Sacks

14

Int

1

Defensive Tackle: Dylan Wynn
2018 Team: Toronto Argonauts
2018 Stats
GP

11

DT

30

Sacks

2

Int

0

Linebacker: Larry Dean
2018 Team: Hamilton Tiger-Cats
2018 Stats
GP

18

DT

105

Sacks

0

Int

2

Linebacker: Simoni Lawrence
2018 Team: Hamilton Tiger-Cats
2018 Stats
GP

18

DT

68

Sacks

3

Int

0

Cover Linebacker: Don Unamba
2018 Team: Hamilton Tiger-Cats
2018 Stats
GP

18

DT

59

Sacks

4

Int

1

Cornerback: Delvin Breaux
2018 Team: Hamilton Tiger-Cats
2018 Stats
GP

14

DT

24

Sacks

0

Int

0

Cornerback: Anthony Orange
2018 Team: BC Lions
2018 Stats
GP

18

DT

54

Sacks

0

Int

5

Halfback: Aaron Grymes
2018 Team: Edmonton Eskimos
2018 Stats
GP

17

DT

58

Sacks

0

Int

3

Halfback: TJ Lee
2018 Team: BC Lions
2018 Stats
GP

18

DT

81

Sacks

0

Int

3

Safety: Taylor Loffler
2018 Team: Winnipeg Blue Bombers
2018 Stats
GP

16

DT

52

Sacks

0

Int

3
Special Teams

Kicker/Punter: Lirim Hajrullahu
2018 Team: Hamilton Tiger-Cats
2018 Stats
FGM

46

FGA

54

%

85.2

Punt Avg

45.0

Returner: Chris Rainey
2018 Team: BC Lions
2018 Stats
KR

56

Yds

674

Avg

10.5

PR

64

Long Snapper: Ryan King
2018 Team: Edmonton Eskimos