Chara leaves game with upper body injury
Franki Seravalli, TSN Senior Hockey Reporter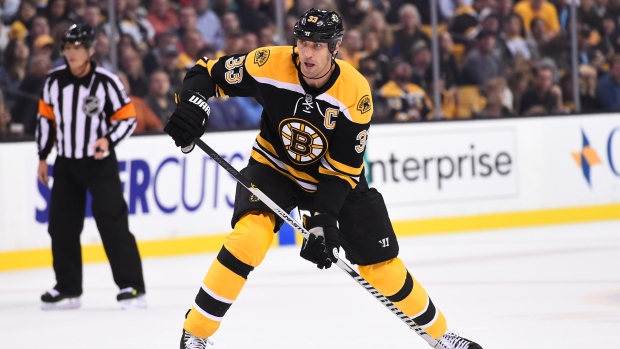 The already thin Boston Bruins blue line looks even more fragile after Thursday night.
Bruins captain Zdeno Chara left his preseason debut with an "upper-body" injury after just three shifts and a little over four minutes of game action.
The Bruins announced during the first intermission that Chara will not return to the game, providing no further update.
Chara, 38, could leave the Bruins without all three of their top defencemen from last season if he misses any significant length of time. The Bruins traded restricted free agent Dougie Hamilton to Calgary in June; Dennis Seidenberg underwent a "lumbar microdisectomy" for a herniated disc on Thursday and is expected to miss the next two months.
According to Boston Globe reporter Amalie Benjamin on the scene, Chara was hit into the bench by Rangers forward Ryan Bourque, which appeared to catch his hip.
Chara missed the first two months of the season with a torn posterior cruciate ligament in his knee from an injury suffered last October. It was the first time Chara played fewer than 70 games in a full season in more than 15 years, since 1999-2000.
An injury to Chara would leave Torey Krug as the Bruins' No. 1 defenceman, filling out the lineup with Adam McQuaid, Kevan Miller, Matt Irwin and Zach Trotman.
If the Bruins do indeed need reinforcements on the back-end, two teams looking to move defencemen would include the Oilers and Flyers. Players will also be hitting the waiver wire on Friday.
The Oilers would like to find a taker for Nikita Nikitin or even captain Andrew Ference, both of whom have slid down the depth chart with the additions of Andrej Sekera, Eric Gryba and Griffin Reinhart. Edmonton would likely be willing to eat part of Nikitin's $4.5 million cap hit to find him a new home. Nikitin, 29, is in the final year of his deal.
Flyers general manager Ron Hextall could also be enticed to part with a blue liner like Luke Schenn in order to help clear a logjam that exists. Brandon Manning, 25, could also be a viable waiver option in the near future. Manning is on a one-year deal for $625,000 and has played well in call-ups as an injury replacement.
All of that, of course, depends on the severity of Chara's injury.
Frank Seravalli can be reached at frank.seravalli@bellmedia.ca.