CIS all-stars upset Canadian world juniors in shootout
Defenceman Spencer Abraham had the shootout winner as an all-star team from Canadian Interuniversity Sport upset Canada 5-4 on Saturday night in an exhibition game at Canada's world junior selection camp.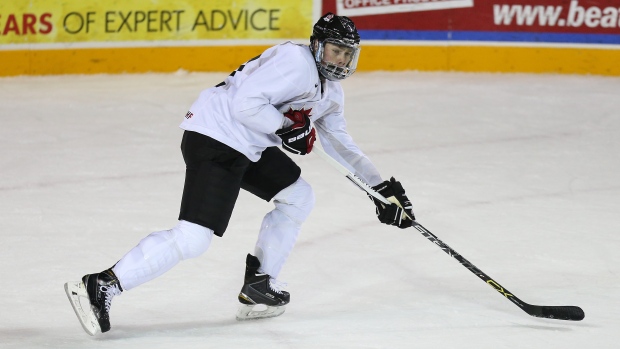 TORONTO - Canada's world junior team may have been upset in an exhibition game, but they still see a lot of positives.
Defenceman Spencer Abraham had the shootout winner as an all-star team from Canadian Interuniversity Sport edged Canada 5-4 on Saturday night at Canada's world junior selection camp.
The game was held to help Hockey Canada's braintrust evaluate its players ahead of the world junior hockey championship that will be held in Helsinki, Finland, starting Dec. 26. A second scrimmage will be held between the two teams on Sunday afternoon.
"I mean it was good to get out there with the guys, get a feel for each other," said defenceman Travis Dermott, a Toronto Maple Leafs prospect who had a power-play goal for Canada on Saturday. "Obviously not the outcome we wanted. Doesn't mean too much, but you always want to get the win."
Julien Gauthier had a power-play goal and two assists in regulation time for Canada, while Mitchell Stephens and Anthony Beauvillier also scored.
"The chemistry was there," said Gauthier. "We just play a simple game. We were skating hard, putting pucks on the net, using our teammates. So it was a good night for us."
Mason McDonald made 27 saves in net for Canada, turning away two skaters in the shootout before Abraham scored the winner.
Although Dermott was disappointed that his team lost, he saw it as a bonding experience for the Canadian juniors before they head overseas and the pressure to succeed in international competition builds.
"I feel like you come together a little bit more when it's a close game," said Dermott. "You get to know each other a bit more, maybe get a feel better for each other. I think it's for sure better than a 10-0 win."
Eric Locke scored twice for the CIS all-stars, once on the power play. Olivier Hinse and Alex Saulnier rounded out the offence for the team of university players from across Canada. Goaltender Kevin Bailie was strong in net, making 40 saves and stopping all three skaters he faced in the shootout.
Some of the biggest names from Canada's selection camp roster were scratches.
Top NHL draft picks Dylan Strome and Mitch Marner along with linemate Lawson Crouse — likely Canada's top line at the world junior championships — did not dress. Defencemen Joe Hicketts and Haydn Fleury were also healthy scratches, while forward Brayden Point sat out as he continues to heal an injured shoulder.
Crouse, Hicketts and Point are the only players returning from last year's gold medal-winning team.
"One thing that I liked was the fact that we were down and we continued to push," said Canada head coach Dave Lowry. "I think that on a positive we know that that's not near where this team's going to play.
"We've only had a couple of practices and we know that there's areas that we're going to improve."
Stephens took a pass from behind the goal line and put the puck in from the slot for a 1-0 Canada lead 9:21 into the game. Just over three minutes later Dermott banged in a pass from Gauthier on the power play to make it 2-0.
Canada's lead was short lived, however, as Hinse and Locke scored minutes apart for the CIS all-stars to make it 2-2. Saulnier gave the CIS its first lead of the evening with a diving shot on a partial breakaway with 3:40 left in the second.
Gauthier tied it 3-3 for Canada on the power play just over two minutes later.
The CIS all-stars again took the lead when Locke scored his second of the game with two seconds remaining in a power play.
Beauvillier knocked in a rebound for Canada with 2:23 left in the third to tie it 4-4 and set the stage for Abraham's heroics.
___
Follow @jchidleyhill on Twitter