Countdown to TradeCentre: About that Nylander speculation...
Check out some updated trade rumours and speculation from around the NHL beat, including the latest on the William Nylander for Ryan McDonagh rumour, the Boston Bruins deadline plans and an addition to the Red Wings' trade block.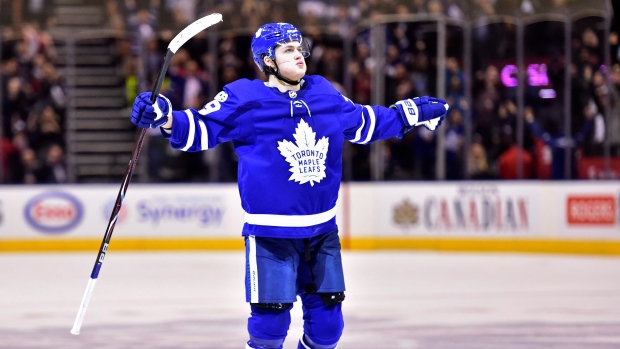 The National Hockey League's Trade Deadline is on Monday, Feb. 26, and teams will be making decisions on whether to buy or sell and decide which players can make the biggest difference and hold the greatest value. Check out the latest trade rumours and speculation from around the NHL beat.
---

Don't Count On It
TSN Hockey Insider Bob McKenzie was asked Wednesday morning for his thoughts on New York Post reporter Larry Brooks' belief that the Rangers could potentially pry William Nylander from the Toronto Maple Leafs for a package including Ryan McDonagh.
McKenzie said the Rangers are willing to listen on offers for McDonagh, but he doesn't expect the Leafs to offer a core piece for him or any other veteran defenceman.
"No. No chance. I don't think the Leafs will give up Nylander for a veteran defenceman like that," McKenzie told TSN Radio 1050 Toronto. "I'd be really, really surprised to be honest, that's just my opinon, not based on any inside information. I don't see that at all.
"I also do see where the Rangers are going to entertain offers on Ryan McDonagh, he's got a year left on his contract, he'll be 29 to start next season... but I don't see the Leafs giving up one of their young pillars up front - and I do see Matthews, Marner and Nylander as the three pillars up front - not for that type of defenceman."

---

Sticking With It
The Boston Bruins have put themselves within striking distance of the Tampa Bay Lightning for the top spot in the Eastern Conference, but TSN Hockey Insider Darren Dreger reports the team isn't rushing to make a move to add before the trade deadline.
"What's going to be interesting is if (Bruins general manager) Don Sweeney feels compelled or pushed - maybe that's a better way to describe it - pushed by (president) Cam Neely and the Jacobs family to do more," Dreger said Tuesday on TSN Radio 1050 Toronto. "Who's to say that if the Boston Bruins continue to play as well as they are that they can't take down the Tampa Bay Lightning, or they can't take down the Pittsburgh Penguins if they find a way in, or the best in the East. So what as a general manager are you going to do to make us better?
"I checked around Boston yesterday and they don't have a strong appetite for the big deal. And every general manager will say, 'But I'm interested. I'm willing to listen. If somebody wants to offer me yet another Top 4, Top 5 D of course I'm going to listen. If there's a big power forward, a piece out there that makes sense for us where we can move a couple of young assets and a draft pick, yeah we might be willing to do that.'
"But I don't get the sense that they're kicking in doors looking for areas to improve in."

---

On the Block
Bob McKenzie reported on Tuesday's edition of Insider Trading the Detroit Red Wings have put the word out that defenceman Xavier Ouellet is available on the trade block.
Oullet, a second-round pick in 2011, has four assists in 34 games with the Red Wings this season, averaging 13:58 of ice time per game.
The 24-year-old scored three goals and posted 12 points in career-high 66 games last season, logging 17:58 per contest.

---

Ready to Pounce?
TSN Hockey Insider Pierre LeBrun reports the Nashville Predators are expected to be in the market for a top-six forward once the calendar turns to February.
"Nashville's never scared and we know that about David Poile and I think they're going to try and add a top-six winger at the trade deadline," LeBrun said on Insider Trading. For now, they just want to get to the All-Star break and take a deep breath – half their forwards have been injured between the start of the season and now – but certainly they want to add a top-six winger; that's the priority.
"Now, whether or not they get in on [the Montreal Canadiens] Max Paciorietty or [the Ottawa Senators] Mike Hoffman or [Buffalo Sabres] Evander Kane, they haven't made that decision yet. They want to get to the other side of the All-Star break."
The Predators currently sit second in the Central Division at 28-11-7, two points back of the Winnipeg Jets.

---

TSN Trade Bait Board
A reminder of the 25 names on TSN's Trade Bait board, updated on Jan. 17.
The Top 25
Player
Pos
Age
17-18 Cap Hit
Past 17-18
Clause
1.

Evander Kane

, BUF
LW
26
$5.25M
UFA
2.

Patrick Maroon

, EDM
LW
29
$1.5M
UFA
3.

Mike Green

, DET
RD
32
$6M
UFA
NTC
4.

Mike Hoffman

, OTT
LW
28
$5.19M
2 years
M-NTC
5.

Max Pacioretty

, MTL
LW
29
$4.5M
1 year
6.

Thomas Vanek

, VAN
LW
33
$2M
UFA
7.

Alex Galchenyuk

, MTL
LW
23
$4.9M
2 years
8.

Erik Gudbranson

, VAN
RD
26
$3.5M
UFA
9.

Zack Smith

, OTT
LW
29
$3.25M
3 years
M-NTC
10.

James Neal

, VGK
LW
30
$5M
UFA
M-NTC
11.

Michael Grabner

, NYR
LW
30
$1.65M
UFA
12.

Ian Cole

, PIT
LD
28
$2.1M
UFA
13.

David Perron

, VGK
RW
29
$3.75M
UFA
M-NTC
14.

Andrew Shaw

, MTL
C/RW
26
$3.9M
4 years
15.

Rick Nash

, NYR
LW
33
$7.8M
UFA
M-NTC
16.

Aaron Dell

, SJS
G
28
$625K
UFA
17.

Mark Letestu

, EDM
C
32
$1.8M
UFA
18.

Robin Lehner

, BUF
G
26
$4M
RFA
19.

Jean-Gabriel Pageau

, OTT
C
25
$3.1M
2 years
20.

Jack Johnson

, CBJ
LD
31
$4.35M
UFA
21.

Nick Holden

, NYR
LD
30
$1.65M
UFA
22.

Petr Mrazek

, DET
G
25
$4M
RFA
23.

Cody Franson

, CHI
RD
30
$1M
UFA
24.

Dion Phaneuf

, OTT
LD
32
$7M
3 years
M-NTC
25.

Tyson Barrie

, COL
RD
26
$5.5M
2 years