Countdown to TradeCentre: Could Bruins make a splash?
Follow the latest trade rumours and speculation leading up to the Feb. 25 trade deadline with TSN.ca's Countdown to TradeCentre. Sunday's roundup includes who the Bruins might go after and what price tag Wayne Simmonds could command.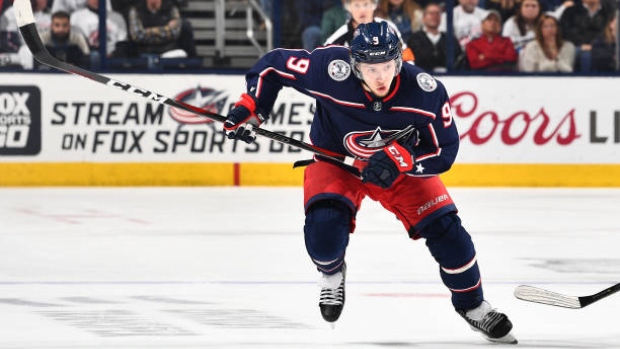 The National Hockey League's Trade Deadline is 3 p.m. ET on Monday, Feb. 25, and teams will be making decisions on whether to buy or sell and decide which players can make the biggest difference and hold the greatest value. Check out the latest trade rumours and speculation from around the NHL beat.
---
Star targets
The Boston Bruins are currently fourth in the Atlantic Division with a 30-17-8 record. Matt Porter of the Boston Globe believes GM Don Sweeney will add before the Feb. 25 Trade Deadline, and lists a number of star players, led by Columbus Blue Jackets winger Artemi Panarin, as potential targets.
"The market for (Panarin) is reportedly a first-round pick, a player, and a prospect. It is a high price, especially for someone who could leave a team empty-handed on July 1. But the Bruins are interested, and they're not alone," Porter reported.
Panarin might not be the only target for the Bruins, however, with Porter noting almost all the top forward targets could make sense in Boston. Names like Micheal Ferland, Wayne Simmonds, Kevin Hayes, Chris Kreider, Jimmy Vesey, and Kyle Palmieri.
Panarin is ranked No. 1 on TSN's Trade Bait Board while Simmonds is No. 3, Ferland No. 11, Hayes No. 14, and Kreider No. 28.
---
Package for Simmonds
Wayne Simmonds, who ranks third on TSN's Trade Bait Board, figures to be one of the most sought-after players at the Trade Deadline, assuming the Philadelphia Flyers, who are 9-0-1 in their last 10 games, decide to sell him.
The Toronto Sun's Steve Simmons puts together a package the Toronto Maple Leafs could offer that might be enough to acquire the 30-year-old pending unrestricted free agent.
"The Leafs don't have a first-round pick to send to Philadelphia for Wayne Simmonds, but they might be able to get him for a second- and third-round pick or a draft pick and Connor Brown if GM Chuck Fletcher decides to trade one of his best players in the midst of the Flyers' hot streak."
Simmons also speculates the Leafs might be able to offer defenceman Nikita Zaitsev to the blue line-needy Buffalo Sabres, should they eat some of Zaitsev's salary.
"Buffalo needs help on defence. Lots of help. Is it enough to be interested in Nikita Zaitsev with the Leafs paying part of the freight?"