Countdown to TradeCentre: Could Hoffman stay put?
Check out some updated trade rumours and speculation from around the NHL beat including why Mike Hoffman might not leave at the deadline and the argument for and against the Bruins buying at the trade deadline.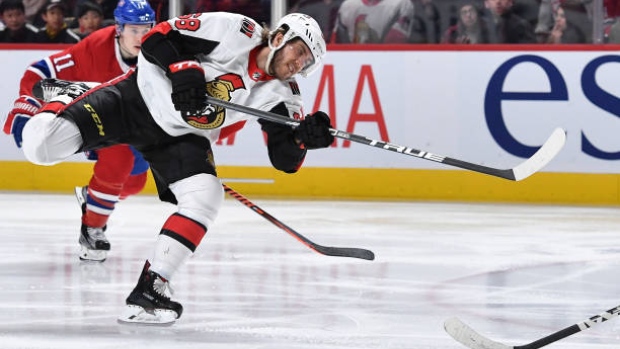 The National Hockey League's Trade Deadline is on Monday, Feb. 26, and teams will be making decisions on whether to buy or sell and decide which players can make the biggest difference and hold the greatest value. Check out the latest trade rumours and speculation from around the NHL beat.
---

Staying Put?
While Mike Hoffman has been displaying chemistry with Matt Duchene of late, TSN Hockey Insider Pierre LeBrun believes there's another reason he may stay with the Ottawa Senators past the trade deadline - his price tag.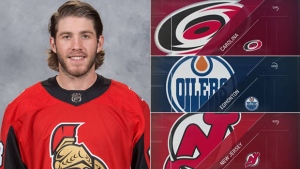 "I think that Calgary really likes Mike Hoffman, I think a lot of people there feel he'd be a good fit, but where I don't see the fit is what Calgary would be willing to pay. And I think that's what sort of has happened," LeBrun told TSN Radio 1200 Ottawa on Wednesday. "I think that Pierre Dorion will put the fish hook out there on a number of his guys and with Hoffman, I don't think he's going to deal him until someone really, really, really steps up, and pay the huge price.
"It's so funny Pierre Dorion and [Montreal Canadiens general manager] Marc Bergevin are in such similar positions in that they've got all these guys under contract. So the trade deadline, yeah it's an opportunity to change your team, but frankly you also don't have to do anything until the summer if you're either Ottawa or Montreal because all your guys are under contract.
"At the end of the day, I do think Pierre Dorion will move at least one of these guys, and whether that ends up being Zack Smith, or [Jean-Gabriel] Pageau, or someone steps up on Hoffman, we'll see. I can you tell you this, I think that teams that have called on Hoffman are just obviously not ready to pay what the Senators believe is the right price."
Hoffman, 28, has 14 goals and 22 points in 52 games this season. He and Duchene have combined to post four goals and six assists over their past five games on the Senators' top line.
---

Stock Dropping?
Mike Harrington of The Buffalo News believes the addition of Rick Nash to the trade block has hurt the value of Sabres winger Evander Kane.
Harrington believes that teams that were interested in Kane could turn their attention to Nash, who has more experience and 77 playoff games under his belt. Kane's has not yet played in the postseason.
Kane is also pointless in his past nine games and Harrington believes Kane is simply waiting to be traded while his "value plummets."
Harrington argues the Sabres should trade Kane as soon as possible.

---

Say It Again
Garth Snow reiterated Wednesday that the New York Islanders will not be trading captain John Tavares at the trade deadline and added the organization hopes Tavares will one day retire an Islander.
"I'm not trading John, I've stated that,'' Snow told Newsday on Wednesday. "I know I sound like a broken record but any conversations I have with John or his agent (Pat Brisson) remain private.''
"I think any team - I mean we've been through it as well - every team has free agents," Snow said of the risk of keeping Tavares. "Every team has players they want to sign. We drafted John at 18-years-old and think the world of him. We want him to retire an Islander. This is all part of a process that he earned under this collective bargaining agreement, to take his time and be thoughtful about what he wants to do for the rest of his hockey career.''
TSN Hockey Insider Darren Dreger said earlier this week the Islanders could be a team that feels pressured to make a move at the deadline as part of their attempt to convince Tavares to stay. However, Snow said Wednesday he doesn't believe it makes sense for him to enter the rental market.
"We have obviously two first-round picks, two second-round picks...we're a team that's right on the edge of getting in the playoffs and not being in the playoffs.
"So, are we going to at this point in time, be giving first round picks and high picks for rental players? I don't think we're in that position. Just doesn't make sense.''
---
Don't Mess With It?
TSN Hockey Insider Bob McKenzie appeared on NBCSN Wednesday night and weighed the Boston Bruins' options ahead of the trade deadline. McKenzie notes team chemistry could play a factor in general manager Don Sweeney's decision making, but the team is not without its needs.
"Well, it's a balancing act, isn't it," McKenzie said, per FanRag Sports. "I mean, you're right - they have emerged as a legitimate Stanley Cup contender. They look like they're for real and they're on an incredible run right now.
"So there could be a school of thought, 'Well, why mess with the chemistry. Why mess with anything. This group is doing fantastic. Maybe just let them mature naturally. They've got so many young guys in prominent roles. Just go for it with the players that they've got.'
"But the flip side of that is they may be that close to winning a Stanley Cup this year. Why wouldn't you try to address some of your needs.
"I don't think there's any question the Boston Bruins management team and coaching staff, in a perfect world, would love to add a top-six or top-nine scoring winger. The question I would have is how prepared are they to part with draft picks and/or prospects. And they've got a lot of prospects, guys that are either playing in Providence or on the way playing college hockey, junior hockey. They are well-positioned, if they want to give up draft picks and prospects, that they could get into that rental market, or they could go out and look for wingers that have got some term left on their deal and do a bigger deal than that. Hoffman
"I'm still not entirely convinced that they will be willing to pay the price required at the deadline. If the prices don't come down, especially on the rentals, I'm not sure Boston will make that big plunge for somebody. But it's certainly something that they're considering at this point in time. And they could always use more depth on the blueline, and I think that is most certainly something they are going to try to address between now and the deadline – but depth as opposed to anything that would disrupt the Top 4 chemistry they've got going already."

---