Insider Trading: Any Karlsson deal may need to include Ryan's contract
TSN Hockey Insiders Pierre LeBrun, Bob McKenzie and Darren Dreger joined host Gino Reda to discuss if Erik Karlsson will get moved, Rick Nash's status and if teams will go after players with term in their contracts.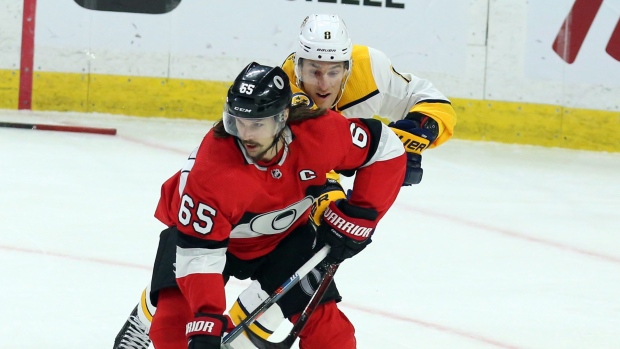 TSN Hockey Insiders Pierre LeBrun, Bob McKenzie and Darren Dreger joined host Gino Reda to discuss if Erik Karlsson will get moved, Rick Nash's status and if teams will go after players with term in their contracts.
---
Erik Karlsson

on the move?

Gino Reda: Darren, what are the chances Erik Karlsson gets moved?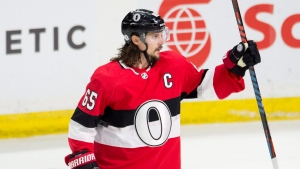 Darren Dreger: I would say it's unlikely at this point. Perhaps the chances improve as you drift beyond the NHL trade deadline and into the summer. There's still that possibility that Erik Karlsson stays with the Ottawa Senators and signs long term.
What we know right now is that Pierre Dorion, the general manager for the Sens, has talked to teams, he'll continue to talk to teams and he's listening to that level of interest and you can assume that there is a high amount of interest in Erik Karlsson. Arguably, he's the top defenceman in the National Hockey League.
It's also important to note that the Karlsson camp isn't pushing this. So this is just interest coming from other NHL clubs in the possibility. But what we know is that if Erik Karlsson is getting traded between now and Monday, the Sens are getting a king's ransom in return.
Bob McKenzie: I think the Ottawa Senators are somewhat open to the idea of trading Erik Karlsson between now and the deadline and as a result those conversations are taking place. But it's got to be for an absolutely huge haul. We're hearing upwards of five, six, seven pieces and perhaps teams being asked to take on Bobby Ryan's contract that has four years to go at more at $7 million a year. So to your point, Darren, I think the prices are astronomical and maybe that means they don't really want to trade him between now and the deadline. But if they get a king's ransom then they would consider it.
---
Rick Nash

should be a lock to move

Gino Reda: The consensus seems to be it would be a long shot to see Erik Karlsson move, at the other end of the scale though I think a virtual lock that Rick Nash is going to move, a lot of interest, Pierre.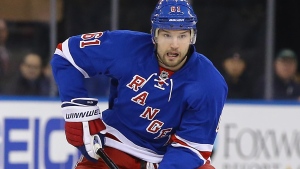 Pierre LeBrun: It's picking up as you would expect less than a week away from the trade deadline. Five to six teams I'm told have begun to tell the Rangers here are some of the pieces that we could part with. Obviously, they're not there or this deal would have happened by now but I'm told to varying degrees Nashville, Columbus, Dallas, Winnipeg and Boston are among those teams that we believe have shown some interest. Now the Jets, of course, "of interest" because we don't believe they're on Rick Nash's list, the list of 10 teams (he would consider being traded to). But as Darren Dreger reported Monday, maybe he would be open to that kind of move that is still to be determined. In terms of Rick Nash, he will get moved before Monday and certainly once he moves that'll open things up on other fronts.
Bob McKenzie: Well, Pierre, there is a very defined market for Rick Nash. You mentioned those five or six teams, there's probably more than double that are interested in his teammate Michael Grabner and for obvious reasons. Grabner's salary is at $1.6 million on his expiring contract. The acquisition price for Grabner is going to be far less then it would be for Rick Nash but he's got 24 goals and is a proven offensive performer, especially over the last couple of years. A second-round pick and something is believed to be the asking price right now for Michael Grabner from the New York Rangers and lots of calls on him.
---
Evander Kane

watch back on?

Gino Reda: It's seems initially the asking price on Evander Kane have been too high because there wasn't much interest but we get the sense now we're starting to see some nibbles?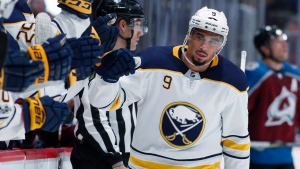 Darren Dreger: Things have picked up this week, no question about that. I believe that Jason Botterill has at least a couple of offers that he might consider but it sounds like there could be more player involvement as opposed to picks and prospects and the Buffalo Sabres are more interested in draft picks or top prospects. There's time between now and the deadline on Monday and the interest will increase as the days continue.
---
Taking term?
Gino Reda: Evander Kane would certainly be a rental and, Bob, a lot of teams are interested in rentals but there are a number of teams looking at guys with term as well.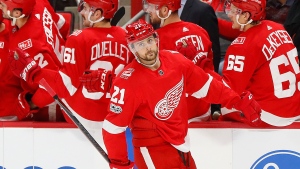 Bob McKenzie: What a lot of teams are realizing is that the prices on the rentals are so high – first round plus plus – that teams like the Nashville Predators, for example, while they have interest in those rental goal-scoring wingers, they're also looking at guys that have term on their contract because they might be able to get somebody like a Tomas Tatar from the Detroit Red Wings, who's got three years left on his deal at $5.3 million for a price that will be less than some of the rentals. Now the Red Wings are not obliged to trade Tomas Tatar but with the Nashville Predators and the Detroit Red Wings playing each other on Tuesday night there's an opportunity there and there has been conversations between those teams about that player.
---
Plekanec to Pittsburgh?
Gino Reda: One certainty around this time of year is that Jim Rutherford will be busy, Pierre.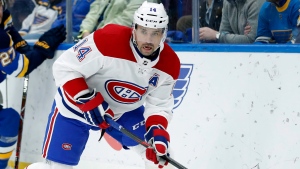 Pierre LeBrun: Well, he wishes he made a deal probably weeks ago; he will try to make one before Monday as we reported last week. There's been some interest in Derick Brassard and I think that is still there but balking at the first-round pick that we believe is part of the asking price from the Ottawa Senators, so we'll see where that goes. Tomas Plekanec, again there's some cap issues in Pittsburgh, if the Penguins can move out a contract there might be some interest in Tomas Plekanec. The question is what does Montreal want to do with Tomas Plekanec, a guy who has always played for the Canadiens. It's a tough call for Marc Bergevin and it might go to the 11th hour.