Countdown to TradeCentre: Hoffman Watch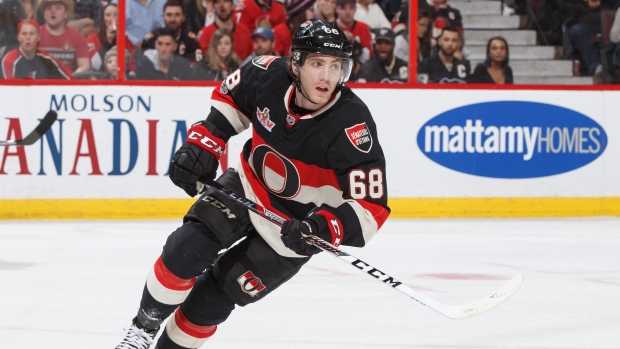 The National Hockey League's Trade Deadline is on Monday, Feb. 26 and teams will be making decisions on whether to buy or sell and decide which players can make the biggest difference and hold the greatest value. Check out the latest trade rumours and speculation from around the NHL beat.
---
The Market for Mike
Ottawa Senators forward Mike Hoffman is listed at No. 4 on TSN Hockey's updated Trade Bait board and continues to draw speculation on where he could land ahead of the trade deadline.
TSN Hockey Insider Darren Dreger told TSN Radio 1200 in Ottawa on Thursday that while the oft-rumoured St. Louis Blues are likely interested, there could be a couple of Canadian teams interested in his services.
"You know, it's an interesting question and we don't have a list for him yet," began Dreger. "But given the assets that Mike Hoffman would bring to a club, I think that there'd be a ton of interest in him. And I believe that St. Louis is among those teams, absolutely.
"I originally thought that he'd be a good fit in Calgary, just because Calgary looks slow on the wing and when Hoffman is going he's going to provide that element of speed. But slowly they're going to get healthy and it doesn't seem like there's an appetite in Calgary to add a whole bunch.
"Then you look down the highway in Alberta and you see Edmonton. Well, Mike Hoffman could absolutely help the Edmonton Oilers. The question is what does Pierre Dorion need from Edmonton, assuming Edmonton is one of the teams interested, to make a deal like that happen. It always seems to get a little complex when Edmonton and Ottawa are doing some dealing.
"But beyond that - I mean, I'm keeping it in a Canadian perspective with the exception of St. Louis - I think that the market is really strong on Hoffman."
Hoffman, 28, has 11 goals and 29 points in 42 games this season and he's scored 26 or more goals in each of his past three seasons.
Dreger reported earlier this month that the Senators received a "futures" driven offer for the winger, but were not interested in that type of deal at the time.
---
The deal with Vanek
Vancouver Canucks veteran Thomas Vanek - ranked sixth of the latest TSN Hockey trade bait board - and appears to be a prime candidate to be traded at the deadline for a second straight year.
However, TSN Hockey Insider Pierre LeBrun said earlier this week there's one thing holding back Vanek's trade value, is his past.
"I think he's been decent this year," LeBrun told TSN Radio 1040 Vancouver. "But the reality is teams are absolutely concerned about what happened in Montreal with him... where he went to a no-show in the playoffs. It hurt his market value."
Vanek has played in the postseason six times over his NHL career, most recently with the Minnesota in 2015, when he recorded four assists in 10 games. While with the Canadiens in 2014, Vanek scored five goals and posted 10 points in 17 games, his numbers buoyed by two two-goal games in the team's second-round series.
The 33-year-old was acquired by the Florida Panthers from the Detroit Red Wings at the deadline last season, but Florida fell short of the playoffs.
Vanek's is playing on a one-year, $2 million contract, with 12 goals and 29 points in 43 games this season.
---
Shaw Surprise?
The Montreal Canadiens are expected to emerge as seller at the trade deadline and while rumours have circled around Max Pacioretty and Alex Galchenyuk, veteran forward Andrew Shaw has now emerged as a player to watch.
Shaw is listed at 13 on the TSN Hockey's Trade Bait board, above pending free agents Rick Nash and Mark Lestestu.
Dreger told TSN Radio 1200 Ottawa that while Canadiens general manager Marc Bergevin is not shopping Shaw, he is drawing interest from contenders.
"Andrew Shaw is a fierce competitor," Dreger said Thursday. "He would absolutely, without question given his experience in Chicago, help a playoff-contending and a Stanley Cup-contending team. And at 26, 27 years of age, he comes with four years of term on his contract. So who knows. If things really get white-hot again in Montreal, and I don't know that they're ever far from white-hot in Montreal given the season they're having, maybe Bergevin moves a piece like that as well."
Shaw won two Stanley Cups in his time with Chicago before being traded to the Canadiens. He's posted 16 goals and 35 points in 72 career playoff games, though he was held pointless in five postseason games with the Canadiens last spring.
As Dreger noted, Shaw has four seasons remaining on his contract at a $3.9 million cap hit. In 42 games with the Canadiens this season, Shaw has 10 goals and 19 points with a minus-9 rating.