Sens passing on 'futures' offer for Hoffman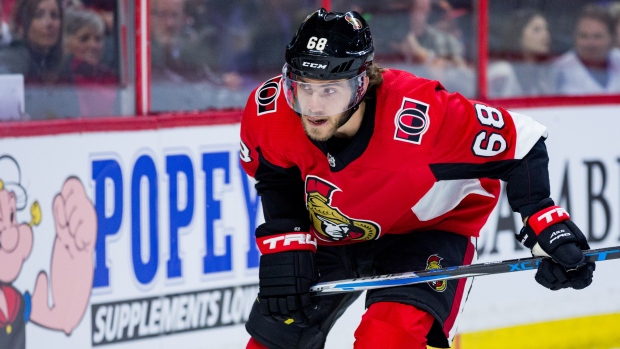 According to TSN Hockey Insider Darren Dreger, the Ottawa Senators have received a "futures" driven offer for forward Mike Hoffman, but the team in not currently interested in the deal.
Dreger tweeted on Wednesday that offer for the Senators would have been a package of a pick and a prospect, but the team is not currently looking for that type of return.
Hoffman, who owns nine goals and 15 assists in 38 games this season, admitted to the Ottawa Sun on Tuesday he's heard his name pop up in the rumour mill.
The 28-year-old sits tied for third on the team with 24 points this season, but also owns a career-worst minus-12 rating on the season.
With Wednesday's overtime loss to the Detroit Red Wings, the Senators dropped to 12-17-9 on the season and 6-14-4 since acquiring Matt Duchene. Dreger wonders if the Senators might begin to consider a deal similar to the one currently on the table for Hoffman closer to February's trade deadline.
Hoffman has topped the 25-goal mark in each of the previous three seasons. He owns a $5.19 million cap hit through the 2019-20 season, according to CapFriendly.
The Ottawa Sun reported Tuesday the St. Louis Blues are believed to be among the suitors for Hoffman.