Countdown to TradeCentre: Preds and Pacioretty?
The Nashville Predators are looking to add a scoring winger before the trade deadline to help propel the team back to the Stanley Cup Final. Could David Poile reach out to Montreal Canadiens general manager Marc Bergevin for another blockbuster trade?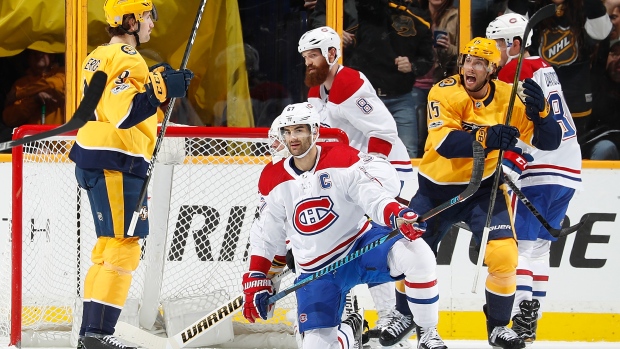 The National Hockey League's Trade Deadline is on Monday, Feb. 26 and teams will be making decisions on whether to buy or sell and decide which players can make the biggest difference and hold the greatest value. Check out the latest trade rumours and speculation from around the NHL beat.
---
On the Hunt
One place the Nashville Predators could look to improve, according to Adam Vingan of the Tennessean, is at forward - specifically a scoring winger.
Answering questions in his Predators mailbag segment earlier this week, Vingan listed Evander Kane, Mike Hoffman and Max Pacioretty as high-profile options who are rumoured to be available. He notes the Predators would have to free cap space to bring in any of those three options though as the team is currently $2.9 million under the cap ceiling, according to CapFriendly.
A cheaper option, Vingan writes, could be Arizona Coyotes winger Anthony Duclair who has requested a trade from the last-place club. Duclair owns just a $1.2 million cap hit for this season as he approaches restricted free agency. He's scored in back-to-back games for the Coyotes to bring him to a total of nine goals and 15 points in 33 games this season.
The Predators lost James Neal to the Vegas Golden Knights in the expansion draft last June, creating their current need.
TSN Hockey Insider Darren Dreger said Tuesday he wouldn't be surprised if the Predators are indeed interested in Pacioretty, agreeing that the team's need is up front.
"I think that (Nashville) would have interest (in Max Pacioretty), but I say that with no inside information," Dreger told TSN Radio Edmonton 1260. "I don't know that David Poile and Marc Bergevin have had conversations on Pacioretty. I'd be surprised if they haven't.
"And the reason I say all of that is you look at what Phil Kessel brought to the Pittsburgh Penguins. Phil Kessel was the guy who was supposed to do it all Toronto. He was supposed to be a leader on and off the ice. His numbers offensively were great with the Toronto Maple Leafs, but he's a support guy. That's where he thrives. And in Pittsburgh, he's allowed to be that. And they probably don't win back-to-back Stanley Cups without him.
"I think teams like Nashville, who are really close, learn from that. That's part of the new age copycat. So Poile, I'm sure, loved the experience and liked the taste of being part of the Stanley Cup Final, but he looks at a want and a need and probably would like to add a scoring winger if he could. They're deep up the ice in the middle when they're healthy. Their blueline is terrific. Their goaltending is elite, or certainly good enough to win a Stanley Cup, but they need a bit more offensive support.
"So when names like Max Pacioretty – either through media speculation or otherwise – hit the market, then Nashville would be foolish not to consider it if there's an opening there."
Bergevin and Poile are no strangers to working with eachother in high-profile trades, having swapped P.K. Subban and Shea Weber in June 2016.
---
Call From Calgary?
The Ottawa Senators were embarrassed in an 8-2 loss on home ice Tuesday and speculation continues to grow as to who the team will part with at the trade deadline.
Bruce Garrioch of The Ottawa Sun lists Hoffman, Zack Smith, Derick Brassard, Jean-Gabriel Pageau, Johnny Oduya and Cody Ceci as players who have all heard their names in the rumour mill.
According to Garrioch, Smith is believed to be drawing interest from the Calgary Flames, who posted their fourth straight win on Tuesday night.
Smith, who has just three goals this season after scoring 16 last season and 25 in 2015-16, said he's aware of the chatter circling around his name, but isn't focused on it.
"You hear it on the news a lot, but there hasn't been any talk around the room," Smith told the Sun. "It's something you can't really worry about. It's beyond your control.
"As you approach the deadline, in Canada anyway, you can't turn on the TV without hearing rumours. It's never easy hearing your name, but one way to solve that is to start winning a lot more games and then maybe you're not worried about being traded as much."
---
Buy or Sell?
Larry Brooks of The New York Post reports there are some who believe the New York Rangers will look to add at the trade deadline to help cover the loss of injured winger Chris Kreider. However, Brooks believes the Rangers, who currently own the top wild-card spot in the Eastern Conference, should lean the opposite way and turn themselves into sellers ahead of Feb. 26 deadline.
The team's top asset ahead of the trade deadline is pending free agent Rick Nash. The 33-year-old has nine goals and 17 points in 42 games this season, but Brooks notes he's done little for his trade value of late as he's in the midst of a 10-game point drought.
Brooks writes that while the team would ideally fetch a first-round draft pick for Nash, general manager Jeff Gorton should be willing to listen on offers starting with a second-round pick, since Nash's return to the Blueshirts next season seems unlikely.
Trading Nash may hurt the Rangers' playoff chances this season, but Brooks believes the Rangers should look past this season and focus on advancing past the second round of playoffs in the future.
---