Countdown to TradeCentre: Why is Skinner Trade Bait?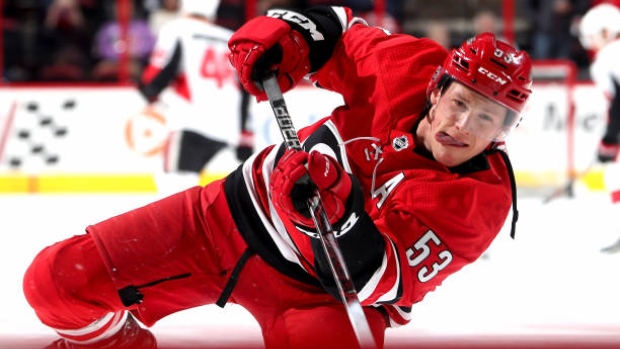 The National Hockey League's Trade Deadline is on Monday, Feb. 26, and teams will be making decisions on whether to buy or sell and decide which players can make the biggest difference and hold the greatest value. Check out the latest trade rumours and speculation from around the NHL beat.
---

On the Board
The addition of Jeff Skinner to the TSN Trade Bait board raised a few eyebrows last week because the Carolina Hurricanes remain in the thick of the playoff race.
TSN Hockey Insider Bob McKenzie shed some light on why Skinner debuted at No. 10 on the list, noting interest in Skinner was a key factor.
"Well, I don't know that they're necessarily selling," McKenzie told TSN Radio 1050 Toronto. "I think what it is, is Skinner's name going up there might be a reflection that there are some teams that think they can go in and buy low. That a guy who scored 37 last year and historically has been a good goal scorer in the National Hockey League, that maybe this is a situation… I don't think it's a coincidence that his name popped up on the Trade Bait board the same week that [head coach] Billy Peters absolutely blistered his team for lack of effort and, 'We can't keep coming out with the same group every night,' and kind of threw down a gauntlet or challenge to management and ownership that maybe they need to change up the players.
"I'm not as convinced that [general manger] Ronnie Francis is ready to part with Jeff Skinner, although there are some financial implications down the road. I mean, he's making $5.75 (million) now. If he's scoring 37 he's worth it. When he's not scoring goals, he ain't worth 5.75. And he's going to be looking for a long term raise. He's a year away from a new deal.
"So I think there will be teams that will call Carolina and try to buy low on a guy that isn't playing as well as he can right now. It's more from the 'people wanting to buy' interest than it is necessarily Carolina saying that they want to sell."
The 25-year-old has 16 goals and 33 points with a minus-21 rating in 56 games this season. He's topped the 30-goal mark twice in his career, including last season.

---

Eyes On Maroon
Joe Haggerty of NBC Sports Boston reports the Boston Bruins have "keen interest" in acquiring Patrick Maroon from the Edmonton Oilers before the deadline.
Haggerty reports the Bruins and Oilers have been scouting each other over the past week and the belief is the Bruins could get Maroon without parting with any of their top players or a first-round pick.
Maroon, a pending free agent, is listed at No. 3 on the updated TSN Trade Bait board. He has 13 goals and 27 points in 52 games this season.
The 29-year-old last scored on Jan. 20 and he told The Edmonton Sun on the weekend he needed to increase his production to convince the Oilers to keep him.
"I need to get going, I need to be better," Maroon said. "I have to play my game. I can't let them think that I'm fading away. I have to find ways to get my game going again because I want to be here."

---

Eyes In The Middle?
The Arizona Coyotes are expected to sellers at the trade deadline, but the team may also try to use the trade deadline to improve the depth at centre.
As Craig Morgan of Arizona Sports 98.7FM writes, the Coyotes have 2015 third-overall pick Dylan Strome in their prospect pool, but behind him the future isn't too bright.
Morgan says Laurent Dauphin, Ryan MacInnis and Lane Pedersen, who rank behind Strome in the pipeline, all project as bottom-six centres in the NHL.
Coyotes director of amateur scouting Tim Bernhardt told Morgan that the team acquiring draft picks may not fill that need for the Coyotes.
"I think you're always looking at centre," Bernhardt said. "It's always your priority when you're drafting forwards.
"There's not a ton out there. This year in the draft, I think there's no centremen even rated in the Top 10. It's a hard position to fill. They just don't grow on trees."
American Oliver Wahlstrom was the top centre in Bob McKenzie's mid-season draft rankings, listed at No. 9.

---