Coyotes parting ways with captain Doan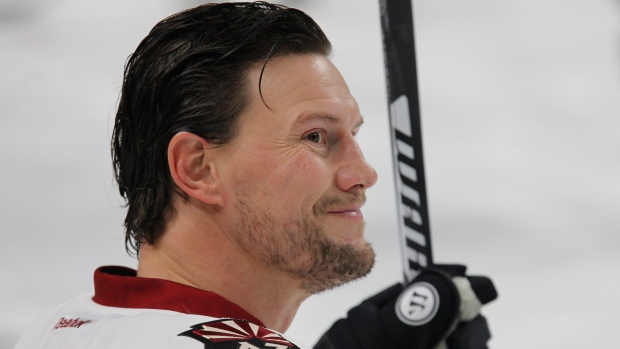 The Arizona Coyotes are parting ways with captain Shane Doan.
TSN Hockey Insider Pierre LeBrun says the Coyotes told Doan of their decision this past weekend.
Coyotes owner Andrew Barroway issued a statement shortly after the news broke Monday afternoon.
"After serious consideration, we have decided to not offer Shane Doan a contract for the upcoming season. The time has come for us to move on and to focus on our young, talented group of players and our very bright future. This was a very difficult decision given what Shane has done for the Coyotes and his unparalleled importance to the organization. With that said, this is necessary to move us forward as a franchise," said Barroway.
The 40-year-old, who has spent his entire 21-year career with the Coyotes franchise, hasn't decided on his playing future as of yet, but LeBrun notes there should be teams who would have interest in signing him.
"I wasn't expecting it so there was an element of surprise in that," Doan told Arizona Sports 98.7 FM. "It was the owners decision. He chose that he wanted to go with the younger group."
Doan finished with six goals and 21 assists in 74 games with the Coyotes last season. He has 402 goals and 570 assists over 1,540 career NHL games.
"I want to make a decision that's right and not just out of competitiveness and anger," the long-time Coyotes' captain added. "To the fans, I've been treated so much better than so many guys with more talent than me. I'm sure grateful."
Doan is coming off a one-year, $4.8 million contract and was left unprotected by the Coyotes ahead of the expansion draft Wednesday.
The Winnipeg Jets selected the Canadian seventh overall in the 1995 NHL Entry Draft. They become the Phoenix Coyotes a year later.
"On behalf of the entire organization, I would like to sincerely thank Shane for everything he's done for the Coyotes on and off the ice the past 21 years. Shane is a Valley icon who had an incredible career and was one of the best captains to ever play in the NHL," Barroway continued in the statement.
"Shane deserves an enormous amount of credit for keeping the Coyotes in the Valley and for growing the game of hockey in Arizona. He is beloved by our fans, corporate partners and the media and has been a tremendous leader for us in the community, and a great role model for kids. We wish him and his family all the best in the future. He will be a member of our Pack forever."
LeBrun says he expects Doan to be offered a job within the Coyotes organization once his playing career concludes.