Crosby No. 1 for sixth straight year on TSN's Top 50 list
Frank Seravalli, TSN Senior Hockey Reporter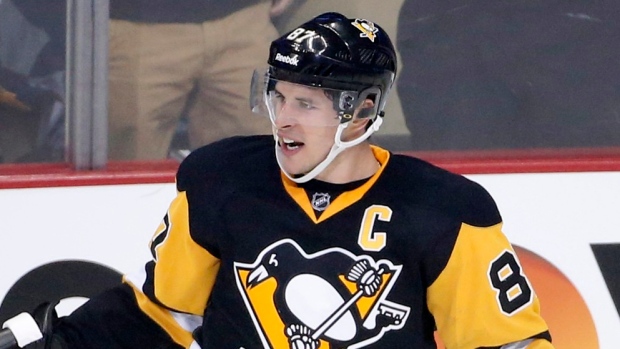 Sidney Crosby remains the only player to be ranked No. 1 in the six-year history of TSN's Top 50 Players poll, but his edge as the best player in the world may be slipping.

For the first time, Crosby was not the overwhelming recipient of first-place votes, garnering just 44 per cent. In three previous polls, Crosby accounted for more than 80 per cent of the first-place votes. Crosby, 28, finished third in the NHL's points race last season, but still led the league in points-per-game in an overall down year for scoring.
Some of Crosby's biggest rivals believe Crosby deserves to still be No. 1.

"I think he's on top, rightfully so, to be honest," said Flyers forward Jakub Voracek, who joined the Top 50 club for the first time. "He had 84 points last year and everybody's saying what a down season he had. I had 81 points and everybody said how great of a season I had.

"The guy has been on top since he got into the league. It's pretty impressive that he's been at the same level for so long, considering the injuries he's had in his career. Different people have different opinions, but I think if you were to ask players, they would say Crosby is on top."
A selection of TSN Hockey experts and NHL general managers were surveyed and asked to project the Top 50 players in 2015-16.
Jonathan Toews and Carey Price both stole first-place votes away from Crosby in this year's poll. Toews finished No. 2 for the second straight year; Price climbed 21 spots to No. 3 after capturing the Hart, Vezina and Ted Lindsay trophies last season.

Crosby still managed to make an impact on the rest of the poll. His new linemate, Phil Kessel, improved two positions (to No. 36) even after the worst season of his career.

Riding sky-high expectations, Connor McDavid became the first player to make the TSN Top 50 before appearing in an NHL game. McDavid, 18, ranked No. 37, but second-overall pick Jack Eichel did not make the cut.
In all, 13 newcomers helped bump off three mainstays who were featured in all five previous polls: Joe Thornton, Zdeno Chara and Eric Staal.

The league, as a whole, is trending younger. More than half of the Top 50 players are 23 to 27-years-old, most not old enough yet to become unrestricted free agents.

No player made a bigger jump than Vladimir Tarasenko, who went from being unranked to No. 14 thanks to his electrifying 73-point season. Tarasenko, 23, signed the largest ($60 million) contract of the off-season.

Victor Hedman (No. 21) and Voracek (24) also cracked the Top 25 after being unranked. Other newcomers for this year included Mark Giordano (27), Tyler Johnson (28), Pekka Rinne (29), Max Pacioretty (32), Roman Josi (40), Rick Nash (41), Brent Burns (45), Braden Holtby (49) and Henrik Sedin (50). Nash, Rinne and Sedin were all ranked in previous year's polls, but not last season.

Notable exclusions included Tuukka Rask, David Krejci, Nathan MacKinnon, Gabriel Landeskog, Jeff Carter and Patrick Sharp.

Steven Stamkos also fell for the first time in the six-year history of the poll, sinking from third to sixth.

Six teams failed to rank any players among the Top 50: Buffalo, Carolina, Florida, New Jersey, Toronto and Winnipeg. Panthers' defenceman Aaron Ekblad was just on the outside at No. 51.
For the sixth consecutive year, Pittsburgh Penguins star captain Sidney Crosby has been ranked as the National Hockey League's No. 1 player, as announced Wednesday on TSN Hockey's Top 50 Players special. Crosby has topped TSN's signature hockey ranking list every year of the poll.
TSN Hockey's Top 50 Players List
| Player | Pos | 2011 | 2012 | 2013 | 2014 | 2015 | 2016 |
| --- | --- | --- | --- | --- | --- | --- | --- |
| 1. Sidney Crosby, Pit | C | 1 | 1 | 1 | 1 | 1 | 1 |
| 2. Jonathan Toews, Chi | C | 3 | 8 | 6 | 3 | 2 | 2 |
| 3. Carey Price, Mtl | G | NR | 30 | NR | NR | 24 | 3 |
| 4. John Tavares, NYI | C | NR | NR | 20 | 13 | 8 | 4 |
| 5. Alex Ovechkin, Was | LW | 2 | 2 | 14 | 7 | 12 | 5 |
| 6. Steven Stamkos, TB | C | 10 | 6 | 4 | 4 | 3 | 6 |
| 7. Drew Doughty, LA | D | 8 | 23 | 17 | 19 | 7 | 7 |
| 8. Ryan Getzlaf, Ana | C | 17 | 13 | 34 | 15 | 4 | 8 |
| 9. Jamie Benn, Dal | LW | NR | NR | 39 | 37 | 15 | 9 |
| 10. Erik Karlsson, Ott | D | NR | NR | 11 | 11 | 22 | 10 |
| | | | | | | | |
| 11. Evgeni Malkin, Pit | C | 4 | 22 | 2 | 2 | 6 | 11 |
| 12. Duncan Keith, Chi | D | 5 | 27 | 49 | 20 | 18 | 12 |
| 13. Patrick Kane, Chi | RW | 15 | 24 | 38 | 9 | 10 | 13 |
| 14. Vladimir Tarasenko, Stl | RW | - | - | - | NR | NR | 14 |
| 15. Tyler Seguin, Dal | C | NR | NR | 31 | NR | 25 | 15 |
| 16. Shea Weber, Nsh | D | 19 | 11 | 7 | 8 | 9 | 16 |
| 17. Anze Kopitar, LA | C | 29 | 21 | 10 | 18 | 5 | 17 |
| 18. Claude Giroux, Phi | C | NR | 25 | 3 | 10 | 11 | 18 |
| 19. Corey Perry, Ana | RW | 33 | 7 | 19 | 24 | 14 | 19 |
| 20. P.K. Subban, Mtl | D | NR | NR | NR | 27 | 19 | 20 |
| | | | | | | | |
| 21. Victor Hedman, TB | D | NR | NR | NR | NR | NR | 21 |
| 22. Nicklas Backstrom, Was | C | 9 | 48 | 33 | 40 | 39 | 22 |
| 23. Pavel Datsyuk, Det | C | 7 | 3 | 5 | 5 | 17 | 23 |
| 24. Jakub Voracek, Phi | RW | NR | NR | NR | NR | NR | 24 |
| 25. Henrik Lundqvist, NYR | G | 30 | 34 | 15 | 14 | 16 | 25 |
| 26. Patrice Bergeron, Bos | C | NR | NR | 35 | 16 | 13 | 26 |
| 27. Mark Giordano, Cgy | D | NR | NR | NR | NR | NR | 27 |
| 28. Tyler Johnson, TB | C | - | - | - | NR | NR | 28 |
| 29. Pekka Rinne, Nsh | G | NR | 28 | 27 | 41 | NR | 29 |
| 30. Ryan Johansen, Clb | C | NR | NR | NR | NR | 40 | 30 |
| | | | | | | | |
| 31. Zach Parise, Min | LW | 16 | 26 | 13 | 23 | 28 | 31 |
| 32. Max Pacioretty, Mtl | LW | NR | NR | NR | NR | NR | 32 |
| 33. Joe Pavelski, SJ | C | NR | NR | NR | NR | 36 | 33 |
| 34. Ryan Suter, Min | D | NR | 43 | 26 | 17 | 21 | 34 |
| 35. Jonathan Quick, LA | G | NR | NR | 16 | 22 | 20 | 35 |
| 36. Phil Kessel, Pit | RW | NR | NR | 47 | 43 | 38 | 36 |
| 37. Connor McDavid, Edm | C | - | - | - | - | - | 37 |
| 38. Matt Duchene, Col | C | NR | 45 | NR | 36 | 26 | 38 |
| 39. Alex Pietrangelo, Stl | D | NR | NR | 28 | 30 | 29 | 39 |
| 40. Roman Josi, Nsh | D | - | NR | NR | NR | NR | 40 |
| | | | | | | | |
| 41. Rick Nash, NYR | LW | 14 | 20 | 24 | 29 | NR | 41 |
| 42. Ryan McDonagh, NYR | D | NR | NR | NR | NR | 31 | 42 |
| 43. Taylor Hall, Edm | LW | NR | NR | 50 | 39 | 32 | 43 |
| 44. Oliver Ekman-Larsson, Phx | D | NR | NR | NR | 44 | 47 | 44 |
| 45. Brent Burns, SJ | D | NR | NR | NR | NR | NR | 45 |
| 46. Marian Hossa, Chi | RW | 35 | 46 | 32 | 32 | 35 | 46 |
| 47. Henrik Zetterberg, Det | LW | 11 | 15 | 22 | 12 | 27 | 47 |
| 48. Logan Couture, SJ | C | NR | NR | 41 | 31 | 37 | 48 |
| 49. Braden Holtby, Was | G | NR | NR | NR | NR | NR | 49 |
| 50. Henrik Sedin, Van | C | 6 | 5 | 9 | 21 | NR | 50 |
(NR) Not ranked
(-) Did not play in the NHL