Cubs' win stirs championship dreams for Leafs and Sabres
Players on both sides of the cross-border rivalry shared a similar feeling while watching the Cubs give their long-suffering fan base a reason to celebrate.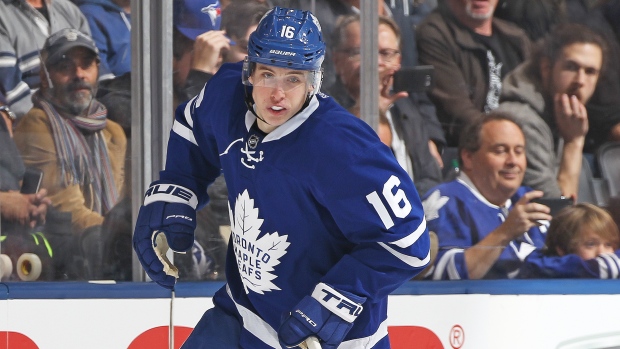 TSN Toronto reporter Mark Masters checks in with news and notes from Maple Leafs practices and game-day skates. The Maple Leafs and Sabres held skates in Buffalo this morning ahead of tonight's game at the KeyBank Center.
- The Maple Leafs haven't won the Stanley Cup since 1967 while the Sabres haven't won a title since their inception in 1970-71. So, it's no surprise that players on both sides of this cross-border rivalry shared a similar feeling Wednesday night while watching the Chicago Cubs give their long-suffering fan base a reason to celebrate. "When I saw it, I thought of our team in two or three years doing the exact same thing," Mitch Marner said. "Everyone's got to trust the process. It's going to be a lot of fun to develop with this team. We just got to stay on track and there's bright things coming. It kind of gives you a chill to watch a team hoist a championship and kind of gives you chills that you want to do that yourself."
- Down the hall in the Sabres dressing room, the message was similar. "To have a drought like that is pretty incredible," Ryan O'Reilly said. "…It was just inspiring to watch and that's something we definitely hope to do here."
- Connor Carrick grew up in the Chicago area and has been getting reports from back home about how crazy the atmosphere is. "I know, just from friends and family, just the madness down in Wrigleyville and stuff like that. As a player, you dream of bringing that to where you're playing. You dream about having the parade and all that so it would be as special [in Toronto]." Carrick was a White Sox fan growing up, but his girlfriend is a huge Cubs fan and the whole city, really, is Flying the W. "One hundred years [without a title], you don't wish that kind of suffering on anybody," he said. "That's a long time and there are a lot of people who were Cubs fans, who would've liked to share it with family members, who aren't around for it just given how long it was."
- Leafs coach Mike Babcock isn't a huge baseball fan, but even he was gripped by the action Wednesday night. "I wanted to go to bed early, but then I got watching that darn game, but you know what I did? When they pulled the cover out [for the rain delay] I finally shut it off. Why wouldn't a guy wait for 17 more minutes? Anyway, what a spectacular thing for a city and in Cleveland it was spectacular to see all the people and the energy of the city. What I liked the best was watching the fans. Even though the players were a nervous wreck, the fans, it was like their life was on the line. I couldn't believe it. The emotion was spectacular."
- Sabres defenceman Cody Franson played four seasons in Toronto and said he often thought about what it may be like to win a championship in the centre of the hockey universe. "They bring the Cup back home, that parade's going to be awesome," Franson said. "When we were there we talked about it and how awesome that experience would be. I mean, going through the playoffs against Boston, even just having that Maple Leaf Square experience, even though we lost that series, that's something I'll never forget."
- The Sabres are 17-1-1 in their last 19 home games against the Leafs, including seven straight wins. Toronto's last victory in Buffalo came on Jan. 29, 2013 when Matt Frattin scored in overtime. Toronto's last regulation win in Buffalo was on Feb. 16, 2011. One constant has been the steady stream of fans who make the trek from Toronto to Buffalo regardless of the results. And that's something that doesn't sit well with Robin Lehner, who will start tonight for the Sabres. "I really like our fans here. We got to try and win more, have a good season here to get even more fans out here to get the Toronto fans out of the building."
- Both Babcock and Sabres coach Dan Bylsma agreed that Sabres-Leafs isn't really a true rivalry right now. "There was no rivalry last year," Babcock said. "We were both bad. As the teams get better you have a chance to rekindle that. Right now, they're trying to build a program, we're trying to build a program." Bylsma objected to the notion that future showdowns between Auston Matthews and Jack Eichel will ensure the rivalry heats up. "I think if the rivalry's going to get bigger and better it's not going to be because of Auston Matthews and Jack Eichel, it will be because we're both competitive, winning hockey teams and I think that's where it's going," he said. "Just stepping into here in Buffalo you get a sense of how big the rivalry is between Buffalo and [Toronto] and I want it to become bigger, because we're winning hockey games."
- Bylsma announced that defenceman Zach Bogosian has "somewhere between a one and two grade MCL sprain." He'll be out "weeks." Casey Nelson draws into the lineup.
Lines at Leafs skate:
Hyman-Matthews-Nylander
van Riemsdyk-Bozak-Marner
Komarov-Kadri-Brown
Martin-Smith-Soshnikov
Extras: Holland, Griffith
Rielly-Zaitsev
Marincin-Carrick
Gardiner-Polak
Extra: Corrado
Andersen starts
Enroth