Cupboard is stocked for up-and-coming Canucks
Our annual list of the Top 50 NHL-affiliated prospects compliled by TSN Director of Scouting Craig Button is led by Canucks prospect Elias Pettersson.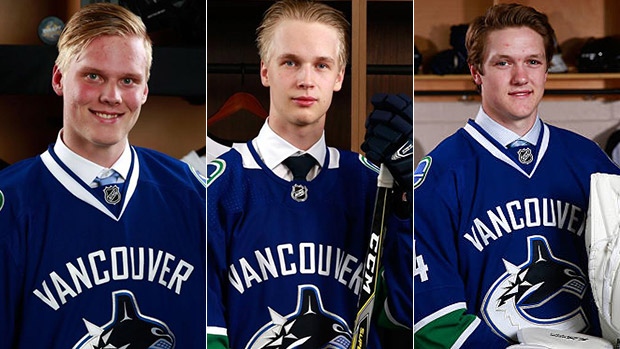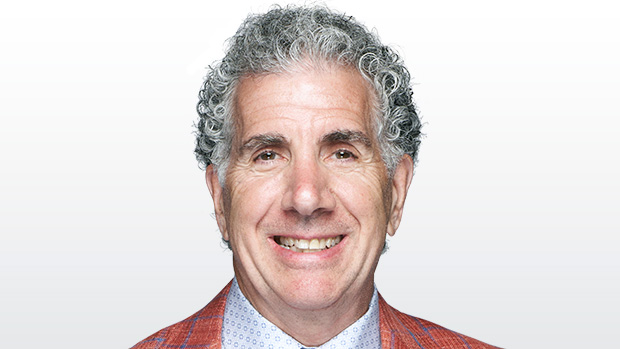 It's been a trying season in Vancouver, but there's reason to believe better days are ahead.
TSN Hockey's annual list of the Top 50 NHL-affiliated prospects features five Canucks, including top-ranked Elias Pettersson, a 19-year-old centre currently playing for the Växjö Lakers in the Swedish Hockey League.
Only players considered to have not achieved full-time NHL status are included in the Top 50.
The rest of the top five is rounded out by Eeli Tolvanen (No .2), a right winger and Nashville Predators prospect who has 34 points in 47 games for Jokerit of the Kontinental Hockey League this season; Martin Necas (No. 3), a Czech centre and Hurricanes prospect who had 11 points in seven games at the World Juniors; Cody Glass (No. 4), a centre and right wing for the Portland Winterhawks who's property of the Vegas Golden Knights; and Casey Mittelstadt (No. 5), a centre for the Minnesota Golden Gophers and Buffalo Sabres prospect who was a star for Team USA at the World Juniors.
The 6-foot-1, 165-pound Pettersson has been a revelation in the SHL this season, racking up 17 goals and 45 points in 35 games to sit third in league scoring. The 2017 fifth-overall pick is joined by fellow Canucks prospects Olli Juolevi (No. 24), Adam Gaudette (No. 26), Jonathan Dahlen (No. 31) and Thatcher Demko (No. 42) in TSN's top 50.
Juolevi, a 19-year-old defenceman who was the fifth-overall pick in 2016, is playing for TPS Turku in Finland's top league this season after spending the previous two years in the OHL with the London Knights.
Gaudette, a centre who was a fifth-round pick (149th overall) in 2015, has 20 goals and 42 points in 28 games for the Northeastern Huskies to lead the NCAA in scoring.
Dahlen, a 20-year-old left wing for Timra IK in Sweden's HockeyAllsvenskan, is second in league scoring with 37 points in 35 games. Demko, 22, sits fourth in American Hockey League save percentage (.929) in 29 starts for the Utica Comets.
The Calgary Flames are second among Canadian franchises with three players on the list – Tri-City Americans defenceman Juuso Valimaki (No. 18), Harvard University defenceman Adam Fox (No. 36) and Kelowna Rockets forward Dillon Dube (No. 38), who captained Canada to gold last month at the World Juniors.
The Ottawa Senators are represented by one player – right wing Drake Batherson of the QMJHL's Blainville-Boisbriand Armada (No. 29). ­
The Oilers, Jets, Maple Leafs and Canadiens don't have any players in the top 50.
Other notes from this year's Top 50:
- The Philadelphia Flyers have four players in Top 50 ­- goaltender Carter Hart (No. 19), defenceman Phillipe Myers (No. 30), and centres Morgan Frost (No. 33) and German Rubtsov (No.47).
- Three Russian goaltenders made the top 10 this year - Islanders prospect Ilya Sorokin (No. 7), Rangers prospect Igor Shesterkin (No. 9) and Ilya Samsonov (No.10 ) of the Washington Capitals. All three have a good chance to be No.1 goalies at the NHL level.
- Twenty-nine players on our list are first-round picks.
Top 50 NHL-Affiliated Prospects
RK
Name
Age
NHL Team
2017-18 Team
GP
G
P

1

Elias Pettersson

, C

19

Van

Växjö (SHL)

35

17

45

2

Eeli Tolvanen

, RW

18

Nsh

Jokerit (KHL)

47

17

34

3

Martin Necas

, C

19

Car

Brno (CZE Extra)

20

8

12

4

Cody Glass

, C/RW

18

VGK

Portland (WHL)

45

25

69

5

Casey Mittelstadt

, C

19

Buf

Minnesota (NCAA)

26

8

22

6

Robert Thomas

, C

18

StL

Hamilton (OHL)

36

22

56

7

Ilya Sorokin, G

22

NYI

Moskva (KHL)

36

1.58

.930

8

Miro Heiskanen

, D

18

Dal

Helsinki (SM Liiga)

25

11

19

9

Igor Shesterkin, G

22

NYR

St. Petersburg (KHL)

27

1.77

.930

10

Ilya Samsonov

, G

20

Was

Magnitogorsk (KHL)

24

2.44

.922

11

Cale Makar, D

19

Col

Mass/Amherst (NCAA)

23

3

15

12

Dylan Strome

, C

20

Ari

Tuscon (AHL)

33

17

41

13

Lias Andersson

, W/C

19

NYR

Frölunda (SHL)

22

7

14

14

Kirill Kaprizov, LW

20

Min

Moskva (KHL)

46

15

40

15

Jordan Kyrou

, RW

19

StL

Sarnia (OHL)

41

27

82

16

Henrik Borgstrom

, C

18

Fla

Denver (NCAA)

27

17

37

17

Aleksei Heponiemi, C

19

Fla

Swift Current (WHL)

39

24

93

18

Juuso Valimaki

, D

19

Cgy

Tri-City (WHL)

22

5

22

19

Carter Hart

, G

19

Phi

Everett (WHL)

27

1.57

.951

20

Erik Brannstrom, D

18

VGK

HV71 (SHL)

35

0

8

21

Kieffer Bellows

, LW

19

NYI

Portland (WHL)

37

26

52

22

Gabe Vilardi, C

18

Los

Kingston (OHL)

14

8

28

23

Nick Suzuki

, RW

18

VGK

Owen Sound (OHL)

45

25

67

24

Olli Juolevi

, D

19

Van

Turku (SM Liiga)

28

6

17

25

Alex Nylander, C

19

Buf

Rochester (AHL)

25

2

9

26

Adam Gaudette

, LW

21

Van

Northeastern (NCAA)

28

20

42

27

Filip Chytil

, RW

18

NYR

Hartford (AHL)

26

7

21

28

Nick Merkley, RW

20

Ari

Tuscon (AHL)

29

18

35

29

Drake Batherson

, RW

19

Ott

B-Boisbriand (QMJHL)

35

22

56

30

Phillipe Myers, D

21

Phi

Lehigh Valley (AHL)

30

3

12

31

Jonathan Dahlen, LW

20

Van

Timrå (SWE-Als)

35

20

37

32

Ryan Donato

, C

21

Bos

Harvard (NCAA)

23

21

31

33

Morgan Frost

, C

18

Phi

S.S. Marie (OHL)

50

30

85

34

Conor Timmins

, D

19

Col

S.S. Marie (OHL)

30

6

35

35

Pierre-Olivier Joseph

, D

18

Ari

Charlottetown (QMJHL)

45

10

38

36

Adam Fox, D

19

Cgy

Harvard (NCAA)

19

0

12

37

Dante Fabbro

, D

19

Nsh

Boston U (NCAA)

26

8

22

38

Dillon Dube

, LW

19

Cgy

Kelowna (WHL)

34

22

50

39

Rasmus Asplund, C

20

Buf

Färjestad (SHL)

41

7

27

40

Boris Katchouk

, LW

19

Tam

S.S. Marie (OHL)

42

33

62

41

Owen Tippett

, RW

18

Fla

Mississauga (OHL)

33

21

46

42

Thatcher Demko

, G

22

Van

Utica (AHL)

29

2.27

.929

43

Dylan Sikura

, LW

22

Chi

Northeastern (NCAA)

25

14

38

44

Jordan Greenway

, C

20

Min

Boston U (NCAA)

28

9

25

45

Taylor Raddysh

, RW

19

Tam

S.S. Marie (OHL)

41

25

63

46

Sam Steel

, C

19

Ana

Regina (WHL)

37

20

54

47

German Rubtsov

, C

19

Phi

A-Bathurst (QMJHL)

35

12

34

48

Kale Clague

, D

19

Los

Moose Jaw (WHL)

37

10

57

49

Michael Rasmussen

, C/LW

18

Det

Tri-City (WHL)

27

19

38

50

Cal Foote

, D

19

Tam

Kelowna (WHL)

42

13

47
Top 5 Prospects From Each Canadian NHL Team
RK
Name
Age
NHL Team
2016-17 Team
GP
G
P

1

Juuso Valimaki

, D

19

Cgy

Tri-City (WHL)

22

5

22

2

Adam Fox, D

19

Cgy

Harvard (NCAA)

19

0

12

3

Dillon Dube

, LW

19

Cgy

Kelowna (WHL)

34

22

50

4

Jon Gillies

, G

24

Cgy

Stockton (AHL)

29

2.64

.915

5

Tyler Parsons

, G

20

Cgy

Stockton (AHL)

4

3.06

.898

1

Kailer Yamamoto

, RW

19

Edm

Spokane (WHL)

22

10

36

2

Tyler Benson

, LW

19

Edm

Vancouver (WHL)

39

19

50

3

Ethan Bear

, D

20

Edm

Bakersfield (AHL)

27

3

11

4

Stuart Skinner, G

19

Edm

Swift Current (WHL)

41

3.11

.904

5

Aapeli Rasanen, C

19

Edm

Boston College (NCAA)

23

3

12

1

Ryan Poehling, C

19

Mtl

St. Cloud State (NCAA)

22

7

21

2

Noah Juulsen

, D

20

Mtl

Laval (AHL)

26

1

2

3

Nikita Scherbak

, RW

22

Mtl

Laval (AHL)

24

7

30

4

Joni Ikonen, C

19

Mtl

KalPa (SM Liiga)

41

3

9

5

Will Bitten, C

19

Mtl

Hamilton (OHL)

50

18

57

1

Drake Batherson

, RW

19

Ott

B-Boisbriand (QMJHL)

35

22

56

2

Logan Brown

, C

19

Ott

Kitchener (OHL)

19

16

36

3

Filip Chlapik

, C

20

Ott

Belleville (AHL)

33

7

18

4

Alex Formenton

, LW

18

Ott

London (OHL)

30

17

32

5

Christian Jaros

, D

21

Ott

Belleville (AHL)

31

2

12

1

Timothy Liljegren, D

18

Tor

Toronto (AHL)

21

1

10

2

Andreas Johnsson

, LW

23

Tor

Toronto (AHL)

41

22

37

3

Andrew Nielsen

, D

21

Tor

Toronto (AHL)

41

2

13

4

Carl Grundstrom, LW

20

Tor

Frolunda (SHL)

26

9

14

5

Garret Sparks

, G

24

Tor

Toronto (AHL)

26

1.62

.944

1

Elias Pettersson

, C

19

Van

Växjö (SHL)

35

17

45

2

Olli Juolevi

, D

19

Van

Turku (SM Liiga)

28

6

17

3

Adam Gaudette

, LW

21

Van

Northeastern (NCAA)

28

20

42

4

Jonathan Dahlen, LW

20

Van

Timrå (SWE-Als)

35

20

37

5

Thatcher Demko

, G

22

Van

Utica (AHL)

29

2.27

.929

1

Dylan Samberg, D

19

Wpg

Minnesota-Duluth (NCAA)

28

0

6

2

Kristian Vesalainen

, LW

18

Wpg

Hameenlinna (SM Liiga)

38

15

34

3

Eric Comrie

, G

22

Wpg

Manitoba (AHL)

23

2.55

.920

4

Erik Foley

, LW

20

Wpg

Providence (NCAA)

28

13

31

5

Logan Stanley

, D

19

Wpg

Kitchener (OHL)

48

13

35