Defending champs in tough at trials after back-to-back losses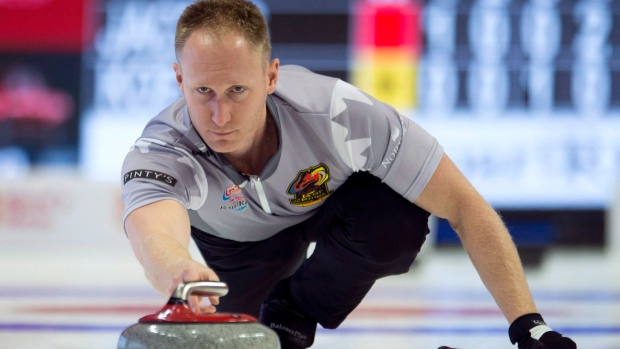 Team Brad Jacobs will need to work some magic in Ottawa over the next few days for a chance to defend their Olympic title.
A day after blowing a 4-0 lead over Saskatoon's Team Steve Laycock, the boys from Sault Ste. Marie lost again Wednesday afternoon, this time falling 9-3 to first-time trials competitor Team Brandon Bottcher of Edmonton. Jacobs was light on his last rock in the eighth end, allowing a steal of three and early handshakes.
The skip, who shot a rare 59 per cent against Team Bottcher, struggled to describe his frustrations following the game, but says all they can do is keep battling.
"I don't know. I don't know what to tell ya. I got nothing guys," Jacobs told reporters after the game. "We've had our backs again the wall lots. Sometimes it works out for us, sometimes it doesn't, hopefully it does this time. We're just going to keep grinding away and keep trying to make shots."
Sitting at 2-3, Team Jacobs will more than likely need to win their remaining games against Reid Carruthers, Mike McEwen and John Epping to have a shot at the playoffs or a tiebreaker. Not an easy task in a field that is this elite.
"It's going to be hard. We've got to regroup and go back to basics. We have to rattle off three straight wins against three good teams," third Ryan Fry said after the game.
The 2014 Olympic gold medalists and 2013 Brier champs were sitting pretty at 2-1 Monday night after an impressive 7-4 victory over St. John's Team Brad Gushue. They got off to a good start against Laycock's squad on Tuesday, holding a 6-2 advantage through five ends, but let it slide away with a steal of three in the ninth and were forced to concede.
The increased humidity and rainy weather in the nation's capital Tuesday resulted in frosty ice conditions and problems for many curlers. The ice has gone back to where it was earlier in the week, explains Fry, but admits it's no time for excuses.
"With the way a couple of games have went, I think we've just lost confidence a little bit with the ice changing. The ice is back to the way it was for the first three games for us," said Fry. "I think (Tuesday's) loss on tough ice made (Wednesday) a little tougher for us. No excuses, we're just not playing with very much confidence and not making very many shots."
Things might look dire for Team Jacobs at the moment, but they've proven in the past that they play some of their best curling when their backs are against the wall. After rolling to a perfect 8-0 record at the trials in 2013, Jacobs and company got off to a shaky 1-2 start at the Sochi Olympics. Eight consecutive victories later, Team Jacobs stood atop the podium with their gold medals. More of the same is needed as crunch time begins at the Canadian trials.
Team Jacobs will play Team Carruthers Thursday morning at 9am et/6am pt on the TSN Network and TSN GO.