Defensive play makes Bolts contenders
In the last five seasons, no team has had more success scoring at even strength than the Tampa Bay Lightning but, Travis Yost writes, it's improved defensive play that has turned the Lightning into a Stanley Cup contender.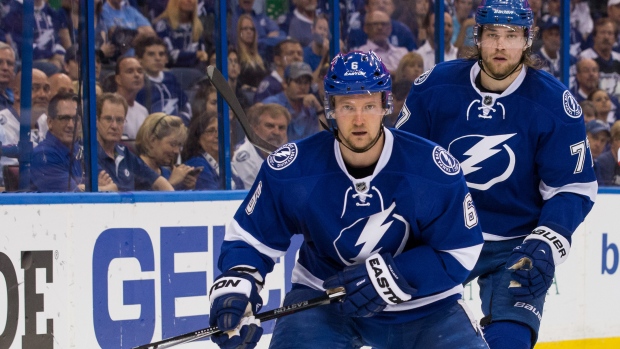 In the last five seasons, no team has had more success scoring at even strength than the Tampa Bay Lightning. It's important to note this, particularly since there will be an awful lot written about Jon Cooper and how he's effectively revamped this Bolts team in just a couple of years.
Where Jon Cooper (and the rest of the Tampa Bay organization – make no mistake, acquiring and developing talent is the biggest reason why the Bolts have been so successful) has really made in-roads is on the defensive side of the game. The goal-scoring firepower left over from the Guy Boucher era hasn't gone anywhere, but performance in the defensive zone has steadily improved with each passing season.
This improvement, of course, has been to the delight of GM Steve Yzerman. Recall that Yzerman identified Tampa Bay's woeful defensive performance in the summer of 2013 as an area in need of serious overhaul and redevelopment:
Even so, "it's fair to say we need to be better defensively," Yzerman said. "As a team we need to be better, but our defensive core as a whole has to be better. Whether I can change it, I'm not sure. But the group we have we expect to be better."
Jon Cooper knew the situation he was walking into – loads of offensive talent, but a propensity to give back as many goals as the team scored. His test would be to preserve that goal-scoring while instilling some degree of competency on the defensive side of the game, and hope that he could parlay those changes into a true Stanley Cup contender.
So, how has the transition gone? Offensively, Tampa Bay's as good as ever. Defensively? Well, things improved in a hurry. Consider the below graph, which plots out Tampa Bay performance by scoring chance and shots allowed at even strength over the past five years. Guy Boucher's teams are the blue circles, the league average (black circle) as a benchmark, and Jon Cooper's teams in red.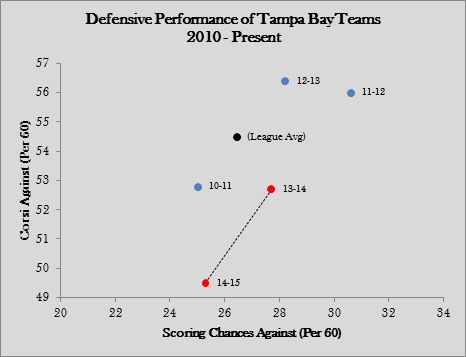 There's a lot that goes into this, of course – it's about finding and developing forwards who can play an equally responsible offensive and defensive game. It's about finding players who limit opportunities against by always having the puck (like, say, Anton Stralman – and the entire second line). And it's about having a coach with the right systems and sensible decision-making to turn the ingredients into magic.
And, though you won't see it manifest in the scoring chance or shot numbers, it helps to have a competent goalie in the crease to bail you out of trouble when things go sour. The Lightning have moved away from the ugly era of Anders Lindback, Mathieu Garon, and Dwayne Roloson, into a new era where Ben Bishop and Andrei Vasilevskiy should provide a stable net presence for the foreseeable future.
Most importantly, there's a statement to be made here: it's really, really difficult to one-trick pony your way into the Stanley Cup Final. The Lightning knew they had to improve defensively, but also recognized that it couldn't come at the cost of losing much of the impressive offense they had cultivated over the years.
So far, so good – they're just four wins away from the Stanley Cup. Now, let's see if they can pass the ultimate test in the form of Joel Quenneville's Chicago Blackhawks.