Donaldson denies calf injury, will play Friday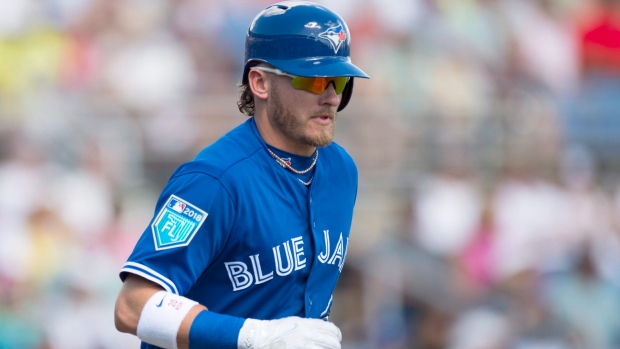 Toronto Blue Jays third baseman Josh Donaldson denied he's dealing with a calf injury on Thursday, telling John Lott of The Athletic he was simply taking care of a cramp.
Donaldson told Lott that manager John Gibbons was incorrect when he announced the third baseman was injured on Tuesday.
The 32-year-old left Saturday's game against the Atlanta Braves in the first inning with what the team said was dehydration and hasn't played since. Donaldson said he developed the cramp as a result of the dehydration, but received an acupuncture treatment on Sunday and plans to return to the lineup on Friday.
Donaldson missed six weeks last season because of a right calf strain, a situation that started in spring training.
In 113 games last season for the Blue Jays, Donaldson had 33 home runs and 78 RBI while leading the team with a .944 OPS. So far this spring, he has one RBI in seven games.
He has three hits in 11 at-bats - a .273 average - this spring with one RBI.
The Blue Jays will kick off the regular season on March 29 against the New York Yankees.