Dreger Report: Akim Aliu still in search of a shot at the NHL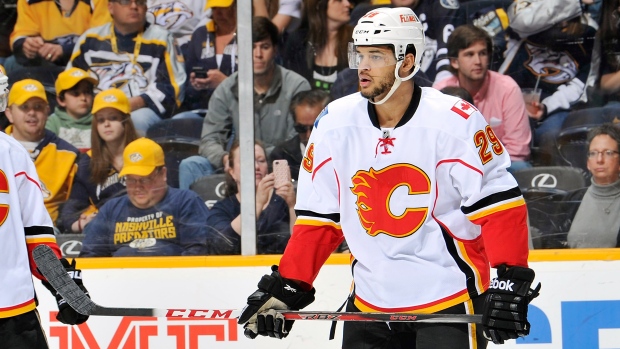 From Monday through Friday, you'll find Akim Aliu on the ice training and practicing with the Ontario Hockey League's Mississauga Steelheads - staying in shape while waiting for the phone to ring.
At 25, the second-round draft pick of the Chicago Blackhawks in 2007 is still chasing the dream of playing in the NHL. His passion for the game remains strong - as strong as the responsibility he feels to create a more comfortable life for his mother Larissa and father Tai. They dedicated their lives to Akim his older brother Edward, and in Akim's case, gave him the opportunity to play a sport they knew very little about.
Aliu's most recent brush with the NHL came in the form of a tryout with the American Hockey League's Rochester Americans, the affiliate team for the Buffalo Sabres. Aliu scored three goals in his first three games with Rochester to start the season, but couldn't crack the lineup. He was released and remains in a place he's been before - hoping for a brighter future, but still haunted by his past.
Born in Africa, Aliu spent most of the first 10 years of his life in Russia. With a masters degree in geology, his father moved the family to Canada in search of a better life. Their small family rented a one-room apartment in Toronto and supported by welfare, Tai Aliu delivered pizzas while both parents held down odd jobs to pay the bills.
Hockey was foreign to this family, but they quickly recognized it was part of the Canadian way. While Akim didn't understand the game and couldn't speak a word of English, his father purchased a pair of skates at a garage sale (four sizes too big) to introduce his young son to the culture of the sports. By his own admission, Akim couldn't skate in his first month of house league in Parkdale. And yet a few months later, he led the league in scoring and the seed for a promising career had been planted.
Aliu jumped from house league to AAA the following season, playing with future Montreal Canadiens star P.K. Subban on the North York Rangers. From there he moved on to the Toronto Marlies, joining forces with the likes of future NHLers John Tavares, Sam Gagner and Brendan Smith. Aliu remained with the Marlies until getting drafted into the OHL, sixth overall by the Windsor Spitfires. He was big, aggressive, had offensive talent and could play forward or defence. Aliu was on his way.
"I didn't grow up in this game," he explained. "For me, everything was trial and error. But as I got older, I started to understand the discipline of the game."
But Aliu's critics will say, he lacks discipline - and perhaps, he has in varying forms. Aliu admits that stemmed from his early days of talking back to coaches, missing curfew or being late for practices. He's made mistakes and he's willing to own up to them all.
That said, he isn't speaking out now to give excuses or seek pity either. He simply wants another chance to prove he can be the player some predicted he might be when he was highly-ranked for the 2007 NHL Entry Draft.
Following a much-publicized hazing controversy in 2006 (where a 16-year-old Aliu refused to participate, resulting in a fight with Spitfires captain Steve Downie that ultimately led to both players getting traded, Windsor coach and GM Moe Mantha getting suspended and the Spitfires slapped with a $35,000 fine), things started to turn and for a while, the world was right.
Aliu fit in well with his new team the Sudbury Wolves, scoring 20 goals and 42 points in his draft year. He was told he would be a first-round pick, perhaps as high as the Top 15. But that didn't happen.
"I sat there for three hours with my family and it was the most miserable three hours of my life," Aliu recalled. "It's hard to explain how difficult it is to sit there and hear all of the names called out, agonizingly waiting for mine."
And the name Akim Aliu was called in the second round, 56th overall by the Chicago Blackhawks. His fear that a tarnished reputation would take its toll became reality.
"Leading up to the draft, I kept hearing things about my character that simply weren't true," he said. "I felt helpless and kept trying to think of ways to get the message out."
Aliu admits it took years to get over his draft day disappointment and he has regrets about what followed that fateful day.
As a 20-year old in Chicago's system and playing in Rockford under head coach Bill Peters, he said he felt the pressure of Chicago's younger first rounders gaining the edge. Aliu could feel his stock dropping and didn't handle it well.
"I didn't know how to deal with coaches," he explained. "I wasn't good at taking criticism. I thought I was doing everything right and everyone else was wrong."
Following the departure of Dale Tallon and Rick Dudley from the Blackhawks organization, things spiralled further down for Aliu. He would rejoin Dudley in Atlanta, but the Thrashers soon became the Winnipeg Jets and his opportunity faded again.
He eventually made his way to Calgary, where then-Flames GM Jay Feaster was intrigued by his size and skill. Aliu made his NHL debut in April of 2012 and in just his second game with the Flames, scored two goals in a 5-2 win over the Anaheim Ducks. His play earned him a one-year contract for 2012-13, but it took a hit because of a lockout-shortened season and significant injuries that required surgeries on both his wrist and ankle.
Yet another speed bump on his path to the NHL.
There are a number of reasons for Aliu to abandon his dream, but he's far from doing that. He's had offers and opportunities to return to Europe or join former NHLers in the KHL, but he's not ready to do that either. He believes there has to be a spot for a Dustin Byfuglien-type player - capable of playing forward or defence - and that he can be a role model for kids growing up with little money and facing some of the difficulties he faced himself - and is still trying to overcome.
Akim Aliu believes. Now he just needs to find someone in the NHL who believes in him.