Dreger Report: Phaneuf enjoying mentor role
Veteran blueliner Dion Phaneuf knows a big part of his job in Ottawa is helping to develop talented youngster Cody Ceci, Darren Dreger writes.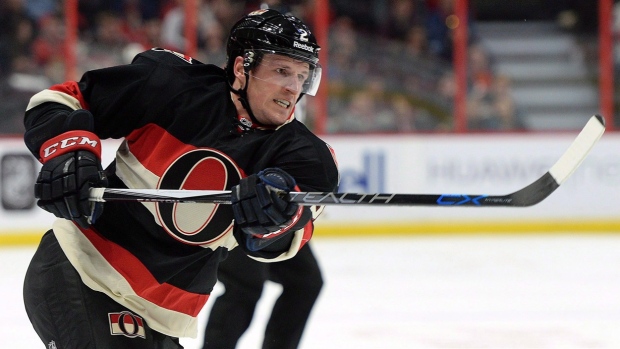 Provided he stays healthy, Dion Phaneuf will play his 900th NHL game later this season.
In his 14th year in the league, the 31-year-old defenceman is one of the Ottawa Senators' most trusted veterans. He is there to offer guidance to young captain Erik Karlsson, to provide leadership in the dressing room and, perhaps his biggest task, to mentor 22-year-old Cody Ceci, one of Ottawa's most prized possessions.
Phaneuf and Ceci are among the first to admit they've struggled at times this season, but so has the overall defensive side of the Senators game. It's an area of concern head coach Guy Boucher feels the team is overcoming.
I recently caught up with Phaneuf, who isn't dolling out excuses for a slow start but says he can see the developing chemistry and progress because of it.
"We started slow, but I feel our game is coming around...We've played much better as of late," he said. "Are we happy with our plus/minus? No, but that happens in the game, it really does. It's not an excuse, but I feel a lot better about how we're playing as a pairing. We're going to continue to work on it and grow it."
With Marc Methot out with an injury Thursday night against Philadelphia, Ottawa's defence corps was somewhat scrambled. Boucher relied heavily on Ceci, playing him better than 28 minutes in a 3-2 overtime loss to the Flyers ‑ slightly more than Karlsson played and close to five minutes more than Phaneuf, who understands his role is to stabilize things for Ceci when they're paired together.
"He has so much potential in the way that he skates," Phaneuf said. "The one thing that he does that he doesn't get a lot of credit for in playing with him and practising with him every day is how hard he shoots the puck. He has a very good shot from the point and he shoots it hard. He's a really good player now and he's 22. How much better is he going to be in five years with experience? ...I think his game is going to grow a lot."
Phaneuf's mentoring skills are drawn from his own experience. He broke into the National Hockey League as a 20-year-old in 2005-06 with the Calgary Flames and scored 20 goals that season, a career best thus far. A raw, somewhat unpredictable rookie who hit everything in his path, Phaneuf took the league by storm, but remembers two veteran defencemen who kept him grounded and had a huge impact on his development.
"I came in at a young age and I had Bryan Marchment, who was like 36 at the time. Roman Hamrlik was my partner," Phaneuf said. "Both guys had played 900 games at that time. I look at those two guys...Mush was so important to me. He helped me with how to be a pro, where to be on the ice and you're constantly learning ...Every day you're learning. So for me, I try to help him [Ceci] as much as I can in different areas of the game."
Phaneuf remains as competitive as ever and vows he will play as long as he can. He jokingly pointed to the mammoth eight-year, $64-million extension Brent Burns signed last week as an example of the durability and desire of his 2003 draft class.
Phaneuf has slimmed down to adapt to the NHL's quicker pace, and believes with less bulk there is less wear and tear on his body. He admits it's unlikely he returns to the form of the offensive player he once was, but also he feels he's adjusted to the times.
"I know my role now has changed from when I first game in, but it's a different game too," he said. "The game has changed with blocking shots over the years. You're not getting the same looks that you used to. Plus, on this team, Karlsson is the big guy for us offensively on the backend and I've got to do my job defensively.
"That's what makes teams good and that's what makes teams competitive. Everyone has a job and everyone has to do their job. I still think I have an offensive side to my game, but I'm asked to do more on the defensive side and I enjoy that role."
Ottawa on the outdoor radar
Ottawa and the NHL will reportedly have ongoing discussions over the potential of an outdoor game next December as part of the NHL's centennial celebrations. Meanwhile, Ottawa also intends on bidding on the 2021 World Junior Hockey Championship.
Thursday, Hockey Canada announced Vancouver/Victoria will host the 2019 World Juniors, an event Ottawa also put in a bid for. Edmonton/Calgary, Winnipeg/Saskatoon and London/Windsor were also in the running.
Sources say Winnipeg and Edmonton also intend on submitting applications for 2021.