Dubinsky to have hearing for Crosby hit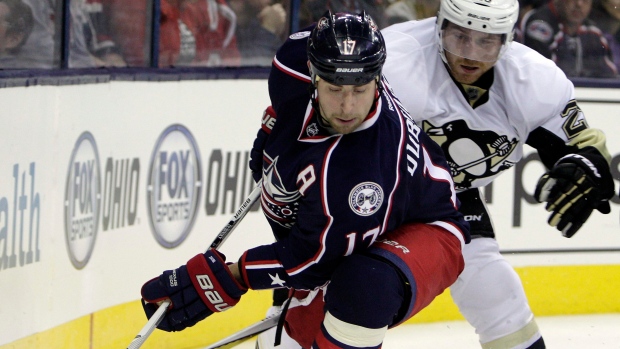 Columbus Blue Jackets forward Brandon Dubinsky will have a hearing with the NHL Department of Player Safety on Saturday for cross-checking Pittsburgh's Sidney Crosby.
The incident happened late in the second period on Friday with Crosby standing in front of Columbus goalie Sergei Bobrovsky. Dubinsky cross-checked the Penguins captain in the neck from behind, sending Crosby to the ice. Crosby missed the remainder of the period but returned to play in the third.
Crosby, who has a history of concussions, confirmed that he was fine after the Blue Jackets' 2-1 overtime victory.
"Yeah, I'm okay. I think there's always concern when that happens, but yeah, I'm fine," Crosby told the Penguins' website after the game.
With a history of bad blood between Crosby and Dubinsky, Crosby was asked if he expected that kind of play from his opponent.
"Yeah, I mean I'm not surprised, if that's what you're asking...if I was going to get one of those shots it was probably going to be from him."
Dubinsky has never been suspended in his nine-year NHL career.