Ducks re-hire Carlyle as head coach
The Anaheim Ducks re-hired Randy Carlyle on Tuesday, welcoming back the franchise's only Stanley Cup-winning coach 4 1/2 years after firing him. The 60-year-old Carlyle led the Ducks to the 2007 Stanley Cup title during parts of seven seasons in charge.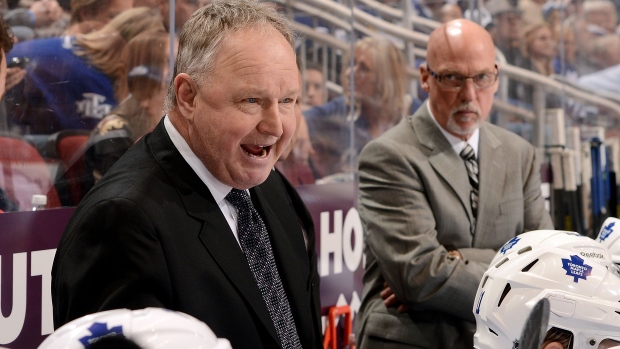 ANAHEIM, Calif. — Randy Carlyle walked back into Honda Center and discovered he still knew just about everyone, from the guard at the front door to the accountants in the Anaheim Ducks' offices.
"Everybody welcomed me back with open arms," Carlyle said, a grateful smile on a frequently stony face. "This is a special place."
The veteran coach is home again, and the Ducks are betting their Stanley Cup hopes on a fruitful reunion.
The Ducks re-hired Carlyle on Tuesday, welcoming back the franchise's only championship-winning coach 4 1/2 years after firing him.
Carlyle replaces Bruce Boudreau, who replaced Carlyle on Nov. 30, 2011. After firing Boudreau in April and conducting a lengthy search, Ducks general manager Bob Murray decided to go back to the winningest coach in franchise history to guide his veteran core's probable final chances at another title banner.
"I know in my heart that this is the right move at this time for this hockey team," said Murray, Carlyle's close friend. "We all know this group has got a little window here. Three years, maybe, whatever. And you had to get a guy in here that knew some of the players and knows that it's time — that knows how to win."
The 60-year-old Carlyle led the Ducks to the 2007 Stanley Cup title during parts of seven seasons in charge, going 273-182-61. After his tumultuous stint in charge of the Toronto Maple Leafs ended in January 2015, he moved back to Encinitas, California, and attended many games in Anaheim, usually sitting in the press box and taking notes while waiting for another NHL job.
He was grateful when the next one was down the freeway.
"I don't think you could come into a better hockey club, on ice or off," Carlyle said, wearing a new orange tie. "It's hard to find teams of this quality, and I feel very fortunate that I'm the guy they trusted and are showing confidence in to coach this group."
The Ducks' decision to re-hire a coach is rare, but not without precedent: Michel Therrien is in his second stint behind Montreal's bench, and Carolina re-hired Paul Maurice in December 2008, five years after firing him.
Boudreau went 208-104-40 in Anaheim while winning the last four Pacific Division titles and falling one game short of the 2015 Stanley Cup Final. He was still fired by Murray on April 29 after Nashville's surprising first-round elimination of the Ducks, who blew a 3-2 playoff series lead and lost a Game 7 on home ice for the fourth consecutive season.
Carlyle was known as a stern disciplinarian early in his Anaheim career, but Murray and Carlyle both believe the coach has changed.
"Randy is going to be different than he was before," Murray said, calling Carlyle "much more mellow" after two firings.
Captain Ryan Getzlaf, Corey Perry, Cam Fowler and Andrew Cogliano are the four Ducks left from Carlyle's tenure. Murray consulted Getzlaf and Perry before the move, and the GM said several veterans strongly approved of Carlyle's return.
Carlyle, who coached Ducks veterans Ryan Kesler and Kevin Bieksa in the minors, also spoke to players about his plans.
"The players of today want to be heard," Carlyle said. "They want to have a voice. They want to participate, and you've got to let them be heard."
The Ducks won plenty of regular-season games over the past four seasons, but just three playoff rounds for Boudreau. The veterans' leadership skills have been questioned by Murray, who squarely blamed the players for the first-round loss to the Predators that cost Boudreau his job.
Carlyle spent parts of four seasons in Toronto, leading the Leafs to their only playoff berth since 2004, before getting fired despite being in playoff position. He received severe scrutiny in the world capital of hockey over his old-school approach and a perceived reluctance to embrace analytics and puck possession.
He believes much of the criticism was Canadian hyperbole, and he intends to prove his openness to new-school philosophies.
"If you're not prepared to evolve as a coach, you're going to get lost in the shuffle," Carlyle said. "I've paid my attention and done my homework. ... When you come from the media market that I came from, there's a lot of scrutiny that takes place. I don't believe I'm a Neanderthal, from the standpoint of wanting knuckles dragging and fighting. I don't believe that. Yeah, I'd like to have rough-and-tumble hockey. Yeah, I'd like to play physical hockey. But the game has changed."
Carlyle was a serious candidate for the Calgary Flames' coaching job, interviewing with GM Brad Treliving and President Brian Burke, who hired him in Anaheim 11 years ago. Carlyle also interviewed for the vacancies at Ottawa and Minnesota, which hired Boudreau.
Carlyle hasn't chosen his coaching staff, but strongly hinted that he hopes to keep Paul MacLean and Trent Yawney. With those assistants in charge of special teams, the Ducks became the first team in 31 years to have the NHL's best power play and penalty kill in the same season.