Ducks' Perry on watching skid: 'It's not fun'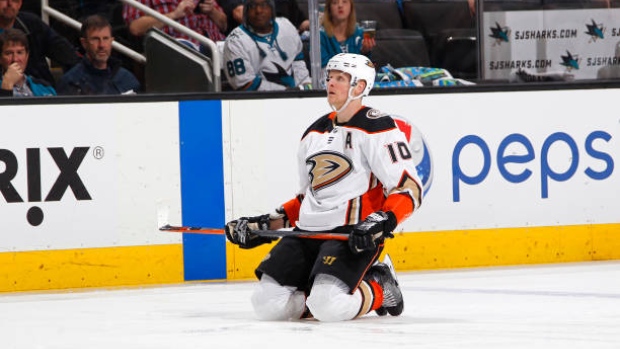 Anaheim Ducks winger Corey Perry has yet to resume skating since injuring his right knee in a pregame warmup ahead of a preseason game in September.
The 34-year-old spoke Thursday for the first time since undergoing MCL surgery and said it's been difficult to watch the Ducks endure a nine-game losing streak (0-6-3) from the sidelines.
"That's hard," Perry told the Orange County Register of watching the skid, which equalled a franchise record on Wednesday night. "You want to help your team. You want to be with them. It's not fun when you're going through something like this. We've all been a part of it. It happens, but at the same time you've got to find a way out of it."
Perry, who had 17 goals and 49 points in 71 games last season, said he's progressing toward skating again having graduated to slide board training.
"I'm here early, in the gym, doing my thing, doing different exercises, riding the bike and I started the slide board," Perry said. "All those things are good signs leading to the ice. It's pretty much how it works. I've had a couple of days of slide board already. It's feeling pretty good. Every day I'm ramping it up a little bit more and more intensely and we'll see how it feels."
The Peterborough, Ont., native was given a five-month timeline for return in late September, putting him on track to return just after the trade deadline. The Ducks' current skid has pushed them out of a playoff spot, but Perry said he won't rush back before he's fully healthy.
"It's hard, but at the same time, I want to come back and I want to be 100 per cent," he said. "I don't want to be thinking about what could happen in the back of my mind if I came back too early. I'll stick to a day-by-day routine and keep doing what I'm doing, and eventually, I'll be back."
The Ducks, who are 1-6-3 in their past 10 games, now sit one point behind Minnesota Wild for the final wild-card spot in the Western Conference. Anaheim will host the Pittsburgh Penguins on Friday night.