Durant Effect: Warriors heavy 2017 favourites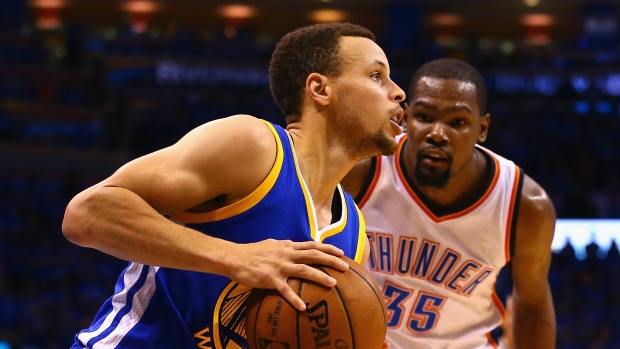 The Golden State Warriors owned NBA-best 2/1 odds to win the Larry O'Brien Trophy in 2017 on June 20, prior to signing Kevin Durant.
Now, the Warriors are even bigger favourites ahead of the season, being listed at 5/7 odds, according to Bodog.
The Warriors over/under for wins during the 2016-17 season has been 67.5, below their NBA-record 73 wins last season.
Durant's over/under for points per game average is set at 26, he averaged 28.2 points last season.
While the Warriors' odds have spiked, the majority of NBA teams have seen their odds drop since Durant's announcement.
The Cleveland Cavaliers, who are coming off their first NBA title, dropped from 7/2 odds to 9/4. The San Antonio Spurs, went 15/2 to 8/1 after missing out Durant. The Spurs did, however, add Pau Gasol on Thursday.
The Boston Celtics, who also made a run at Durant, saw their odds improve from 25/1 to 22/1 odds.
The Oklahoma City Thunder, who of course failed to retain Durant, plunged from 17/2 to 35/1.
Despite holding on the DeMar DeRozan, the Toronto Raptors saw their odds fall from 25/1 to 33/1.
Complete Odds
Odds on 6/20/16 Current Odds (7/5/16)
Golden State Warriors 2/1 5/7
Cleveland Cavaliers 9/4 7/2
San Antonio Spurs 15/2 8/1
Boston Celtics 25/1 22/1
Los Angeles Clippers 20/1 22/1
Toronto Raptors 25/1 33/1
Oklahoma City Thunder 17/2 35/1
Miami Heat 33/1 40/1
Atlanta Hawks 50/1 50/1
New York Knicks 75/1 50/1
Indiana Pacers 75/1 60/1
Houston Rockets 50/1 66/1
Minnesota Timberwolves 75/1 66/1
Memphis Grizzlies 75/1 75/1
Chicago Bulls 33/1 80/1
Detroit Pistons 75/1 80/1
New Orleans Pelicans 66/1 80/1
Dallas Mavericks 66/1 100/1
Milwaukee Bucks 100/1 100/1
Portland Trailblazers 75/1 100/1
Utah Jazz 100/1 100/1
Washington Wizards 75/1 100/1
Charlotte Hornets 75/1 125/1
Los Angeles Lakers 100/1 150/1
Denver Nuggets 100/1 200/1
Orlando Magic 125/1 200/1
Sacramento Kings 100/1 250/1
Brooklyn Nets 250/1 350/1
Philadelphia 76ers 150/1 350/1
Phoenix Suns 150/1 350/1