Enstrom, Ehlers shed non-contact jerseys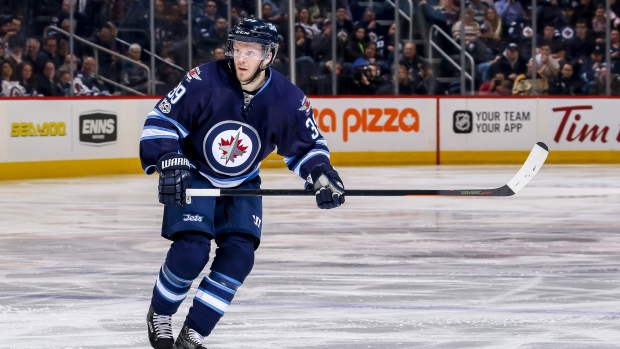 The Winnipeg Jets returned to practice on Tuesday with forward Nikolaj Ehlers and defenceman Toby Enstrom as full participants.
Both players practised Sunday in non-contract jerseys when the team last skated on Sunday. Ehlers missed Game 5 of the Jets series against the Minnesota Wild due to an upper-body injury, while Enstrom has been sidelined since Mar. 23.
Ehlers posted two assists in four games against the Wild in the first round. He had 29 goals and 60 points while playing in all 82 games during the regular season.
Enstrom, who was shut down for the regular season in March due to an ankle injury, resumed skating during the team's first-round series. He had one goal and six points in 43 games during the regular season. He skated with Dustin Byfuglien on Tuesday, pushing Joe Morrow out of the top six:
Morrissey-Trouba
Enstrom-Byfuglien
Chiarot-Myers
Morrow-Poolman
Absent: Kulikov
The Jets received a scare Tuesday as goaltender Connor Hellebuyck skated to the bench after taking a shot in his right shoulder. Hellebuyck, however, returned to practice showing no signs of an injury.
Forward Joel Armia, who was injured in Game 5 against the Wild, was on the ice Tuesday but was wearing a non-contact jersey. Armia had one goal in the Jets first-round series. He scored 12 goals and posted 29 points in 79 games during the regular season. Armia is dealing with an upper-body injury.
Star winger Patrik Laine left the team's skate early for the second straight practice.
The Jets will face the Nashville Predators in the second round, though a date for Game 1 in Nashville has not yet been set.
Jets forward lines Tuesday:
Connor-Scheifele-Wheeler
Ehlers-Stastny-Laine
Tanev-Lowry-Little
Hendricks-Copp-Roslovic
Extra: Matthias, Dano
Absent: Perreault